The fashion fraternity took big strides in celebrating inclusion, raked in international laurels and thrived on hashtags in 2016
FASHION legend Coco Chanel once said: "Beauty begins the moment you decide to be yourself". It looked like the Indian fashion fraternity was determined to take this adage to heart in 2016. Fashion was all about taking up diversity this year; no matter what colour, gender, shape or size it came in. With fashion designers such as Ragini Ahuja of Ikai, Shyma Shetty of Huemn, and Nitya Arora of Valliyan proudly owning their curves in fierce mainstream magazine editorial shoots, fashion had its most body positive and inclusive year yet. From the folks at Lakme Fashion Week (LFW) extending avenues of exchange with designers and models from the Northeast states, attempting to break gender stereotypes with a textile shoot with transgender classical dance artistes such as Narthaki Nataraj and Lakshya, even putting up a plus-sized (albeit sponsor-driven) ramp show, this was the year fashion opened its arms wide and welcomed variety. Even as Kerala's popular women's magazine Vanitha put transgender model Deepthi on its cover, various social media platforms saw Indian women celebrate muscular frames, dark skin, body hair and curly manes. These were indeed giant steps in a world that thrives on Photoshop, perfection and posturing.
#HASHTAGS#Haute
Politicians played puppeteers as social media hashtags such as #IWearHandloom and #NationalHandloomDay went viral, garnering support from the fashion fraternity and fashion enthusiasts alike. Everyone became a textile fan overnight and flaunted handloom-decked selfies. Politician Smriti Zubin Irani not only took over the Ministry of Textiles, but also brought her share of excitement to the scene with her social media campaign promoting the hashtag #IWearHandloom. Shyaway.com is on its walk towards a great change through its campaign #feelbeautyinside. The campaign intends to redefine traditional beauty concepts.
Yummy Mummy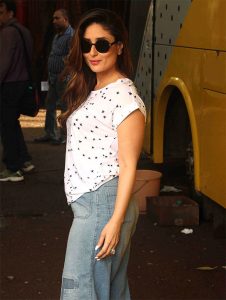 There was no pregnant pause where actress Kareena Kapoor Khan was concerned this year. She crushed Bollywood bolstered stereotypes by flaunting her baby bump on magazine covers, walking the ramp as Sabyasachi Mukherjee's LFW finale showstopper and making some ultra glamorous red-carpet looks during the course of her pregnancy. Her maternity style statement was chic, non-apologetic, relatable and comfortable unlike many of her filmi predecessors who've preferred to shun the limelight during their pregnancies. Another ramp scorcher Carol Gracias, yummy mummy, walked the ramp for Hyderabad-based designer Gaurang Shah when she was six months pregnant, and was back on the ramp the following season, barely a month after giving birth to her son, taking a bow for Shah and Ashish N Soni. "Motherhood should be celebrated. I hope me walking a ramp with a baby bump and coming back (post-delivery) will bring change in the perception of people," she told PTI.
International FACE
This year saw Priyanka Chopra overthrow Freida Pinto as the most watched Indian fashionista on international red carpets. From attending shows at New York Fashion Week to making a splash on some of the world's most impressive red carpets, the Quantico star was everywhere. She shone in a beaded Zuhair Murad gown at the Oscars, rotated in a red Jason Wu ensemble at the Emmy Awards, sported a strapless Monique Lhuillier at the Screen Actors Guild Awards, dazzled in a glitzy.