2016, the awesome year for shyaway, or rather Lingerie lovers is coming to an end- we just cant let go the awesome year as such and hence Team Shyaway celebrates every inch of it with grandeur. Every moment at work is a gala time, and not to ask when it came to Christmas celebration; with marketing team buying cake, technical team on high spirits in decorating the walls, dispatch team blowing balloons and there it went- the endless joy! At shyaway, Merry Christmas meant its best.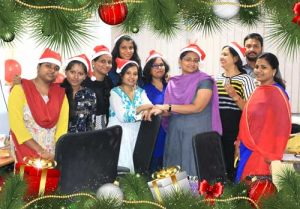 Christmas cake was cut, well wishers were prayed for and the merriness was blown up. Balloons that carried joy were blown with each one helping others to tie the balloon and were stuck on the walls.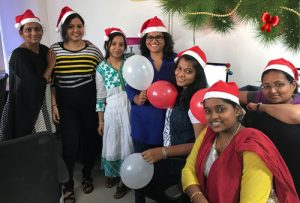 Songs on Christmas was played and everyone clapped to the buzz. It was rather a gala time for the team members. In fact a gala like this will boom our spirit and likeliness with splendour.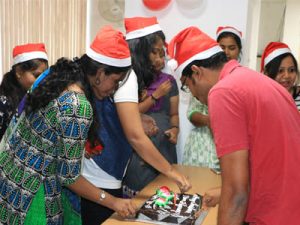 Our Santa made way to giggle us, and it was reminded yet again that child in us is still intact and a bubbly atmosphere of the office is good enough to
keep it alive.
This is one Christmas we will never miss to remember. The trajectory of the happy moment will carry the New Year in all its Glory.