Hello to all Wows!
Come let's talk…..
Let's be little intimate for a while…. Shall we?
It does really matters those clothes that we wear underneath our clothes. Yes, am talking about our lingerie.
How many of us really know our exact bra and panties size?
You know, for your surprise 3/4th of us still hesitates to talk about lingerie and truly feel shy to shop it.
Moreover, many of us still wear stretched out / faded / fabric compromising on quality and holey panties because we think no one will see it and that is why, it doesn't matter. Isn't it?  Don't be "that type of girl"
We must realize that by wearing such lingerie, our confidence level goes down and also we are into health issue.
Lingerie is not a matter of wearing something that we must. It is sure that every woman has to realize that it is as important as the outfit and has the right to demand her perfect fit.
If we peep in to the wardrobe of every woman, there is no doubt that we have more space for sandals, accessories, handbags and outfits, but a very less space for lingerie. Here, I would like to tell you that we must give the equal level of importance to the clothes that we wear underneath, as it rest as our second skin.
I wish that every one of us have to take time to care and add beauty for our body with appropriate and pretty lingerie. Never have a thought that wearing fine-looking bra is not about seducing a man, it's an acceptable truth that it boosts our self-confidence and is really self-worth.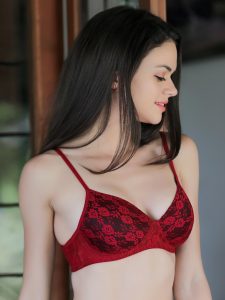 Also, it is mandate for us to talk & discuss openly about our lingerie needs balancing the perspectives of both health and confidence.
Let me not keep u bored, but before I wind up, I wish to tell you that we have much more choices to choose our right lingerie based on                                                         our size/purpose/occasion/match to our outfits/comfort.
Moreover, you can now always go for online shopping rather than buying directly in shops. There are tremendous lingerie websites which really guide you and help you to get your perfect lingerie. You can also help yourself with the size calculator provided in the website. I personally suggest shyaway.com since I am so passionate on online shopping.
So, no more Shhhhhhh………
Always celebrate and embrace your femininity, regardless of age or size as it's ours… Just ours…..