The summer has officially begun which means it is time to flaunt all your tank tops, off-shoulders, backless tops that were lying in wait in your wardrobe and to show-off your summer skin. But in this scorching weather, the summer lingerie problems might spoil the fun. So we are here with a list of the most common lingerie problems and the best solutions for what-to-wear under those summer clothes.
1. Boob Sweat – the Biggest Summer Lingerie Problem of All Time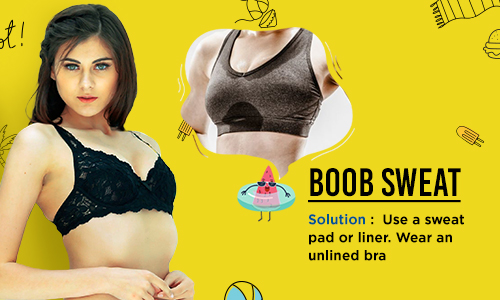 Boob sweat is one of the biggest problems of summer. Especially for women with fuller breasts, it can be a real headache if you are wearing a tight t-shirt. The boob sweat can stain the top and it may show your bra lines and that can make the whole situation awkward and also it can cause redness, rashes, etc. What to wear under tops to prevent boob sweat is the main concern for many us. So, to solve this summer lingerie problem try using an unlined bra, a bra that doesn't consist of any kind of lining or cups. They feel light and airy, maintaining your breast's natural shape or you can use a sweat pad or liners and additionally, follow proper bra hygiene, keep deodorants, powders and wet wipes with you so that you can use it whenever you want and feel less edgy.
2. Tops with Low Armholes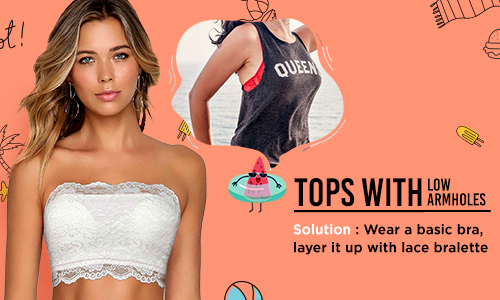 Low Cut armholes are made to rock the summers but it can also be the biggest challenge as the undergarments you wear would be visible through it. So, to tackle this summer lingerie problem, you can wear your basic bra under your tops and layer it up with a pretty lace bralette over it. 
 Another great option would be to wear a bra that matches the color of your dress so that it wouldn't seem so obvious. Or if you don't want to take risks you can simply buy a bandeau bra/tube bra and feel super comfortable flashing your low cut armholes.
3. V-Neck Dress, What to Do?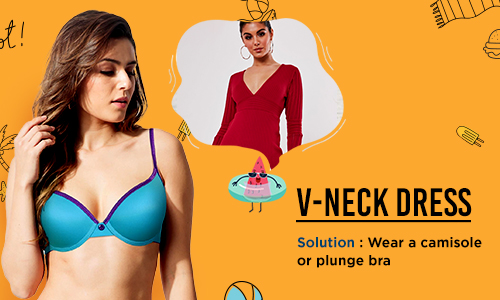 The v-neck dress which you bought last summer is still sleeping in your wardrobe? You have no idea what to wear underneath the plunging neckline? Then probably you can opt for a camisole with a deep neckline which is the best for v-neck dresses if you want to hide your breasts. Otherwise, or instead of camisoles you can even use a tank top that matches the dress or on the other hand, if you want to expose your cleavage then the answer is the plunge bra. A plunge bra has cups that have a deep V-neckline, this is a must-have if you want to unveil those curves.
4. Backless Dresses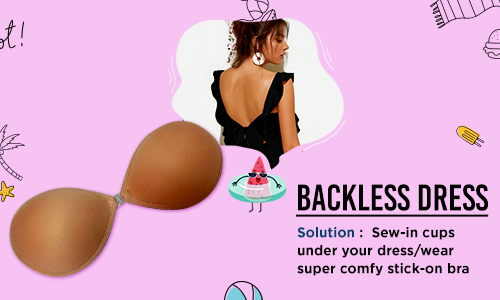 Backless dresses are a perfect way to show off your sexy backs, but the only thing is your everyday bra does not go with backless dresses. You need to make sure your bra straps are not peeping at the back of your dress. You can follow the old school idea of using sew-in cups under your dresses or the super comfy stick-on bra can be used as it allows you to completely flash your flawless back yet provides full coverage to your breasts.
5. Off the Shoulder Dresses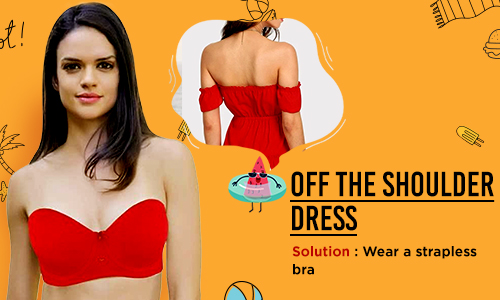 Off the shoulder, dresses are all fun to buy but the hardest part is what to wear underneath. You can try out a strapless bra and can put any of your summer clothes on show, it has silicone or rubber lining to prevent slippage and to provide support which completely allows you to flaunt your off the shoulder dress. So, if you are searching for an all-in-one bra then opt for a bra with detachable straps which is considered as the best summer lingerie as it helps you to flaunt a backless dress, off the shoulder dress, tank tops and all other summer dresses. 
So, this summer, get all your summer needs by shopping at Shyaway. It is the place to get all your summer lingerie solutions.