Shyle Bra Strap Clips
Shyle bra strap clips are there to help you out in reshaping your bra straps. You can just change the normal bra straps into X-pattern at the back by using these clips.
Not all outfits will go with the normal bra strap patterns. There are certain neck types that usually come with tank tops which can mould well with these kinda bra patterns.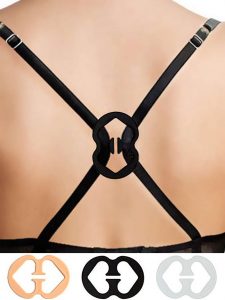 These clips are easy to use as they can bring together two straps together at the back. Its non-metallic feature enables it to mold and come use friendly. These free size clips go well with all kinds of bras (other than strapless bras, lol)
At shyaway, you get these clips in three different patterns and colors. Heart shaped, oval and round clips form the forum. And according to the color of the bra you choose the clips as black, white or nude.