It is common that every bra style has its own pros and cons. While one may find a good point of wearing it, the other might pinpoint comfort issues of the same. While the bra topic is something that is always under the limelight, one intimate that proudly stands out from the rest with almost nil criticism is the T-shirt bras. Though it closely resembles an everyday bra, it is the teeny-weeny features and well-implemented improvisations that make it distinct and an unmistakable choice among the women of today.
The variance in look and feel
Today, there might be tons of T-shirt bras out there in the market. There are chances that you might end up buying one that does no justice to the name. Here are a few pointers that talk mostly on the look wise appeal that might come handy when you head on to buy one either in a physical store or through online lingerie shopping.
Seams
Are you someone who hates the stitches that run across the bra cups? Ever wondered why they actually exist? Don't blame your seamed bras! They do have a purpose of defining the shape of your busts depending on the type of seam, be it horizontal, vertical, or diagonal.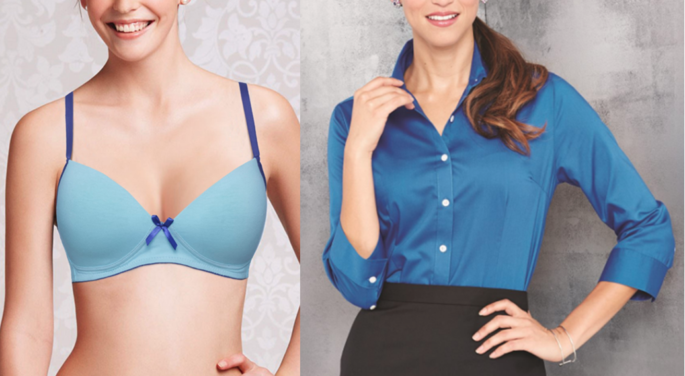 Not convincing enough? Well, you should probably blindly opt a T-shirt bra then. They have all the credit of being seamless. The smooth and seamless finish of the cups will make those sneaky bra lines find no place in your flawless outlook. So, these no-seam bras not only are the best mates with your Tees and formal wear but also with clingy tops and fancy slip-on.
Cups
Now that you are imaging yourself in a seamless bra that seems intact and unblemished, here is one more reason to make your jaws drop. Yes, the cups of a Tshirt bra are molded. Leaving aside the traditional practice of using the cut-and-sew technique, heat molds are used to craft the bra cups. Whatever be the breast shape, these cups will ensure a rounded bustline yet retaining the natural touch without going overboard.

Ps: Here is a glimpse of the conventional cut-and-sew method of tailoring a bra Vs a molded t-shirt bra
The surprising fact is that even after the bra is unclasped, the cups retain their rounded shape, unlike a customary everyday bra.
Functional Differences between a Tshirt bra and an everyday bra
Wait; we aren't done yet! Here is why a Tshirt bra seems like the perfect partner that practically performs with casual and formal clothing.
Padding
Trust us; there are still women who have misconceptions about using a padded bra. The age-old myths are still making their presence here and there. Maybe T-shirt bras were launched to erase these not-so-true facts about padding. All of these intimates come with lined cups and hence there is zero fear of the nipple show. Apart from this, bust support is taken good care of, leaving no space for a bounce or sagging.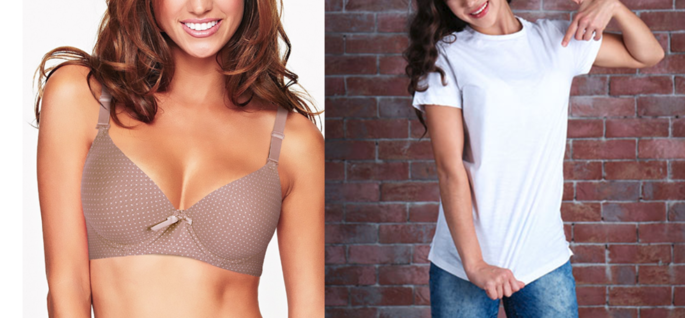 Ps: Here is a quick style tip! Pick nude colored Tshirt bras to disappear beneath white casuals. Not only does this give nipple coverage but also hides from revealing the bra color.
While there are chances that an everyday bra might also come with padding, the other features of being seamless and molded join hands to make the Tshirt bra a winner.
Underwires
Well, here the difference is outright. Everyday bras are a big no-no to underwires. Of course, it is natural that the regular intimates that you wear 24*7 are kept simple with minimal features for round-the-clock comfort.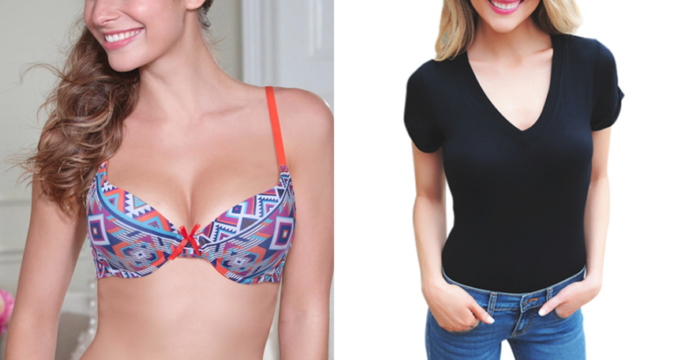 Ps: Underwired molded cups offer great shape with V-neckline Tees.
Don't come to conclusions! The comfort factor is never ignored in a T-shirt bra. Yet, you might find a few underwired bras in the market for some good reasons. Not all breast shapes are the same. Fitting underwires beneath bra cups will not offer a lift but also secures the loosened tissues within the cups. So yes, these semi-circular strips of wires are not only possessed by a pushup bra, but also by your Tee faves.
With great utility and effortlessness that accompanies a T-shirt bra, women have already started using them as an everyday bra. After all, there is nothing wrong with adding an edgy statement to your boring basics.