All those days you wished you could show-off some flawless skin in backless blouses and shied away from the tragic reality of the bra band revealing itself is the reason why these exquisite neck patterns are often ignored. Just when you think a no-back blouse is a thing of the Bollywood, here are 3 magic bras that help you master the art of going backless.
BRINGING THE SEXY BACK!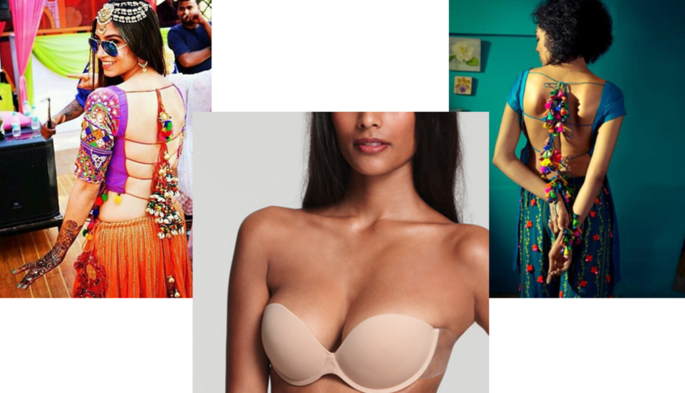 The big fat Indian Wedding is not just a phrase, it is rather a bundle of emotional events, extravagant décor, relishing food, and impeccable fashion statements. And our brides have broken stereotypes in several instances with their unique styling. The string-tie choli is one such sexy backless blouse pattern that perfectly speaks how trendy being traditional is.
Bra option- Strapless & Convertible Bra
| | |
| --- | --- |
| | |
The adhesive/stick-on bra with wired cups is something that goes great with these contemporarily unco outfits. There is no fear of the bra band as there is none at all. The math lies in the side wings that have adhesive content in them that makes the cups stay in place.
ROCK YOUR BLOUSE THE FILMY WAY!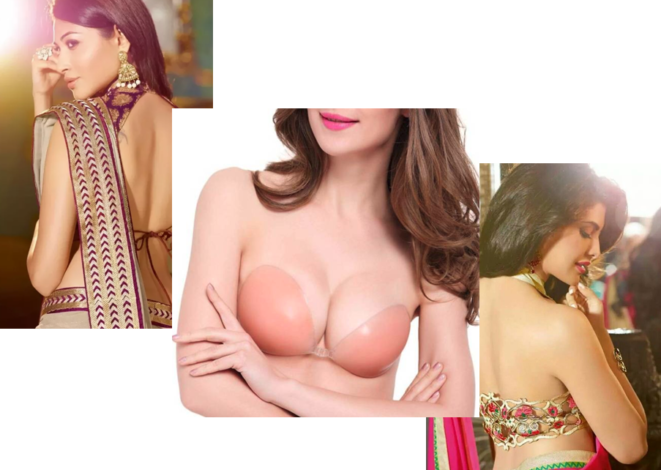 There are occasions when your blouse demands to ooze some glitz and glamour. It might be a steamy halterneck or a sleek string that seeks attention, urging you to find a bra that does no harm to your alluring look.
Bra option – Backless Strapless Bra
This is when the silicon bra comes handy. Snugging your busts like a second skin, it is both strapless and backless. All hail to the ultra-smooth finish of the cups; flimsy chiffon sarees are no more a distant dream. Talking about chiffon sarees, have you tried our new saree shapewear? If not, give it a go for smooth curves.
CONVENTIONAL YET NEW AGE!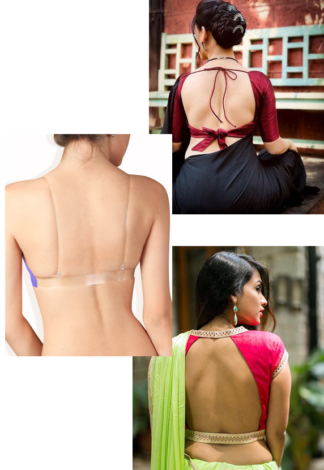 If you are someone who would prefer to keep it traditional yet add some innocent spice to your blouse, then it is time to turn up the heat with these innovative tailoring. At the first instance, it might seem like a conventional one, but the back is wide enough and a regular bra will do no justice.
Bra option- Underwire T-Shirt Bra
Here comes the transparent bra to the rescue. Its back band is made see-through exclusively for those who are in fond of the usual bra style along with going the backless way. You can also replace its shoulder straps with transparent ones, making it a strapless bra as well.
TO THE BRA EXTREMISTS!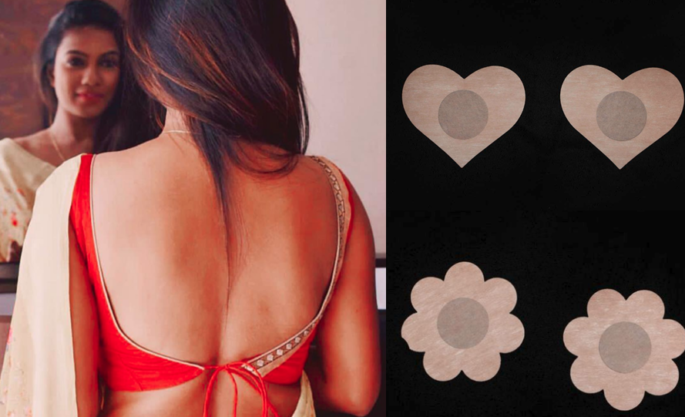 Let's give a big applause to those uninhibited souls who crave to break boundaries in the sexiest way possible. It's satisfying to see how women are no more concerned about judgemental comments and annoying stares to define the fashion statement they wish to.
Bra Option- Nipple Covers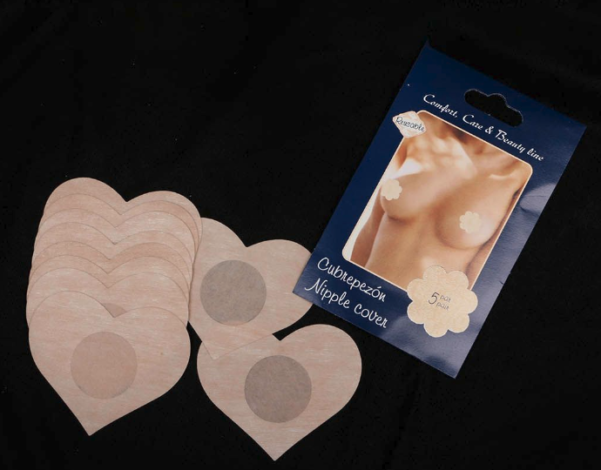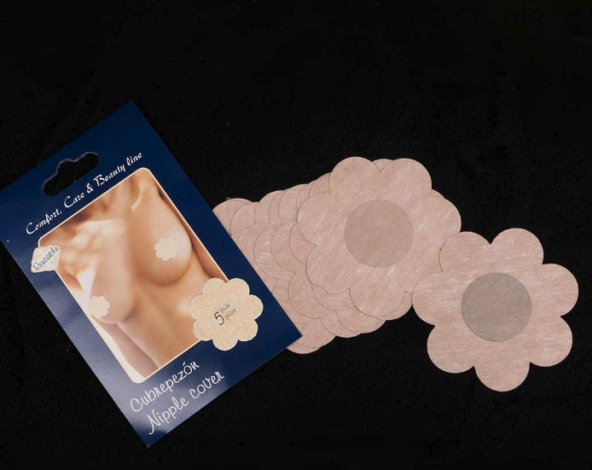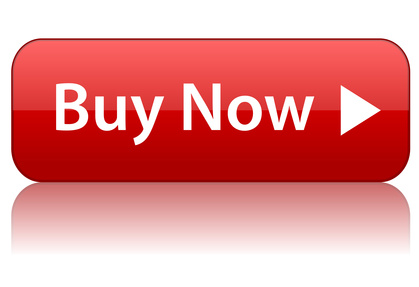 Nipple covers are the safest partners to these stellar blouses. Not only do they provide all the room to opt bold backless patterns but also keeps you relieved from sneaky bra straps. Moreover, these accessories weigh much less than other bras meant for backless saree blouses.
There are a hell lot of new saree blouse styles coming up every day and it might be a hard task to find the perfect bra for backless blouses. But, with growing techniques and innovated bra models, there is nothing that can stop you from being an absolute stunner.