Heading to a honeymoon vacation with your loved one? Here is how you can flaunt sexiness sensually with babydoll nightgowns in a variety of glamorous styles.  
Lingerie is something that adds a dash of glam, touch of glitz, splash of charm and a spell of magic to a woman. Obsession with sexy lingerie isn't that bad, after all. Being flirty, hot and sensual all at once is made possible with a super-glam babydoll. As exotic as the name sounds, this piece of garment is a sure shot way to spend a steamy evening with your loved one.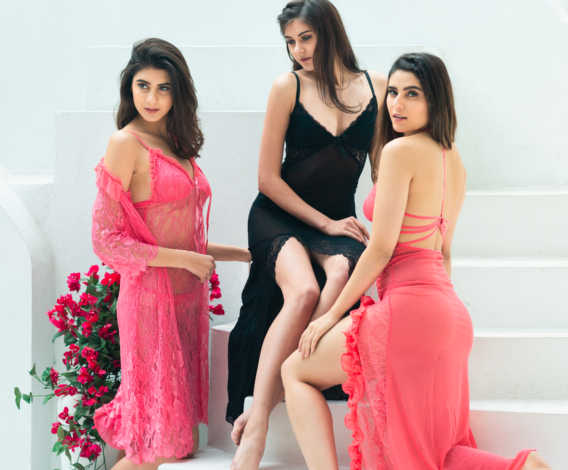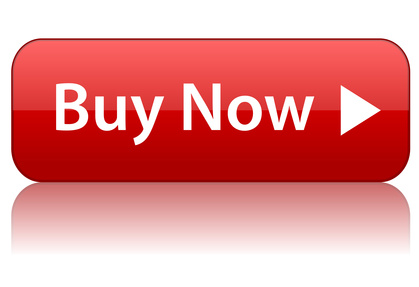 Started trending in the 1950s, babydoll nighties have an interesting history. Initially designed to be a loose-fitting nightgown, these intimates have modernized to endless patterns and styles. In fact, bridal lingerie shopping never ends without this sexy negligee in the cart. Women still feel uneasy to discuss their lingerie needs to a salesperson. How easy and effortless would it be if a lingerie stylist could personalize intimates based on how you want to look and feel on your honeymoon nights? Well, consider this write-up your go-to companion in guiding you to appeal scintillating in a babydoll.
1. The ones with lace 
Babydolls tailored in intricate layers of lace are not only a seductive statement but also enhance a poised silhouette. With ribbons, bows, and ruffles as embellishments, a lace-crafted babydoll looks sensually attractive. So, how do I know if this is the right choice for my honeymoon? Well, here is why it suits all body types. Lace is an absolutely dainty and feel-at-light fabric that snugs with utmost ease. If you want to look and feel effortless, this is your best pick. A G-string panty that is accompanied by this super-glam sleepwear elevates your curves lavishly.


2. Robes are in! 
For those wonderful women who wish to flaunt a hot and vintage look, robes are quite a thing. That extra piece of clothing could do wonders to your babydoll. But, make sure to keep the robe in soft and fine fabrics such as lace, net or mesh. Obviously, you wouldn't want to sense discomfort carrying heavy layers on your special night.
Apart from babydolls, full-length robes also come with matching bra and panty sets to show off a bit of skin. No matter how many years pass by, babydolls with robes will remain an all-time favorite among women.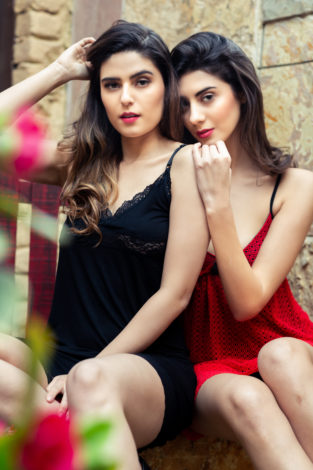 3.That sweet frock style 
There is nothing sexier than adding a scent of innocence to the glam factor. Cute thigh-length babydolls are your must-try honeymoon lingerie picks because of their sweet yet seductive look. Not usually see-through, this frock style does maximum justice to the name babydoll, bringing about sensuousness in its purest form. The figure-hugging fabric contours your curves and is a hot addition to make your magical moments more alluring.  

4. Say it with grace!
Being sexy doesn't always mean hot hues and flashy fabrics. Sometimes, going subtle and elegant can be the right thing to do to have a breezy special evening. Soft transparent full-length babydolls accentuate your body line in revealing just what is needed. Intimates such as nude bra and panties can best complement these light-shaded babydolls. After all, showing off your skin tone is a sparkling affair in itself.


5. Tie up that halter 
As much as hotness ooze with spaghetti straps, halter neck babydolls add a tempting twist to the whole look. This leaves you with a stunning back as the straps go around the neck and end up in a knot. Guess what? Forget the possibility of falling or chaffing straps by tying up that sexy halter knot.


6. Ruffle it up 
A crumbled-up look always relates to fun and fantasy. Ruffles are the season's happening look and why not carry this appeal in a babydoll? Negligees with super-cute ruffles will set a dolled-up mood and leaves you with an angelic gaze effortlessly.


7. Do the pastel mantra
There are times when eye-pleasing shades can easily take over the striking power of reds and blacks. We believe it is not always about being hot and sexy, but also about being fresh and pure: something unadulterated. This type of glam is more infectious as it combines the perfect dose of naturalism and innocence. Give these feather-light babydolls a try; we bet you wouldn't regret it!

Let go of your inhibitions, ladies! There is no way you can walk past the elaborate affluence of these exotic numbers. Stay calm and do some sheer magic in our mindblowing babydolls.