It is not just Ranveer who is head over heels with this long-legged beauty's grace and charm, the entire country has been spellbound by Deepika's unique sense of fashion and styling in both movies and public appearances including the ones at the Cannes Film Festivals. This epic Queen of Bollywood is known for her extravagant looks as Mastani and Padmavati in Sanjay Leela Bhansali's flicks. On the contrary, her portrayal of a cool-headed Diva in the blockbuster hit Cocktail was also much spoken of.
As much as her looks are recreated in several Youtube videos and blogs, her avatar in Tamasha is something that hasn't gone out of craze even after three years of its release. This Ranbir Kapoor-Deepika-starrer had an element of freshness in every frame (Of course, they have been one of the best on-screen pairs in recent times). Especially, Deepika's wardrobe in the movie took the B-town and almost the entire generation by storm. Here are some of my personal favorites that I loved about Anaita Shroff Adajania's costume designing skills and how our gorgeous girl carried them with ease.
The very famous bralette back

This scene where Ranbir and Deepika have a fun-filled time at the fields of Corsica, the clothing had been kept minimal yet lively by the designer. Well, the strappy little thing that sneaks out of her backless dress is called a bralette. A plunge-neckline dress in heavenly white and a same-toned strappy bralette is all it takes to flaunt the mesmeric image she has painted in the scene. Moreover, her makeup is quite simple and natural leaving aside bold lip colors and starry mascaras. This tip is something that will let you replicate the look effortlessly. As far as the hair is concerned, let those loose curls hang around your shoulders. Just gather a few strands and clip them at the back and you are done creating magic just as Deepika did.
The effortless teal jumpsuit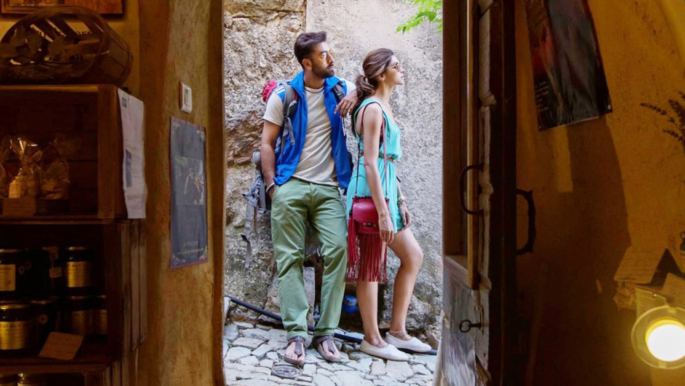 I would, without doubt, say that this is my favorite among the favorites. Love the way how she has portrayed the uber-cool boho-chic appeal without much drama. The way Deepika and Ranbir render themselves throughout this song in the stylish French coastal town makes us want to pack our bags on a getaway from the bustling city life. Well, if the picture isn't clear enough, note that it's a mid-thigh jumpsuit that she's wearing and a maroon sling bag to accessorize the no-care vogue.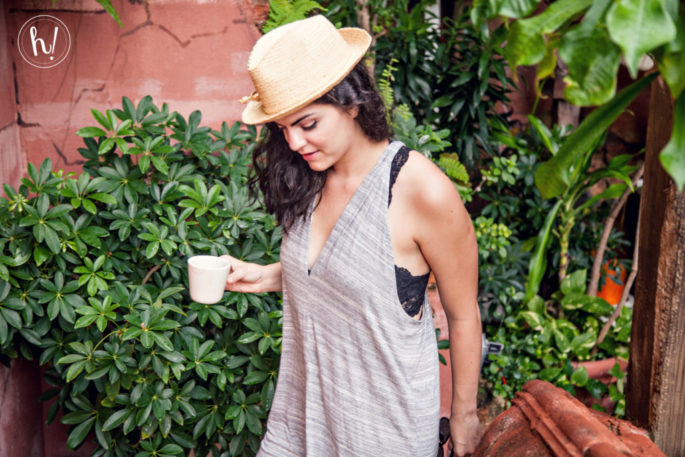 Make sure you pick a fancy cami bra beneath as the drop armhole pattern will reveal the innerwear. Tie up your hair into a pony and let this be your look for the next vacation.
"Heer to badi sad" but her dress needn't be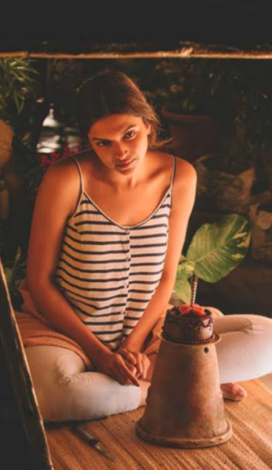 Well, if you're this no-Hindi freak, the title actually talks about a song in the movie where our protagonist is pretty much bored with life as she finds nothing exciting happening around. This track was a huge hit within few hours of its release, of course, it was the spell of Mika Singh and A.R.Rahman's mastery that made the trick (Ok, we have gone off topic, forgive me, I got driven away with the musical aspect!).
Yes, coming back to Deepika's wardrobe, I seriously wonder if anyone could enact a gloomy mood with such a fabulous fashion quotient. For instance, just check out her look in the picture (inset) where she chooses to wear monochrome striped spaghetti top teamed with a pair of jeggings. Seriously, Deepika, you are giving us major outfit goals! The scooped neck and the lazy bun is something you could easily replicate. Makeup-wise, it's not even close to minimal. There is almost zero traces of any lip color or eyeliner diverting from the natural glow of her face that gives a fuss-free stance.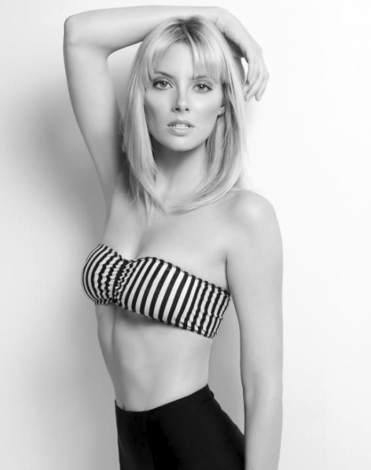 Apart from making a note of every detailing about her styling, something that hit me was how ably she keeps away her spaghetti from fiddling with the bra straps. Personally, I'm quite new to the concept of strapless bras as my first try was a disaster. It was later that my friend enlightened me about how poorly I was educated about brassieres and that there is actually something called the tube bra in the market. (YAAY! U know! Your friends could actually save you from fashion mishaps :) )
Here's how she comes in the very same top at the beginning of the film with a pair of shorts and striking sneakers to go with. Girls! It's time to be economical; affordable styling isn't that bad, after all!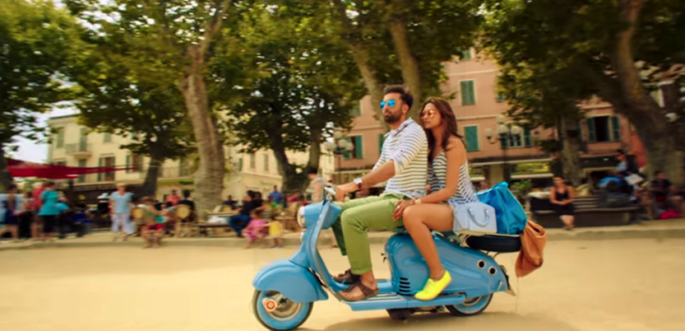 There are more looks from the movie I would love to discuss, but sadly it's time for the next write up :(. So here I wind up; but, hey, there are more amazing styles that Deepika flaunts in other frames. Let me know which turned out to be your top favorite!
Until next time :) <3 :*