'That joy when you realize you've made through the day without those sneaky bra lines'
Tired of endless discussions on tricks to cover those visible panty lines? Well, alongside your leggings, your t-shirts also deserve that flawless finish, don't they? After all, that bra you chose to wear was never really meant to show off its curves and edges beneath the branded Tee you spent quite a penny on.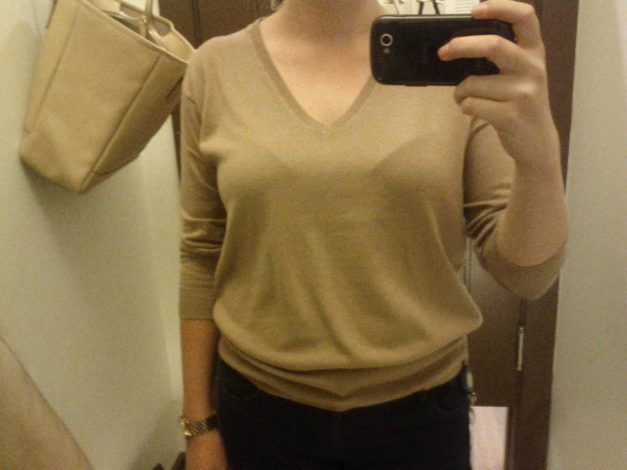 We were pretty much taken aback with some of the judgemental suggestions on the Internet asking women to switch to bulkier tops and oversized jackets in order to cope up with bra lines. But, c'mon ladies, there's no way we are going to take that kind of negativity in an era like this. Before you could go hunting for Harry Potter's invisible cloak to simply make your bra lines vanish, here we are with a quick save-the-day-kind-of guide to unravel the mystery behind wearing bras that practically disappear under close-fitting Tees.
Seamless Bra, the savior in disguise
Wanna know the real math? As much as we love the seamed cups for their impeccable support, and shape, laser-cut cups, and machine molds are equally making it big in the market. They are patterned to be super-smooth that there is hardly any chance that they may sneak out. Peek-a-boo bra lines are no more a hassle with seamless bras to the rescue.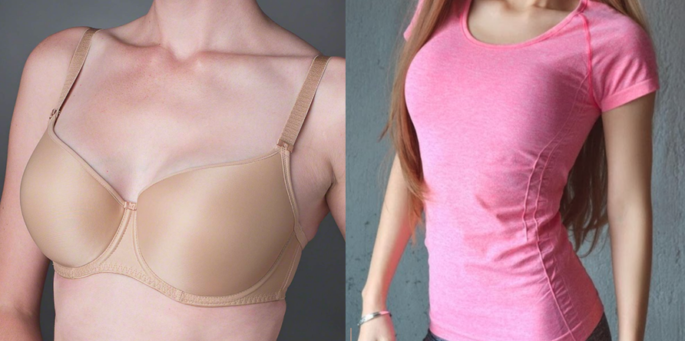 Most t-shirt bras are seamless by default so it wouldn't be that big of a task to find one.
PS: Spend a minute or two ensuring the right size so that your no-line bras actually solve the purpose of being invisible.
Cami Bra, Ciao to sneaky bra lines
Unlike regular bra cups that may break your hearts with their sneaky appeal, cami bras offer a uni-boob appearance giving ample coverage under a tight t-shirt. The scooped neckline and skin-friendly shoulder straps corroborate that bra lines are out of question. Moreover, cami bras are the best bets if you aren't a fan of defined/separated bra cups.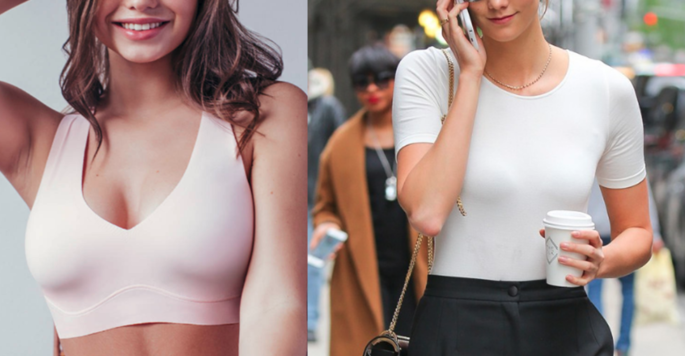 Not just this, cami bras also lend a helping hand when you are bothered by peeping bra bands and hook-eye closures as these are simply slip-ons with no fasteners to take the blame.
Tube bras; coz tees could be off-shoulder too
Owning the sole patent to oozing confidence in off-shoulder clothes, tube bras are analogous to cami bras, except for the fact that they are free of shoulder straps. They are more focused on simply covering the breasts rather than shape. So, here you go; a boon to off-shoulder tees.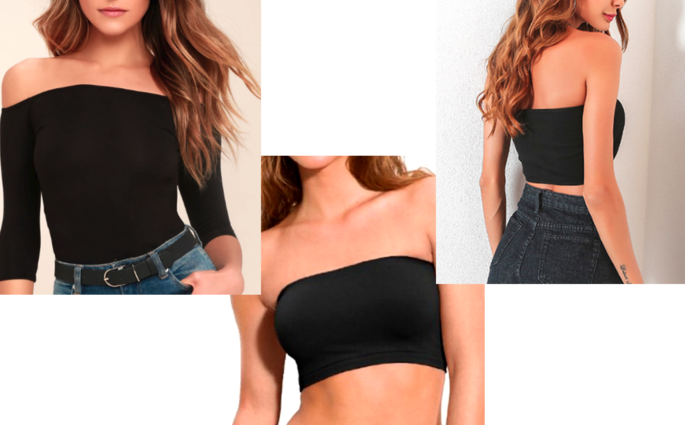 Tube bras are amply stretchable and remain the wisest choice to rock bare-shoulder tops with absolutely no signs of wearing an intimate underneath.
Teeny-weeny hacks to get rid of bra lines at the rear
You can always use bra clips to convert your regular shoulder straps into a racerback when you are all set to wear T-backs and tanktops.
2. On the other hand, there are convertible bras that come with removable straps for easy racerback conversion.
3. Fitting a bra strap extender is one other easy way to eliminate visible bra lines at the rear.
These accessories are very much wallet-friendly and don't require much investment. That adds brownie points, doesn't it?
Now that we have clubbed all the secret hacks to get rid of bra lines waiting to be tried this instant, you no longer have to carry extra layers of clothing to shy away from the annoyance of bra lines. Take complete control of your bras and rock that skin-fit Tee like a pro!