One of the most puzzling aspects of the wedding attire puzzle can be what undergarment to wear with your beautiful gown. You want something comfy but pretty, hidden and flattering. There are dozens of choices for bridal lingerie — the trick is finding a great bra that will balance your dress and your body type. Here, we have come up with a few wonderful, affordable options.
For a Backless Dress
A backless, strapless adhesive bra is a must. Because these bras are totally backless, they are not ideal for large-busted women, given their lack of support.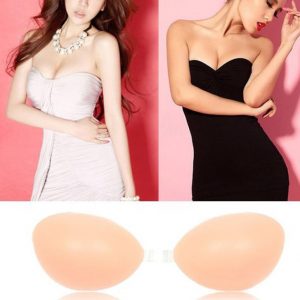 For a Slinky Sheath
The bra combines comfort with invisibility, making it the right bra to wear underneath a more lightweight, body-hugging sheath. Because of its plunging neckline, this bra does not provide complete coverage and is better suited for smaller busted women.
For a Plunging Neckline
The bra peeking out of the low-cut shirt is not a look you want to try with on your wedding day. Lucky for you, these low-cut bras are perfect for gowns with plunging or halter necklines, while still giving some lift and shape. For a plunging neck with a usual back and if your plunging neckline dress is also backless, you'll need the plunge strapless bra.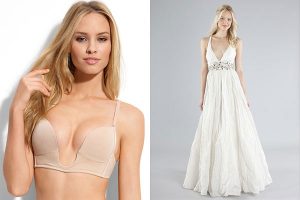 For a Strapless Dress (Small Chest)
The bra underwire bra is comfy, supportive, and offers plenty of padding to enhance your assets -— we totally love it. The cups are seamless but offer pretty lace detailing around the straps, making it a perfect choice for strapless gowns that don't have low necklines.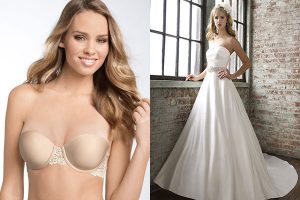 For a Strapless Dress (Large Chest)
For big busted women, the convertible bra provides great coverage and support. Wear it whole night without having to worry about it falling down or turning uncomfortable.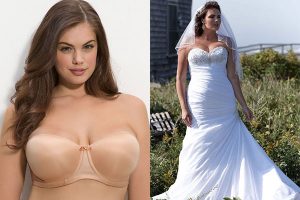 You might also want to think wearing a bodysuit, bustier or corset underneath your wedding dress, especially if you want to accentuate your waist. We suggest these three:
Shape wear for a Strapless Dress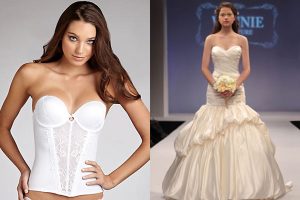 Shape wear for a Plunging Neckline