Inner Sense has crafted pretty bra of cool colour for comfort. Soft cotton and spandex fabric of Inner Sense Light Green Soft Cup Seamless Bra will hug you warmly. The bra strap is broad in the beginning with cool designs. It is also adjustable till midway. Curves along the contour is designed beautifully with geometric prints and wedged by a satin bow. 2 hook and eye closure will give tightness and will hug you smartly. Seamless cups will render natural shape to your bust. The thin elastic band across the rib cage will style a perfect hem line.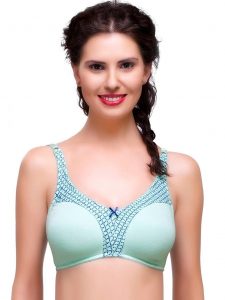 The price factor is justified by the super softness and quality of the bra. The no- irking quality of the bra will make it user friendly and will become your best companion of long time.
The colour option available is light green. The colour will be too soothing to your eyes that they leave a mark of calmness and peace on the wearers mind. Check out for this super cool bra at sku ISB034-LightGreen in our website, www.shyaway.com.