In support of Times of India initiative #MASKINDIA, we at Shyaway would like to share a few insights to our customers. Ministry of Health and Family Welfare (MoHFW) recommends people in densely populated areas to wear face covers. Make your own face cover with easy materials available at home; to curb the spread of coronavirus.
Why the MoHFW Recommends Cloth Face Masks Instead of Medical Masks?
As surgical masks and sanitizers have started to disappear from the shelves, MoHFW advises people to make homemade reusable protective face cover and reserve the surgical-grade and medical-grade masks for medical professionals and healthcare workers. The public can use homemade face and mouth covers when going to a crowded area.
How Can You Make a DIY Face Mask?
You can make face covers with an old piece of cloth, a t-shirt, bras, handkerchief, or a scarf. The material should be thoroughly washed and cleaned before stitching/making them into a mask. You can use a sewing machine to stitch them or simply use a needle and thread to sew them together.
Make Your Homemade Protective Cover for Face and Mouth
T-Shirt Face Cover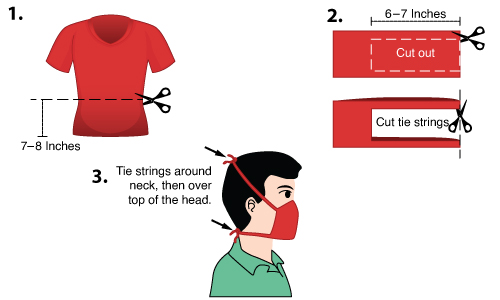 Handkerchief Face Cover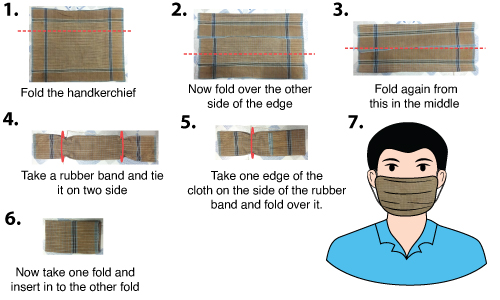 Bra Face Cover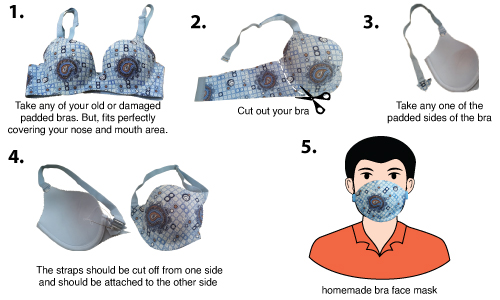 Bandana Face Cover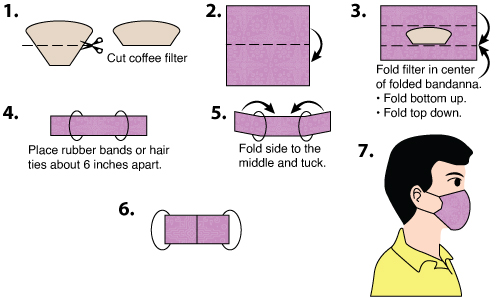 Cloth Face Cover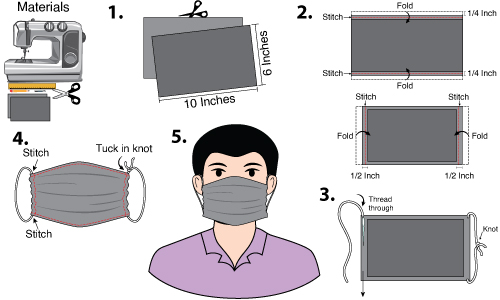 Important Things You Need to Know Before Using a Face Mask
Wash your hands before wearing the mask
Change the mask if its damp or humid
Do not share your mask with others (even after washing)
Wash the mask every day and dry them in the sun
Label the mask and store them in a safe clean place
Also read, our blog on quick ways to make DIY Bra Face Masks
Can DIY Mask Help Fight Viruses?
Research shows that DIY face masks made with a single layer of cotton can remove 50-60% viruses if used and washed properly. Wearing a clean DIY mask can reduce the chance of inhaling droplets from an infected person. However, they do not give complete protection.
When Should You Wear a Face Mask?
Face masks are not a substitute for social distancing. However, you need to wear DIY face masks while going to the market, grocery stores, pharmacy, or if you live in a community where you may be near a lot of people.
How Many Masks Do You Need?
You will need two masks and they should be washed after every use. Do not share your mask with other people. There's a high chance to pass on germs from one person to another so, make a minimum of two masks for each person.
How Long Can You Wear a DIY Mask?
You can wear DIY masks for up to 3 hours. They are less effective when they are humid and wet. Do not wear your DIY face covers for several hours because they will have little impact.
Is Washing and Reusing a DIY Face Mask Effective?
Yes. Washing them properly and drying them in the sun can protect DIY face covers from viruses and dust particles. As per the CDC, you can wash the DIY face covers in the washing machine.
Do Homemade Masks Work for Children?
It can be less effective on kids than adults. It's harder to make a mask that fit on children's face. When you make a mask for kids, make sure it covers their nose and mouth completely and it should stay firm.
Follow the instructions given by the WHO, CDC, and MoHFW to stay safe. Let's fight COVID-19 together.