Is it time for you to change your lingerie style? Maybe you are getting married and need the best lingerie sets for your honeymoon or maybe you just need a chance to appreciate your body.  We'll help you to add a bit of sexiness and sophistication to your lingerie with our top sexy bra and panty sets of 2020. And of course, we have added a pinch of inspiration from the movies and web series. You may want to read our guide on how to choose a sexy bra and panty set for your honeymoon.
Did you know bra and panty is one of the top lingerie searches on Google in 2019? Indian women prefer matching sexy bra and panty sets. We know that some ladies love the celebrity look. This is for you, celebrity exposed bra trends for 2020. You need to take a close-up look through these to understand the endless possibilities of wearing lingerie sets in real life.
1. Black Bridal Lace Lingerie (Halle Berry as Ginger in Swordfish)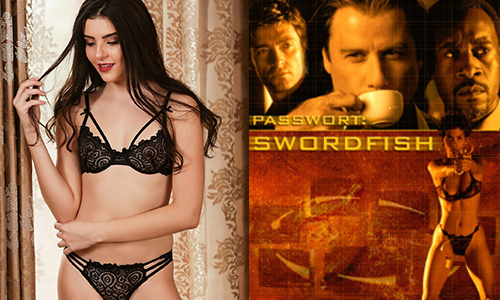 Not sure where to start? You can't go wrong with all black lingerie set. It's sleek, sexy, chic, and gives off a "sexy me" vibe. Black is equivalent to glamorous. These cute black bra and panty sets are a timeless treasure. Not just today but they will dominate the lingerie fashion for years. These sexy pair of Halle Berry inspired lingerie are available in sizes 34B/M, 34C/M, 36B/l, 36CL, 38B/XL, and 38C/XL.
2. Peach Bralette and Panty Set (The Redefined Version of Ali Larter's Whipped Cream Bikini in Varsity Blues)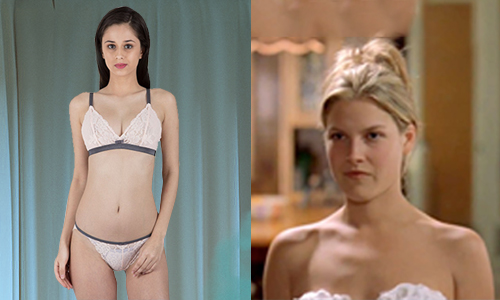 Technically, Darcy in Varsity Blues did not wear actual lingerie. She adorned whipped cream bra and bikini which is not for the faint of heart. We've got a redefined, wearable version of bra and panty sets. Peach bralette and panty set is one of the best lingerie sets for honeymoon. The neutral shade of peach tones is a crowd favorite. And now, peach bras and panties are making its way into our wardrobe. Taking cues from pink, rose, this peach bra and panty set is a sophisticated shade to wear. It's soft and feminine when styled right! Our Shyle peach lingerie set is available in sizes 32B/S, 34B/M, 36B/L
3. Lacy Little Sexy Bra and Panty Set (Daniel Radcliffe as Fleur Delacour in Harry Potter Series)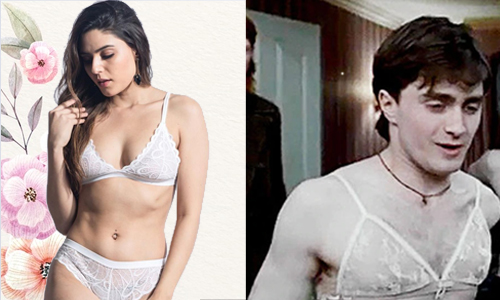 Harry Potter fan? Make some noise!!! Weren't you shocked to see Radcliffe in a lacy little bra in 2010 Deathly Hallows? We have got the closest matching bra and panty set. With this lacy white bralette lingerie set in your wardrobe, you never make a mistake. It's important to spend the money on classic pieces that are wearable for all occasions. These adorable white sexy bra and panty sets are available in sizes 34B/M, 34CM, 36B/L, 36C/L, 38B/XL, and 38C/XL.
4. Everyday Sexy Bra and Panty Sets (Alba Flores as Nairobi in Money Heist)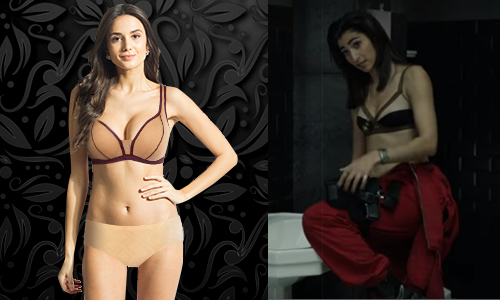 Who did not watch the Money Heist series during this lockdown? Want to find some Money Heist inspired lingerie style? What bra did Nairobi wear? Pair this everyday comfortable cotton bra with a nude lace fancy bikini or nude seamless hipster panty. Nude colors go with pink, white, and beige. Mixing up this bra and panty is a great way to underline your personality and make a real stand-out from the crowd. Does it really look like Nairobi's lingerie in the Money Heist series? Well, we leave it for you to answer!
5. T-shirt bra + Sexy Bikini Panty (Elizabeth Berkley as Nomi in Showgirls)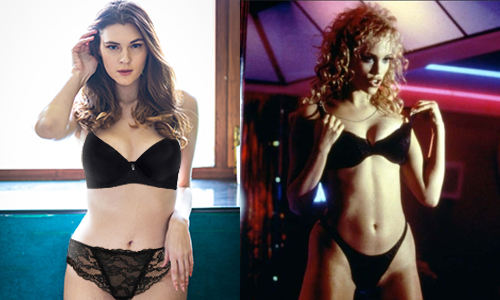 Yet another classic pair of lingerie in black. Remember balance when combining pieces. You don't want one color to overwhelm you. But, with black, you can just accentuate the right areas of your body. When wearing black, you have to pay attention to how dark or light each piece is. Put together this sexy black t-shirt bra and Shyle black mesh panty to make the best lingerie sets for honeymoon. They are available in a size you will fit and the price you will love.
6. Luxurious Satin Bra and Panty Sets (Natalie Portman as Alice in Closer)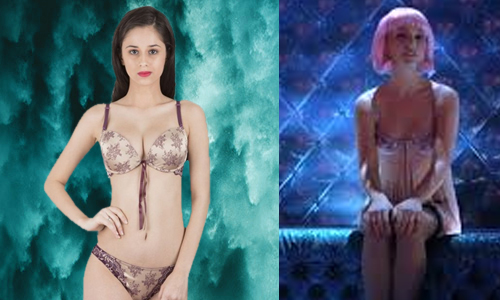 Natalie flaunted in fantasy wig and barely-there lingerie for her character in Closer, 2004. We've found a "nearly-the-same" sexy bra and panty sets. Satin lace lingerie sets have been in and out of style for years. Thanks to celebrities and designers! Satin bras and panty sets will make you feel glamorous every time you wear it. Whether you are wearing a satin babydoll or lingerie set, you will feel gorgeous. If you are still not convinced, look at what lingerie celebrities are wearing at the famous Fashion Shows and Award functions. This exclusive satin lingerie set is available in red-black and nude-purple. They are available in sizes 34B/M, 34CM, 36B/L, 36CL, 38B/XL, 38C/XL.
Before we let you go, ask yourself if you have ever recommended lingerie for your friends or loved ones? We'd suggest you try lingerie gifts for young brides to make them feel special and happy.
Have you got feedback or interesting facts to share? Leave your comment below.