Ramadan is just around the corner. Want to look flawless at Iftaar parties? Along with gorgeous outfits, you need perfect lingerie to heighten your style quotient. These lingerie ideas will make every aunty compliment you with "MashAllah!". Our Ramadan style guide 2021 will help to get the perfect lingerie.
Tired of searching for the best lingerie options for your outfit? We have got your back. Finding the right lingerie for your ultimate outfit can be challenging. Take a look at our lingerie styles for Ramadan now, we have picked the five best lingerie styles for you to choose from according to your outfit.
Like Ramadan fashion evolves every year, the lingerie industry is also adopting new lingerie styles to meet your fashion and outfit style. Whether you decide to wear a gown, Kaftans, bohemian vibe Kurti, or saree, these five trending lingerie will match every ethnic outfit.
Ramadan Style Guide 2021:Five Lingerie to Elevate Your Ramadan Look
Make your Ramadan traditional look pop with our hand-picked lingerie collection. We promise our Ramadan lingerie style guide will help show your best style. We have rounded up the best Ramadan lingerie styles to follow this Eid.
Designer Bra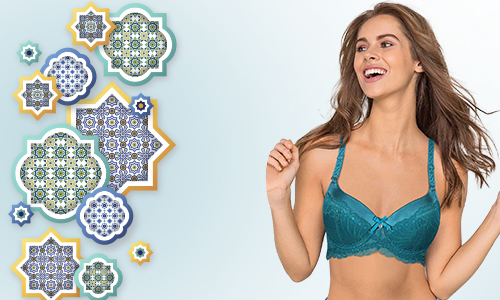 Are you someone who prefers heavily embellished lehenga or Kurti to wear on festivals? Then our enticing blue designer bra is perfect for you. This wire-free bra featuring half lace cups helps look sexy and comfy throughout the occasion. Our lacework bras are the perfect blend of lace and comfort.
If you want to drop the plan of purchasing luxurious lace bras then you shouldn't do it. Shyaway's lacework bras are available at reasonable prices.
Padded Wire-Free Bra
Make a statement with the right lingerie. You might have learned by now, lingerie plays an important role when you want to look stylish. This padded wire-free bra is not only comfortable and stylish, but it will also make you feel you are not wearing one. The best part about this stylish striped wire-free bra is made of ultra-soft cotton fabric that is ideal for warm-weather festivals like Ramadan. No matter what your outfit style is, you will look effortlessly gorgeous if you pair your dress with this amazing piece. 
If you want to rock your Eid look, opt for this cutesy wire-free striped bra now. 
Floral T-Shirt Bra 
T-shirt bras never go wrong under any attire!
Bring a summer vibe by opting for this summer-inspired t-shirt bra that is brilliantly equipped with breathable smooth cups and natural prints. Look fresh and let your skin breathe with our nature-inspired t-shirt bra. If you are looking for a bra that goes with your ethnic to casual outfits without compromising support, comfort, and fashion, this lovely floral t-shirt is ideal for you.
Plunge bra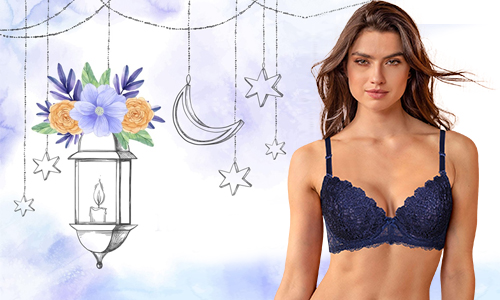 Obsessed with V-Neck outfits? Meet our plunge bra that is perfect under plunging necklines. Its flattering cut and angled cups help accentuate your shape. It also offers a flawless fit and fabulous cleavage.
Plunge bras would be a timeless addition to your closet. Shop your favorite on-trend plunge bra that helps elevate your traditional look.
Smooth Cup Cotton Bra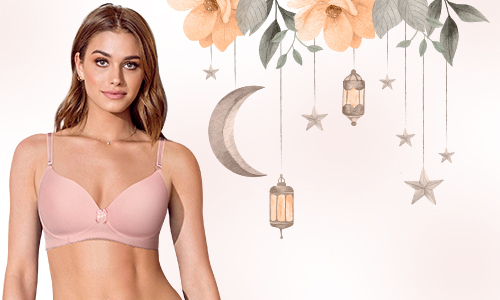 If your Ramadan outfit is lightweight and made with thin fabric then our smooth cup cotton bra should be your top choice. This cotton bra features seamless cups to offer 24*7 comfort. If you have planned to wear a flowy dress, the cotton bra is perfect to beat the heat.
These are the best lingerie you could ask for to match your Ramadan outfits. We hope our Ramadan style guide 2021 will help you flaunt your look. Shyaway's special Eid lingerie collection will help turn heads. Browse through our website to shop your desirable lingerie at impressive prices.