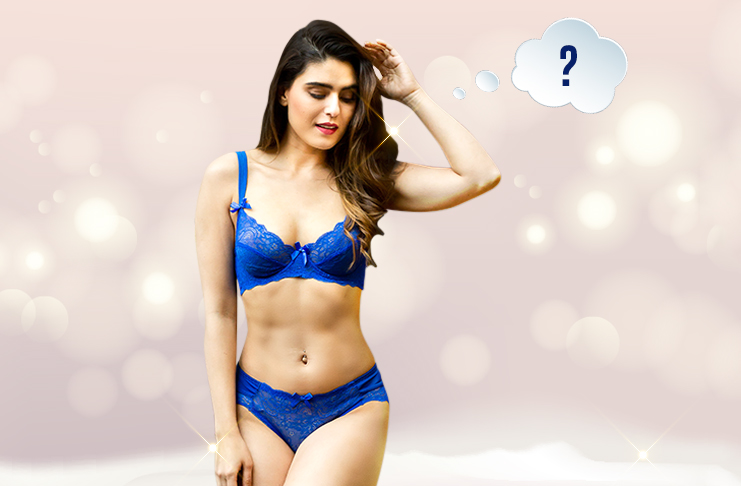 Our groundbreaking survey on "do women in India wear matching underwear?" looked into the closets of women and uncovered their preference and importance of pairing matching underwear.
We have conducted an anonymous survey online of around 1000 lingerie-loving women across India who shared their thoughts about how they like to wear matching underwear and pair it with outfits and how they feel about wearing matching underwear. This survey helped us to get a better understanding of how matching underwear plays a vital role in everyday life. We have put together the top ideologies of the Indian women we came across.
Here's what we received, hope you will find it interesting and helpful! Let's get started!
Rashmi: "Yes, I like to wear matching underwear. It will be comfortable in the outfits too and gives a fresh feel when it matches with our outfits."
Arpita:  "Yup of course if I'll get any way to wear a matching set, I'll not miss it.
I'll feel good internally too and  I can impress my love too."
Shivani: "I really like having my lingerie co-ordinated..it gives a feeling of joy and happiness and a sense of satisfaction. it's like matching your kurta with exact color legging."
Fatima: "I don't care whether my underwear is matching or not. I prefer comfort beyond everything. My day will be well-spent if I wear comfy underwear."
Heena: "Not every day, But Yes at times. Whenever I wear matching underwear I feel myself peppy, something happy & fresh. Get a laugh inside and feel the fun."
Sanjana: "Yes I do. I have a habit of wearing matching underwear according to my outfits. it makes me feel that everything is perfect and well-coordinated.
Kajal: "I've never in my life worn matching underwear."
Radhika: "I love to pick the same color, style, and fabric when it comes to underwear. I tried a purple t-shirt bra with a purple hipster with white flower prints. For me, matching underwear means perfectness!"
Jennifer: "I am a college student. I do like to match the underwear that makes me feel like everything is fine in my life even though it is not. It feels good to have matching underwear but most of the time I don't get to buy underwear set in the same style, pattern, or designs. It depends on my mood… if I feel happy I will wear my happy color- blue or black. I love nude hues too. If I plan to go to a party, I like lace designs,  classy black underwear because that makes me sexy, and positive."
Nagma: "I have tried wearing matching underwear a few times. I like wearing it that way only when I wear low waist or transparent pants. I do feel good about it, but mostly I would like to try different colors."
Tanuja: "I am a Pharmacist. I genuinely feel I don't have time to think of having matching underwear to pair. I don't care what color or style I'm wearing."
Vaishali: "I recently started wearing matching underwear, according to my casual wear. I still remember the day, when I matched a red lace bralette with a lace panty on Valentine's day. Believe me, it made me feel sexy and confident. Not wearing matching underwear can ruin my day—that's how I feel."
These perspectives and ideologies showed that wearing matching underwear can or can't make any difference in your life. 40 percent of incredibly organized women or perfectionist personalities love to match their underwear with outfits and like to wear matching underwear every day no matter what. Meanwhile, another group of women( 35 %) seemed non-matchers who strongly believe matching underwear has nothing to do with their fashion. Comfort seems confident for them hence they pick underwear randomly. Some women( 25 %) say they prefer to wear matching underwear only on special occasions such as date night, honeymoon, wedding day, and more. If you are interested in matching underwear, why not try these pretty lingerie sets?
We would like to know what your thoughts are on wearing matching underwear.