Diwali is already here, still confused about which outfits to pick? We are here to help you out. This Diwali, whether you want to go trendy or traditional, we offer the exclusive list of latest Diwali fashion trends for 2020 so that you can pick the right one from the list. Diwali is always special for Indians, just not for the crackers or sweets, it is also for the beautiful outfits. Whenever we think of Diwali the first thing that comes to our mind is Diwali outfits. All of a sudden, Diwali is making us forget the pandemic and bringing us back to the good old times. Y'all get ready with sweets and crackers. Oh wait! Of course the outfits, but if you are still not ready, we are right here. Here we have explained the festive fashion trends for this Diwali 2020. Get ready to try out these best trends this Diwali.
1. Ruffle Sarees     
Diwali trend 2020: sarees. When the ruffle saree trend arrived, it was all of a sudden gone because of the pandemic. Let's bring it back now. Ruffle sarees come in both traditional and trendy patterns. The traditional ones are usually plain with just ruffles attached to the sides. If your night is going to be filled with whirls and twirls, then there is no better option than ruffle sarees. But if you feel plain is boring, you can also opt for ruffle sarees with embroideries and stonework. Imagine, wearing it in between all the lights and colors! I bet you will love it. If you want to go a little trendy, there are also ruffle sarees with prints. You can also pair it up with a matching belt and make it look more fashionable. For ruffle sarees, glowy makeup with a bun would be a great idea. Try to wear contrast slippers to make your outfit look more unique!
Lingerie Trend for Ruffle Sarees
For the ruffles, the most famous lingerie trend for Diwali 2020 is lace bras. They are perfect as they will add more beauty to any type of outfits. 
Gift Trend
The gift trend that can perfectly go with ruffle saree is candles/lanterns. They make your outfit look more auspicious and there is no other better gift than these bright candles/lanterns.
2. Kurtis with Center Slit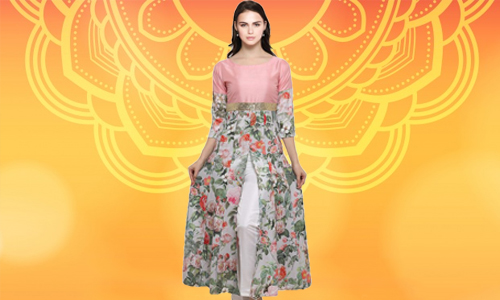 If you can find Kurtis with a center slit this Diwali, grab it right away! It is the best option if you want to be trendy as well as traditional. Center slit Kurti is a great pick as it is extremely elegant and sophisticated. For Kurtis with center slits, you can go with matching palazzo pants or skirts. If you want to play a little with colors, you can choose the bottom in contrast colors. To match with the Diwali vibe, pick solid color outfits with golden or silver work on it. It is the best option to choose heels that can go with the color of your outfit for palazzos. But, here is an additional tip, if you want to try out an indo-western type, pair your center slit Kurti with jeans! Torn jeans would work even better:) Now, wear long earrings and maang tikka/chutti to complete your look! 
Lingerie Trend for Kurtis with Center Slit
Padded bras are a great option, in case you are choosing Kurtis with center slit. Padded bras lift up your breasts and provide the right enhancement. It is a great pick!
Gift Trend
Gift cards are in trend now. Beautiful words can make anyone happy instantly. To add more light to their life, present your loved one with gift cards!
3. Kurtis with Dramatic Sleeves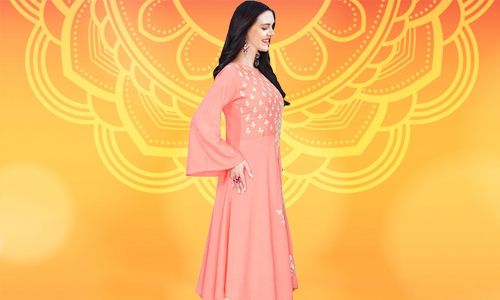 A little bit of drama is never bad. Kurtis with dramatic sleeves are on trend now. This Diwali if you want your outfit to be elegant and beautiful enough, there is no other better option than kurtis with dramatic sleeves. This dress is specially made in order to complement all your diwali dance moves. Your sleeves dance along with you! This kurti is just worth all the beautiful candid pictures you are going to get with the dramatic sleeves along. These sleeves are just enough and you will not need any additional accessories, hence pair it up with simple earrings and you are all set. Complete your look with clear solid heels!
Lingerie Trend for Kurtis with Dramatic Sleeves
Seamless bras can be a perfect fit for dramatic sleeves. These can just fit under your outfit perfectly and provide a seamless finish. This is a must-have in every woman's wardrobe.
Gift Trend
Visit your loved ones with homemade sweets and it would be the best ever gift. You can also decorate the gift box with beautiful wrappers so that it could also go with your outfit.
4. Indo-Western Type 
An outfit that is a combination of traditional and western style will never go wrong. Shirts and skirts are a great pair. Here is how you can pair them to look classy. This can also be a last-minute Diwali outfit when your Diwali shopping fails terribly. Pick your favorite shirt; it would be great if it is a solid color shirt, white is preferable as it can uniquely complement your jewels. Here is what you should remember, if you are picking a printed shirt, choose a plain skirt and vice versa. The neckpiece is the most important part in this type of outfit. Make sure your neckpiece is bold enough to add the right amount of elegance to your outfit. Adding the neckpiece can instantly add beauty to this outfit. Now, if you want, add a pair of earrings; otherwise, just leave as it is for your neckpiece to do wonders. A simple messy bun and a pair of flats can complete this look.
Lingerie Trend for Indo-Western Outfits
It can be a great deal to choose lingerie for indo-western outfits. It would be great to wear bras with patterns on them as it would provide a more casual and trendy look.
Gift Trend
This Diwali, let's go green by gifting loved ones with saplings. This can also perfectly go well with your outfit and will help you get insta-worthy pictures!
5. Sharara Dress    
Can you show me a better outfit than a sharara dress? Sharara suits will never go out of trend. Diwali mornings or nights, a Sharara suit is all you need. One cannot find this much elegance in any other dress. Bright color sharara suit or nude sharara suit, anything can go well for Diwali. Pair it up with matching earrings and a simple hairdo with flowers can extremely go well. Flats are preferable for this outfit, but make sure it is simple and elegant just like your outfit. Now, you are all set. Get ready for your Diwali photoshoot session and just wait for your inbox to fill with compliments. 
Lingerie Trend for Shararas
For this outfit, visible bra lines can be a great deal. In order to overcome this, use t-shirt bras. They will fit you perfectly and provide a seamless finish.
Gift Trend
You can get your loved ones their favorite home decors. If you want to bring some good vibes to their home, you can also get them to chime bells and it would also remind you every time the bell chimes;)
These are the 5 top trends for women to rock this Diwali. Our latest Diwali collection list includes the best festive fashion trends. Try out these fashions trends this Diwali and let us know how it worked out!