Of all stains, oil stains are very frustrating. We'll get stains easily in our clothing but the removal process requires the superpower of Thor. Oil strains are one of the tough stains, if you don't get rid of them immediately they stick around forever. Many times your favourite food or chat bits might spill inside your dress and lead to stains in your lingerie. Generally, oil stains make you feel annoyed but oil stains in your lingerie will make you exasperated. Unlike your regular clothing, lingerie requires separate love and care. Lingeries are tailored with the finest exquisite fabrics so it's important to wash with care. Here we've listed some best ways to remove oil stains from bras. Follow our simple method to remove stains from undergarments and keep your lingeries young and beautiful. 
How to Remove Stains from Bras?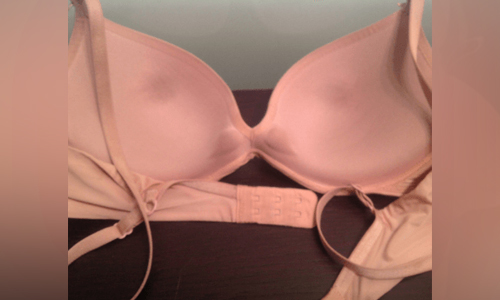 There are many best and quick ways to remove oil stains from lingerie. We've listed the simple cleaning hacks to remove oil from your clothes. Oil stains can be removed easily if it is treated immediately. Padded bra, lace bra, bridal bra, or whatever bra type it may be, make sure you wash them with care. Hand washing is one of the best ways to extend your lingerie life. Hand wash is recommended To remove oil stains from your lingerie. Most of our quick ways to remove oil strains can be done with some household items. 
Method 1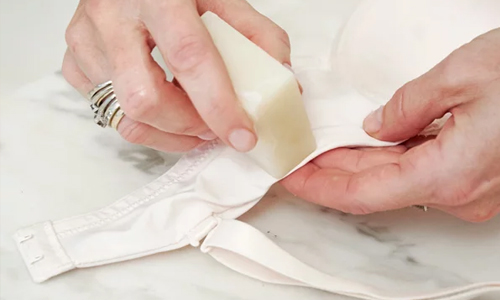 This is one of the quick ways to remove oil stains.
All you need is 
Shampoo or Detergent or soap.  
Cornstarch
Toothbrush 
Step 1- Pour some shampoo in the oil stains area.
Step 2- If you're using a detergent add cornstarch and allow it to soak for 30 minutes. 
Step 3- Now take your brush and gently rub the soap or detergent with starch.
Step 4- Add a few drops of water and gently rub again.
Step 5- Make sure the strain has been eradicated and rinse in water. 
Step 5- Hang it under the sun.
Note- Sun is an excellent bleaching agent. Make sure to hang your bra under the sun after removing stains from your bra. It applies to all the methods.  
Method 2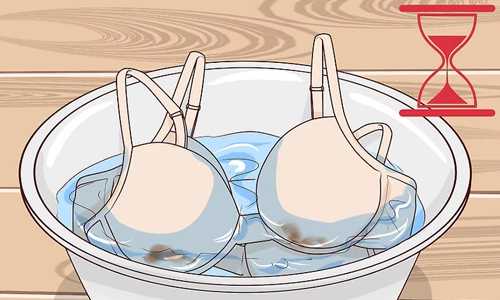 Items needed- 
Dishwashing liquid/ laundry detergent
Baking soda 
Hydrogen peroxide
Toothbrush 
Step 1- Take a bucket and fill it with cold water and add laundry detergent or dishwashing liquid. 
Step 2- Add 3% hydrogen peroxide to the bucket and stir thoroughly (3% is safe and it can be used on any bra) 
Step 3- Soak the bra completely into the bucket for an hour or longer.
Step 4- Rinse it with cold water and hang it under the sun.
Simple Methods to Remove Stains from Undergarments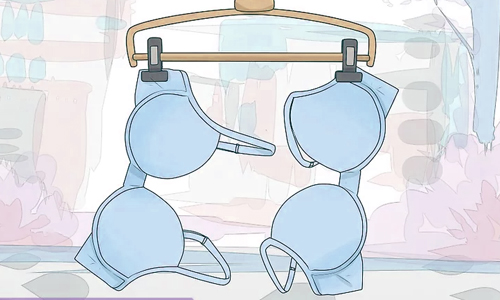 Here are some simple tricks to wash your bras with the items in your home. Some of these methods may not be very effective but they will remove the oil stains to some extent.
Vinegar – Take a cup or bowl and pour water and vinegar into equal parts. And take a dry cloth and dab it into the solution and rub it over the oil-affected areas. Rinse it with cold water and allow it to dry.
Chalk – Chalk can absorb oil, you can use chalk or chalk powder and rub it over the oily areas. You can repeat this process to prevent more from blotting. 
Baking soda – Remove the oil with a cloth or paper and sprinkle the baking soda on the affected area and allow it to be for 24 hours.  After 24 hours, dust the soda and spray the affected area with vinegar and water solution.
Salt – Mix salt and rubbing alcohol in a 1:4 ratio in a bowl. Dip a cotton ball or clean cloth into the solution and rub it in a circular motion in the stain-affected area. And follow it with a regular wash.
Toothpaste – Take any toothpaste and rub it over the oil-affected area. Use a toothbrush and gently scrub in the strains. Rinse with normal water and allow it to dry.