The ultimate guide to lingerie elastic is like a user manual for bra shopping. Find out why and how to stop having lingerie rashes and red lines across your torso with us. 
Why Is Your Bra Leaving Red Marks on Your Skin?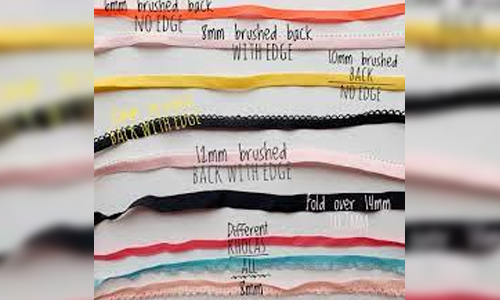 Every woman out there goes through this. Strap marks on the shoulder, rashes under the breasts, elastic lines across the tummy, groin rashes that hurt badly during menstruation. Why does this happen? 
Five reasons why your lingerie or any clothing with or without elastic may be giving you a rash. Here are a few of them:
Fitting: Fitting issues are the first and foremost reason behind a rash or red mark. Tight clothing can leave you with a burning sensation or paper cut like red marks. These rashes usually heal after you get an apt fit.
Friction: Used to wearing oversized clothing and the right lingerie but still end up with rashes near the crotch or in between your breasts? Skin rubbing against skin can cause friction and rashes. Lubricating or powdering may come in handy but they are not a permanent solution.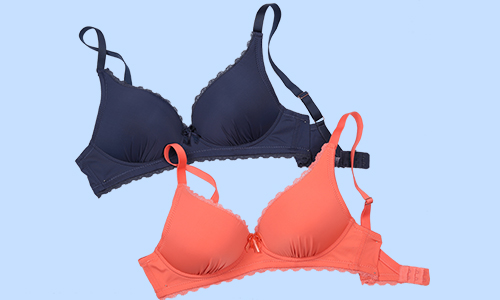 Material: Do you know that there are people allergic to cotton? Yes, even the best of the best can also irritate your skin. 
Design: Weak for lace and mesh? Frills made of low-quality fabric or poor craftsmanship can irritate foldings such as your armpits, back roll, under the bust or by the tummy.
Cleanliness: You will need to wash your bras anywhere between two to three uses while your panties after every use to avoid any rashes caused by a fungus, bacteria, and sweat.
The solution to any problem lies within the problem. Similarly, the elastic lying inside your lingerie may be the solution to your lingerie problems! Find the designer's secret behind lingerie elastics.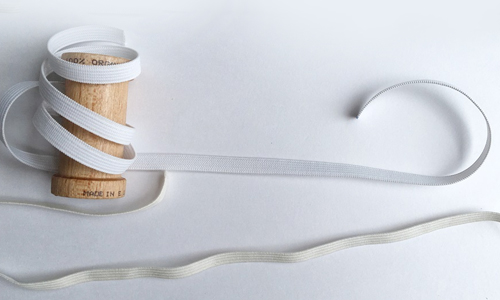 Types of Elastic for Sewing Lingerie
Elastic is an integral part of any clothing. Most of your outfits, scrunchies, lingerie, and socks are of no use without an elastic. Let's see the three basic types of elastic used in lingerie manufacturing. 
#Braided Elastic 
Do you remember the days when the elastic of your panties would roll by itself? They would twist in places that required heavy leverage. At present, these elastics are only used near the neck, sleeves or on the back of tops.
#Woven Elastic
Woven elastics are the best if you like firm but flexible outfits. They stretch as you move but never go out of shape. Woven lingerie elastics are typically used for bra bands and lingerie waistbands. They are the heavy-duty personnel in the lingerie department. Bra strap elastics of plus-size bras are also made of woven elastic for added support.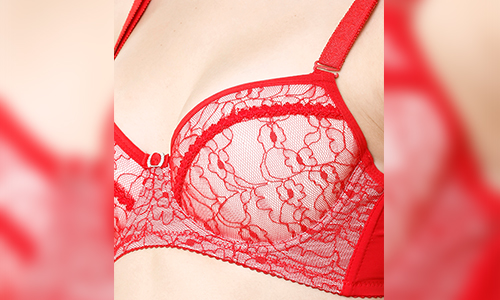 #Knitted Elastic
Standing between braided and woven elastic, knitted elastics are durable than braided and more flexible than woven lingerie elastics. They are predominantly used for making thin under bands for demi coverage bras or in beginners bras, camisole bras, bralettes, etc. 
Elastic for Sewing
While it's easy to pierce a normal needle through a braided or knitted fabric for hand sewing, woven fabrics require a sturdier needle and can give the best output if sewn with a machine. You would also need to cut the braided and knitted fabric a few centimetres shorter than the measured size to keep the lingerie in place. 
Different Types of Elastic
Let's leave the knitting and sewing part to the designers and step into the pro-shopper boundary by understanding the specific types of lingerie elastics and their uses:
#Bra Strap Elastic
Elastic bra straps have no fabric at all save for sportswear! They are completely made of bra strap elastics. Get your bra now and inspect it, the underside of a bras strap is always coarser than the upper side. The coarseness enhances the grip and reducing friction. The width of this elastic depends on the bra style. While balconettes have thin straps, full coverage bras have broader ones.
#Band Elastic
Band elastic depends on the bra style too. While sports bras, full coverage bras, minimizers, etc. have broad straps made of woven elastic, pushup, plunge, padded, balconettes, etc. have thin but firm bands to make the bra supportive and durable. These bands are a cross between the knitted and woven fabric.   
There are plain bands and bands with designs available in the market. Therefore, you may find naked elastics in the colour of the bra attached to the body or elastics encased within fabric or lace sewn to the body of your bra.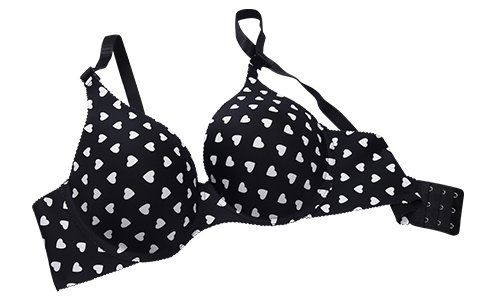 #Picot Elastic
Picot is elastic for underwear and beginner bra straps. They have triangular designs poking out of one edge and are regularly used on the hem of leg openings. These are of immense help for growing children but plus-size women may get rashes due to the design creating friction. 
#Fold Over Elastic
These are the ultimate solution to any lingerie elastic problem! They can fold and bend along with your curves while holding your assets in place. Fold-over elastics have become the current go-to elastic in the lingerie market. The elastics benefit curvaceous women the most. Shyaway's sports bra and workout leggings made of fold-over elastic provide enhanced comfort.
Apart from the above, there are clear elastics used on transparent straps and drawstring elastics used on corsets and tube bras. Choose your next bra with this ultimate guide to lingerie elastic or simply shop at Shyaway.