Most pregnant women enjoy imagining all the things that they and their baby need for the fresh two years of their baby's life. The most elusive collection in this list will be are nursing bras. Many pregnant women are aware that their breasts will grow as the milk fills in post delivery. So, most expecting mothers end up buying Nursing bras that are too small because they have no idea what size their breasts will increase to.
Entering the world of breastfeeding can be daunting, especially for a first time mum. As a rule of thumb, most women buy nursing bras that are one to two sizes larger than their normal bra size, when they're shopping for nursing bras pre-birth. However, no one can really know what her nursing cup size will be until the milk has "splurged in" and then "settled in."
There are 5 simple rules you need to follow to see to it your investment in nursing bras serve you well:
1. GET FITTED PROFESSIONALLY
A woman's busts will continue to change in size all through her life and it is particularly noticeable during pregnancy and post-delivery. It is recommended that you take the time to get fitted at around 8 months of pregnancy before baby arrives. This size your breasts should be at 8 weeks of delivery when your body has learnt to regulate its milk supply. A perfect fitted bra will not only make you feel amazing but will also provide your body with that much needed support.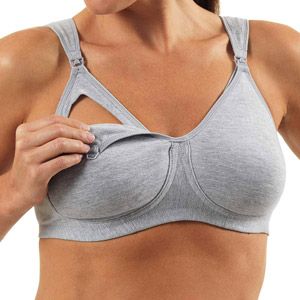 2. BUY A BRA THAT FITS YOU CORRECTLY IN THE CUP
Lot of women make the mistake of purchasing nursing bras with added room in the cup. This is not good; as a loose-fitting cup will not provide your breasts with that much needed support. A good nursing bra will have stretchy fabric on the outer of the cup; that helps in free movement of the breast as it produces milk.
3. BUY A BRA THAT HAS 4-6 HOOKS AND EYES ON THE BACK BAND
At approximate 8 months of pregnancy when you are getting fitted for your nursing bras you should be fitting the back band of the bra on the loosest hook and eye. This will then allow room for you to tighten the back band post delivery as your rib cage contracts. The back band provides 80% of the support of your bra, so back band is very important.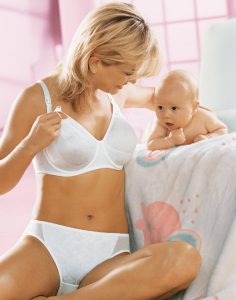 4. DON'T TRY TO FIT INTO CUP DETAILED BRAS IMMEDIATELY AFTER DELIVERY
It is during the first 8 weeks post birth that your busts will feel a little out of control. You will see large fluctuations in breast size as your body learns to regulate its milk supply. A seamless bra is helpful at this time as it will move with your changing body and provide you with that much needed comfort and support. A tight product will not only be uncomfortable but also will compress and restrict the breast as it learns to regulate milk supply.
5. CONSIDER YOUR CLOSET
And Last but not the least, consider your Closet. There are many nursing bras available in the market ranging from every day bras, contour, soft cups to pretty fashion bras. Buy feeding bras that will work in with your life style and make you feel adorable.