When we speak about February, the first thing that comes to our mind is Valentine's Day. All over the world, this Day is celebrated by exchanging flowers, candy, and gifts between loved ones. On this special occasion instead of wearing ordinary clothes, impress your loved ones with trending and fashionable outfits. Read and get to know more about Valentine's Day trends.   
Exclusive Valentine's Day Trends
1.Tube Top
Enjoy your Valentine's Day by wearing a Tube or Bandeau top that does not have straps or sleeves. This type of dress can be tricky because it has a fit at your bust which goes straight down like a tube. It is highly recommended for pear-shaped women.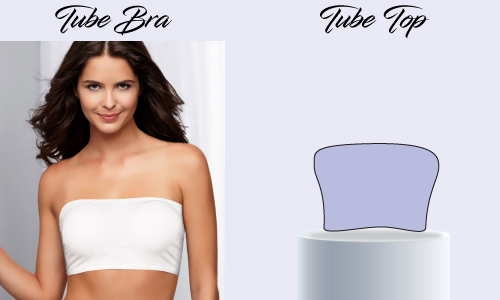 Recommended Lingerie: Tube Bra
Tube bras are strapless stretchy fabric with a thick band on top and bottom. Since it does not come with any fasteners they are easy to wear.
2.Pencil Fit Dress
We always want to look slim in front of our loved ones. Pencil fit works like a mirror to your body. It is very narrow and straight just like a pencil. It's tightly tailored hem which falls at or below the knees. Only wear them if you are confident enough.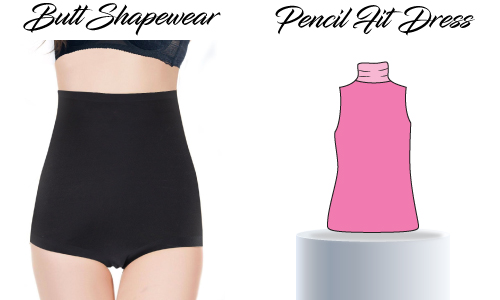 Recommended Lingerie: Butt Shapewear
The shaper gives a good structure to the backside portion. It helps you in shaping up the body and gives you the perfect curve. The padded product helps in tightening and lifting your back. 
3.Maxi Dress
If you are tall and wearing a short dress makes you feel a bit exposed when you are with your valentine, then a maxi dress is the right choice for you. These dresses kind of flow with your figure and make you look mouth gapingly hot. If you are slim then you shouldn't miss the opportunity to wear this dress. 
Recommended Lingerie: Body Shapewear
Body shapewear is a single piece finely fabricated slimmer that can help in supporting your body curves while wearing tight outfits. Contouring your body line on a special occasion like Valentine's Day has now become easy with this shapewear.   
4. Fit and Flare
If you want to look stunning during this special occasion, then the apt one to wear is fit and flare dress. This sits perfectly at your waist and then flares. The length of the dress can vary. Fit and flare dresses are usually like an hourglass shape that gives a curvy look to your structure and is universally flattering.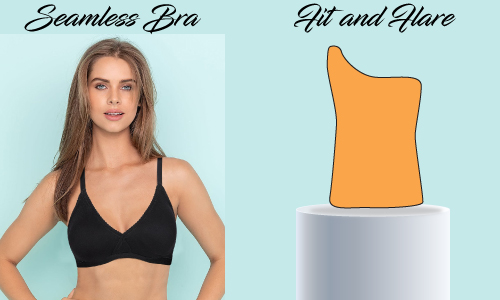 Recommended Lingerie: Seamless Bra
A seamless bra is designed to be invisible under your clothes. The cups are covered with a single piece of fabric that is free of seams or dart. The cups give you proper shape when you wear a fit and flare dress.  
5. Tulle Dress 
If you want to look gorgeous while meeting your special one, then go for this outfit.   Tulle is a lightweight, made of net usually used in designing ballet dresses. It can be made of various fibers such as silk, nylon, polyester, and rayon. These are very commonly incorporated in skater dresses to make them look fresh and young.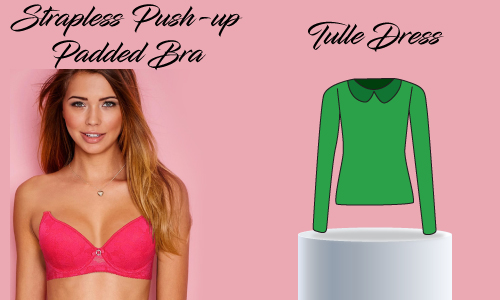 Recommended Lingerie: Strapless Push-up Padded Bra
A strapless push-up bra is a great choice especially for a dress made of tulle. Straps do not hold the majority of the support in the bra whereas it is the band around the rib cage promotes the support. So wearing a strapless push-up padded bra can be both supportive and alluring.   
6. Partywear
Slay the night party with your loved ones by pulling over partywear. Partywear is usually formal, shimmery and can always have a versatile design on them. They can be extremely steamy and exposing. It usually comes with sleeves, half-sleeves, or sleeveless.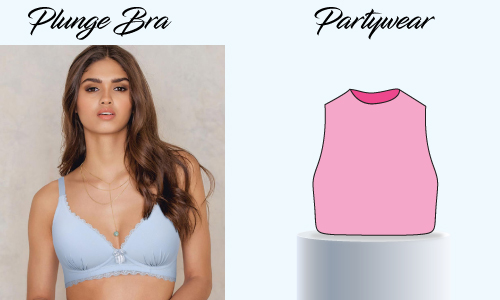 Recommended Lingerie: Plunge Bra
Plunge bras are designed in a way so that you can wear them for low cut partywear with no visibility of your lingerie. These come with cups that are joined together with a thin center that doesn't stop you to wear modern and stylish party wear. 
7. Tweed Dress
Tweed is closely woven, flexible, and rough fabric. This fabric is mostly used in suits and blazers for men, but now it has become a trending fashion by designing it for women. The dress is usually above the knee and comes with a belt which is similar to party wear. Enjoy the Day with this tweedy short dress.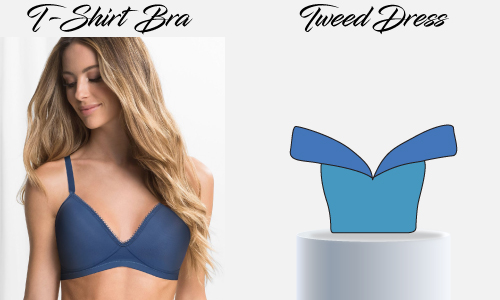 Recommended Lingerie: T-Shirt Bra
T-shirt bras are seamless and have molded cups. It gives a smooth outlook without revealing the bra outline. It can be worn for many outfits without any discomfort. It comes with both padded and non-padded, but a padded t-shirt bra always gives you proper nipple coverage.  
8. Popover 
Popover dress is been a favorite outfit for young girls. This comes with a top part which usually has an extra flowy fabric that pops out of the whole outfit. It fits perfectly for slim and tall women.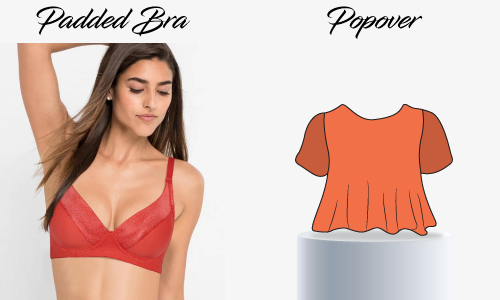 Recommended Lingerie: Padded Seamless Bra
This type of bra comes with pads that give you a proper silhouette. It maintains and enhances the shape with the exact curve. This bra can be worn for any outfit, so it will not be a problem for wearing under a popover dress. 
9. Off Shoulders
If you like giving your skin some exposure, then you definitely need to get an off-shoulder dress. This dress bares your shoulders and collar bones with sleeves across your arm or it comes with no sleeve at all.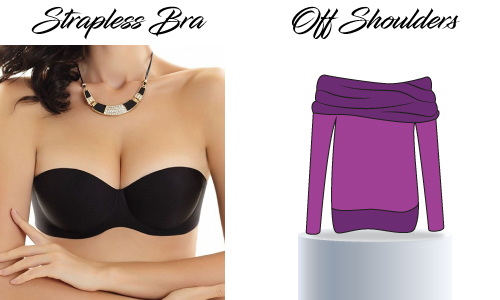 Recommended Lingerie: Strapless Bra
A strapless bra, as the name suggests, doesn't have shoulder straps. These bars do not lie flat in your chest but it helps the bra to stay with the help of silicon lining in the cups. It gives the necessary support and shape. This is the best option that you can wear for off shoulders. 
10. Backless Dress
Want to look hot and hit Valentine's Day with your beloved? Then you should look for some backless dress. A backless dress can be of any type, but it usually comes with no back or a little closure. This type of dress makes you steamingly hot and gets a whole lot of attention from your valentine.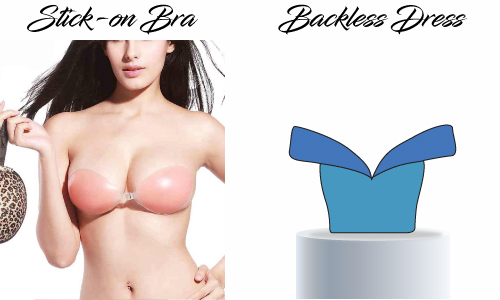 Recommended Lingerie: Stick-on Bra
A stick-on bra is the perfect one to wear for any backless dress. It is made of silicone and they are to be attached to the underside of the breast. It is comfortable and easy to wear.  
So what are you waiting for? Pull-on your favorite outfit and get ready to enjoy Valentine's Day with your loved ones.