What is Gynecomastia?
Gynecomastia is a condition that makes an increase in the amount of breast gland tissue and makes it swell in men. 
In men, testosterone is a hormone that is responsible for sexual growth during puberty. But males also tend to make estrogen, a hormone that is responsible for sexual growth in women. It is normal in men to be born with breast tissue but it is low when compared with women. This condition called Gynecomastia is usually caused by an imbalance of the hormones estrogen and testosterone. It might occur in only one or both the breasts. Puberty, aging, obesity, illegal drugs are few important causes of the imbalance of hormones. This will eventually cause a small lump or swelling under the nipples and may also lead to swollen breast tissues and breast tenderness. 
In this case, men wear bras to support their breasts and to flatten their appearance. The male bras are also known as the compression bra, compression vest, or gynecomastia vest. The difference between male and female bras is that male bra concentrates more on flattening the appearance rather than support and lift. 
Men wearing bras is uncommon but there are some rare cases where men also wear bras. They tend to wear bras for cross-dressing and also for sexual purposes like transvestic fetishism. Usually when a sweat-soaked material rubs excessively over one's nipple, it might lead to jogger's nipple or nipple chafing. Hence males wear sports bras to prevent the condition. 
Here are 3 things that you must look at while wearing bras for men with this condition.
The first thing to notice is the material or fabric. Make sure the fabric is soft and skin-friendly. Smooth and stretchy fabric can prevent skin irritation and redness. Cotton is the most widely opted fabric for innerwears. There are also other options of fabrics available, you can choose the right one that you feel the most comfortable.
There are wired and wireless bras available. If you are not comfortable wearing bras with wires, you can opt for wireless bras. Mostly, men tend to have muscular breasts because of the increased level of testosterone. To provide support, wired bras can be used. But in case, if it does not fit you right or makes you uncomfortable, you can go with wireless bras with soft cups.
Bras with built-in compression can help you prevent bounce or any other breasts movements. Hence make sure the bras have the right compression.
Men are not used to wearing bras, hence these things should be kept in mind while buying bras in order to feel less uncomfortable.
Choosing a bra for this condition completely relies on the size of your breasts. If your breasts are small, then you probably do not need a bra. If your breasts are growing and in a bigger size, you can surely opt for bras. If you feel uncomfortable wearing a bra, you can go with vests that are specially made for males with gynecomastia. Sports bras for men are a great choice for males with this condition. Here are the best bras for men with Gynecomastia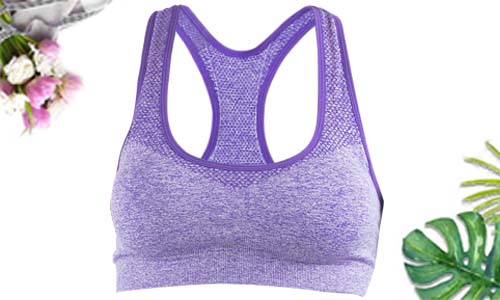 Sports bras with racerback- Racerback sports bras are great as they help appear your breasts flat. They are also extremely comfortable.
Normal sports bras without any wires, and additional embellishments. 
These bras are highly comfortable and come in different sizes, colors, and patterns. Hence you can pick the right one for you.
Many studies suggest that the increase in breast growth can result in back pain and breast movements just like women. This condition might improve on its own but it doesn't, there are treatments such as Liposuction to remove breast fat and Mastectomy to remove breast gland tissue are available. Mastectomy takes more time to recover compared to liposuction. 
Many studies suggest that about 30% of men experience this phenomenon during their lifetime. It is a common and treatable condition, hence learn to face the situation and do not forget to love your body no matter what.