There are so many different types of lingerie, so when you are starting it might be pretty hard to know which bra is the best and how to buy them. As a beginner, it can be confusing to see a number of different bras in the market and it might baffle you to choose the right one. On the other hand, bralettes are now in trend and everyone is obsessed over them. So, which is the best and most comfortable- bra or bralette? This blog will help you understand everything about bras and bralettes.
What Is a Bra?
Women have been wearing bras for hundreds of years. It is a piece of garment that is worn to support and cover their breasts.
Importance of Bra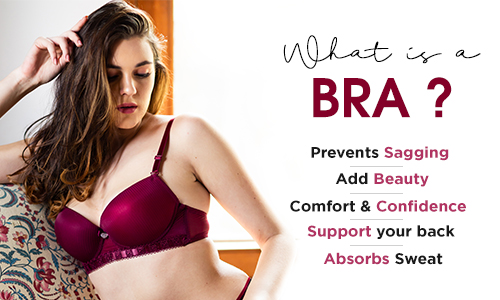 Even though the most satisfying thing in the world is to free your breasts after a long hard day, wearing a bra every day has major advantages.
Prevents Sagging
Saggy breasts can instantly make you appear older and unattractive. There are ligaments in your breasts called cooper's ligaments, they provide support to your breasts and prevent them from sagging. But, these ligaments tend to break or stretch out over time causing breasts to sag. So, wearing bras can certainly help ligament damage.
Add Beauty
Every woman's breast differs in size and shape. Some may look saggy, some may look toned, some may be small, some may be large. Whatever your breast type is wearing a bra can add beauty to your breasts. Whether you want to maximize or minimize the look of your breasts, there are bras available for every need. They usually add beauty to your breasts and help you rock any outfit effortlessly.
Comfort & Confidence
We all are used to it, and sometimes going out without a bra can make you feel uncomfortable. When you are involved in any physical activities like running, jogging, etc. your breasts without any support would tend to bounce and move so wearing a bra can prevent those awkward times. It prevents pain and discomfort during the intense workout sessions. This way you can carry out your workouts with confidence.
Back Pain
Women with larger breasts often tend to feel back pain because of the heavy breasts, so wearing a bra can provide the right amount of support and protect your breasts thus reducing the pain.
Best Bras for Everyday Use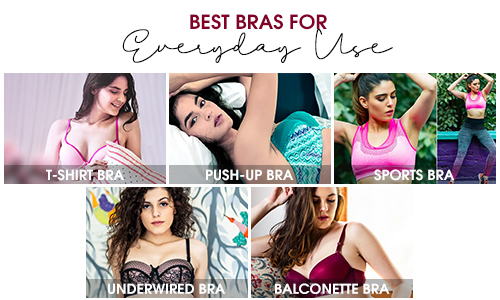 We have listed some bras for everyday use that every woman should own
T-shirt Bra
Visible bra lines can be really frustrating. It can easily ruin the beauty of your outfit. T-shirt bras are usually bras with molded cups. If you are wearing a T-shirt, T-shirt bras could give a smooth and seamless finish making the lines look less obvious. T-shirt bras not only go with T-shirts but they can also be everyday bras that go with any of your dresses.
Push-Up Bra
If you want a bra to enhance your look and make your breasts appear fuller then you need to opt for push-up bras. Push-up bras usually contain padding so when you wear them, they push and bring your breasts closer. This will give you an enhanced and more mature look. The padding is usually made of silicone gel or foam to protect and add volume to your breasts.
Sports Bra
Your workout sessions cannot be complete without a sports bra. They hold your breasts in place while working out. There are also sports bras that come with padding so they are also perfect for everyday wear.
Underwired Bras
Underwired bras are designed with a wire underneath the cups of the bras. So when they are worn they lift and hold your breasts close, this way your breasts can appear fuller and natural. They can be used as everyday bras if you opt for figure-hugging outfits as they give a perfect body structure.
Balconette Bras
If you want to rock any outfit with a deep cleavage then go for balconette bras. They usually do not cover your breasts fully and only give half or three-quarter coverage. When they are worn the straps of the bra lift up the breasts and create cleavage. So, they can also be everyday bras. They especially work well with formals as they provide fuller-looking breasts with a little cleavage.
What Is a Bralette?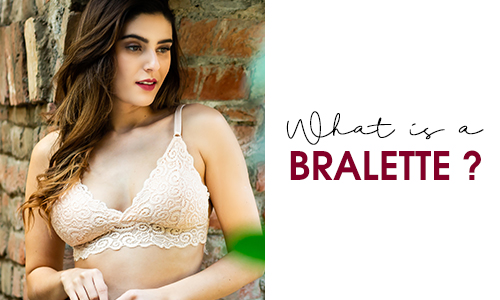 One can opt for bralettes if comfort is their main concern. They are just fabric that supports your breast. Bralettes provide ultimate comfort to your breasts and let you have a peaceful day. They are simple and subtle and usually do not have any cups or wires. You must also know how to wear a bralette like a pro.
Bralette Bra Importance
Bralette bras usually do not have a certain shape and are unstructured. So, they certainly do not provide any extras and help you maintain the natural shape of your breasts.
They come in different varieties, sizes, and colors and go perfectly with most outfits.
If you are a person who loves to be in your comfort zone and explore things, bralette bras can be perfect as they are so simple and not exaggerated and they stay on your breasts just for the little support.
Bralette bras come in many designs and patterns that help create your own style of dressing.
Best Bralettes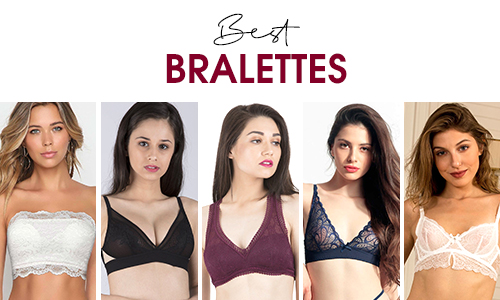 There are plenty of designs available in bralettes, here we have explained about the bralettes every girl should have in her wardrobe.
Strapless Bralette
Strapless bralettes are perfect to wear under sleeveless and no shoulder dresses. The straps are absent but they do not compromise in the support. You do not have to worry about its functionality as it fits your breasts perfectly and allows you to flaunt any no shoulder dresses effortlessly.
Lace Bralette
Bralettes come in different fabrics such as cotton, velvet, etc. but among these the most popular bralette is the lace bralette. Lace bralettes are considered trendy and go with any outfit perfectly when compared to normal bralettes.
Padded Bralette
If you are a fan of bralettes but you still want that fanciness then you need to go for padded bralettes. It gives a little extra of everything, extra support, extra volume. So you can definitely expect a unique combination of style and support in padded bralettes.
Underwire Bralette
Bralettes with underwire are for those people who long for extra grip and support. A
wire or plastic is usually stitched under the bras to hold your breasts in place. If you are a person who wants fashionable bralettes with a little drama then opt for underwire bras.
Plunge Bralette
If you love dresses with plunging necklines to show off your cleavage then plunge bralettes are all you need. They are designed in such a way that their necklines are in a V-shape so that it would be perfect to go with decollate or low necklines.
How to Wear/Style a Bralette?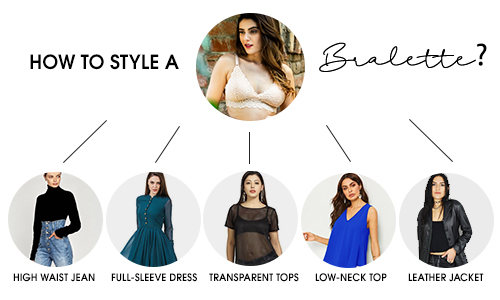 Bralettes are designed in a fashionable and trendy way so you can even style them to use as everyday wear. Here are 5 simple and trendy ways to wear your bralettes.
1) Pair your bralettes with high-waist jeans! Pick your favorite bralette and wear it with a pair of jeans, but make sure that your jeans are high-waisted as they would make a perfect pair without showing much skin.
2) Throw it back to the 90s! Pick your favorite full-sleeve dress and choose a bralette but the color should be in contrast to the T-shirt you choose. Wear your favorite pair of jeans & rock any occasion effortlessly.
3) Wear your bralette and pick any of your transparent/sheer tops and pair them up. A pair of high-waist jeans or shorts with a sheer top would be a perfect combo. You can also wear a knitted top instead of a sheer top if you want to keep it subtle and simple.
4) If you want to show off the beauty of your favorite bralettes, wear them under any of the tops that you feel are revealing like a low-neck top or off-shoulder top. You are set to rock the casual yet stylish look.
5) It is one of the most classic and iconic looks that is great for a night out. Pair your bralette with a blazer or a leather jacket and your favorite pair of jeans. Pro tip: Wear your black heels to add more class and thank us later!
Pros and Cons of Wearing a Bralette
Now, let's discuss some pros and cons of bralettes for a better understanding while shopping for a bralette.
Pros
The major reason why people choose bralette is because of the comfort it provides. No padding, no wires, no harsh straps, it is all about comfort.
The most stylish part about bralettes is how trendy they are to wear and how they serve different purposes. They can be paired with any of your tops and worn in different ways.
It can be a best friend for women with smaller breasts, as they are mostly designed to accentuate your look leaving people in awe.
Cons
They provide less coverage when compared to bras, so if you are looking for something that provides full-coverage then bralettes cannot fulfill your wish.
Bralettes do not provide much support when compared to bras, they are mostly for women who love to show off the natural shape of the breasts.
The cup sizes in bralettes are limited so it is harder for women to find bralettes for their breast size.
What's the Difference Between a Bra and a Bralette?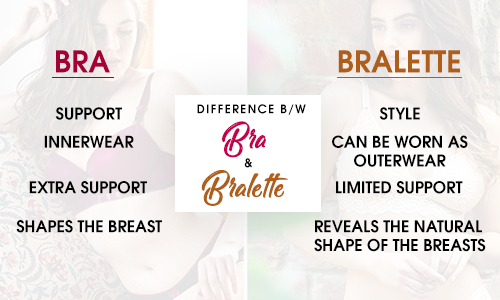 1) The major difference between bra and bralettes is their purpose, bras are preferred for support, and bralettes are preferred for style. Bras are considered a little old fashioned nowadays when compared to bralettes.
2) Another major difference is comfort, bras cannot be as comfortable as bralettes as they have padding and elastic straps. Bralettes, on the other hand, is lightweight and breathable so they make you feel comfy and confident.
3) Bras are usually padded to provide extra support to the breasts whereas bralettes mostly do not have padding and present the natural shape of your breasts.
Which Is Best- Bra or Bralette?
Each one serves a different purpose. If you are someone who concentrates on support and enhancement of your breasts then choose bras, and if you are someone who prefers style and comfort then go for bralettes. But whichever you choose make sure to find the right bras/bralettes that fit you and do not forget to replace them once in 3 months.