"Curiosity is at its peak! 
Grab a cup of coffee and 
Read this!"
A romantic answer is 'yes!' towards a lovely question "will you marry me? From there, your 'wedding tale' begins!
So what's your next move? Yes. It's the much-awaited Honeymoon! An untold desire of every woman! You begin to feel butterflies in the stomach. Your honeymoon night's purpose is to seduce your man's eyes with adorable lingerie. 
Honeymoon lingerie is something brides frequently leave to the last minute. Not anymore! You should focus on a list of sensuous lingerie that will make your man fall for!
This is the best time to put a better effort to pull off charming lingerie for your romantic night! Here we talk about romantic honeymoon lingerie that will bring out the sexiest in you!
Spend your honeymoon as per your man's desires and it's not just about how you feel. It's all about how your guy wants to see you in certain outfits on a special night.
The below-designed honeymoon bras will set your romantic nights on fire!
'Present yourself as a diva with wondrous honeymoon lingerie.'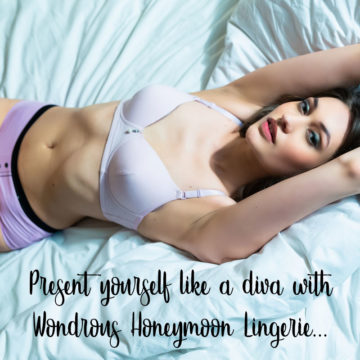 Let's explore why your partner craves the following romantic lingerie. Let's break the unpredictability of a Man's mind! Just like you, your beau also has fantasies about a special occasion. It's time to decode the mysterious fantasy of him.
Are you ready to wear something fun and sexy for a special occasion? Let's explore the types of honeymoon bra!
Midnight Bae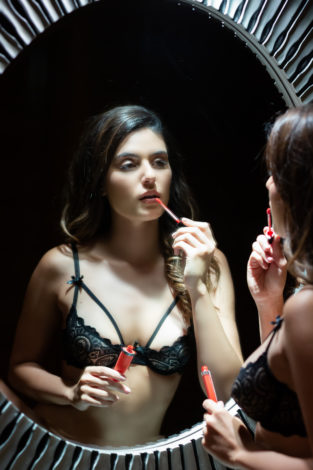 Balconette bra plays the role of midnight-bae to your partner. You want to know how? It's because the balconette bra offers a sensuous touch. Have you ever heard of 'Less is more'! This is apt for a balconette bra. Your beau will be stunned, once his eyes catch you in a balconette bra. Men fall in love with the shape of the balconette's half cups and its minimal coverage. It gives a marvelous effect on the bust, with cool wide straps.
Mystique Love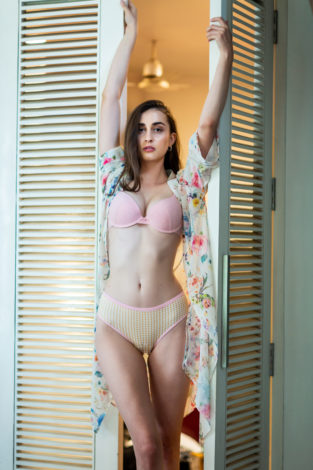 A Plunging neckline excites your partner that's why it is called mystique love. Wearing a lace bra on the wedding night is a feast for your man. It is utterly unique in style. 
The deep low cleavage is breathtaking! It's commendable how the cups are angled, and the artful padding will hit the right mark! A lace bra is the most adorable intimate to cherish. Your partner will never take his eyes off you! 
'Be a mystique queen at your intimate night.'
Untold Romance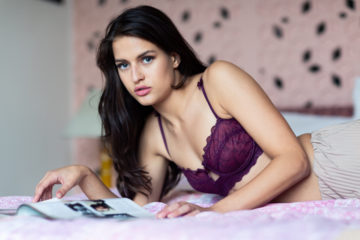 'Own mesh bridal bra to look like a total bombshell!'
See-through mesh bra becomes untold romance because the bra itself says all. The captivating mesh, see-through fabric with demi coverage will win his heart and soul. Your beloved loves to see you worn this lust-worthy mesh bra. Mesh style bra turns him on! Try this out; make your own romantic memories. 
Sensuous Darling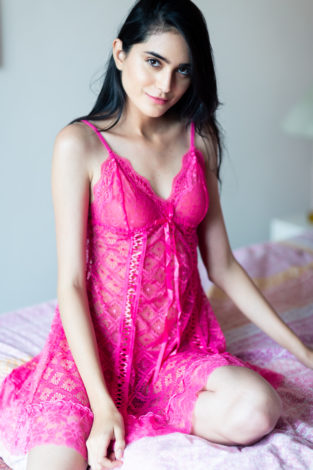 Babydolls are sensuous darlings. Sssshhhh, don't ponder over!  Because it's super seductive peignoir and your fiancée will want to embrace you in this sexy outfit. 
Just imagine, when his eyes meet yours, he whispers, 'you are hot!' This baby doll makes your man reminisce, so it's the perfect time to create memories with your beloved. You won't be guilty, take away this cutesy stuff! Baby doll showers sensual modern touch.
Sexy Beau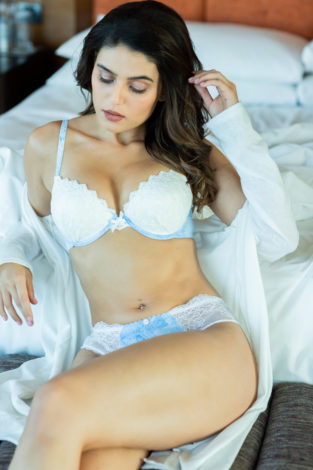 The push-up bra is the sexy-beau! Let this sexy-beau be a gesture of love to your man. It's a moderate lift and flaunting cleavage will make your love's jaw to drop. A push-up bra is sure to surprise him. 
Own a push-up bra it will do all the wonders! The sexy cleavage always attracts your man. No more second thoughts about this sexy bra.
Let this stylish honeymoon bra sprinkles the magic on a special night. Shyaway showcases five masterpieces as 'honeymoon bra'. It's time to start your special day with a bang!