It looks like we're going to wearing masks for a while, which is the reason to find one that you like. In our previous posts, we have helped you make a face mask from a bra and given you a piece of advice on things you should know before you buy a cotton face mask online. Hope you have not missed our make your own face cover initiative in lieu with Times of India's #MaskIndia campaign. This blog is all about where to buy a face mask online right now and using them correctly.
Face Mask Fashion
Face covering and masks have become one of the most versatile accessories that you must have in your wardrobe. They can be styled and paired with your outfit to look stylish. You'll be glad to know that these items are available in different colors, shades, and designs. They can turn the simplest of outfits into a stylish look.
Where to Buy a Face Mask Online?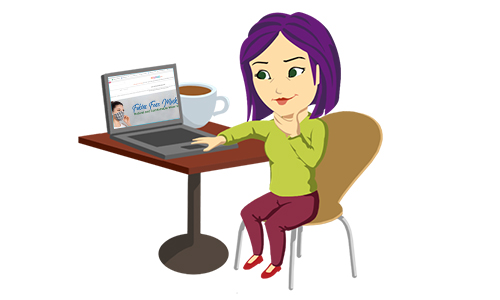 Buying a non-surgical cloth face mask is now easy. Many retailers, small scale industries, and top brands are making fabric face covers, you might have noticed that a lot of options are available in the market. If you are looking for a face mask to prevent the spread of coronavirus, Shyaway has many non-surgical face mask that covers your nose and mouth. The CDC recommends wearing a mask whenever you step out of your home. For the best protection, you can wear our face masks that are made of high-quality tightly woven cotton.
Cloth Face Mask – India Made, Washable, and Reusable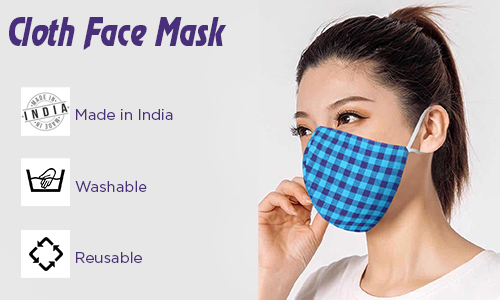 Are you looking for the best fabric mask online? Buy them at Shyaway. Our Shyle washable cloth face mask features elastic ear loops and has layers of comfortable cotton for easy use. Shyaway face mask is reusable and perfect for daily use. Made in India using high-quality woven cotton, this cloth face mask is great for adults and is sold in free size. Don't forget to buy a face mask online in India at Shyaway.
Are Shyle Face Masks Effective?
Buying a non-surgical face mask has become a common thing now. Shyle face masks provide enough coverage and follow CDC guidelines. It is widely used by people in India to curb the spread of Coronavirus. However Shyle masks are NOT medical grade surgical masks or N95 respirators. You can use our cotton face maks for your daily routine. Each reusable mask is made in India and helps limit the spread of germs, bigger contaminants, and droplets. The cotton layers increase coverage without limiting the airflow. However, these masks do not feature an additional filter to so they are not recommended for high-risk infections and contamination.
Can You Wear a Shyle Cotton Face Mask While Exercising?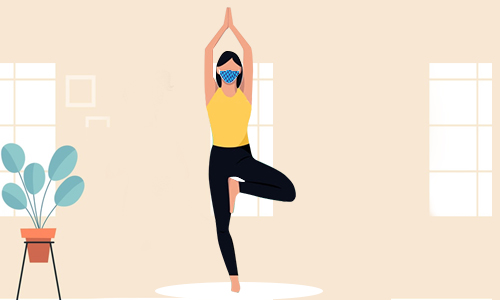 As per WHO, you should not wear masks when exercising as the mask may reduce the ability to breathe comfortably. Excessive sweat can make the mask wet and difficult to breathe. Sweat also promotes the growth of microorganisms. The best preventive measure is to follow social distancing.
How Often Should You Change Your Cloth Mask?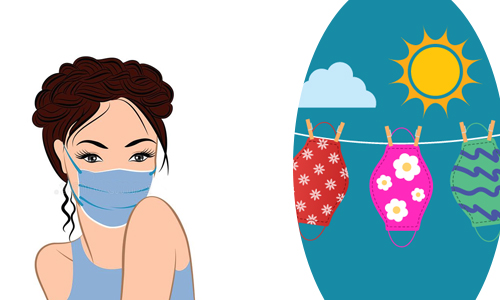 It is highly recommended to change the fabric cloth mask every 4-6 hours or as soon as it gets wet. You must clean your hands before and after wearing/removing the mask. Wash the fabric mask in hot water and store it in a clean plastic or resealable bag.
Don'ts of Fabric Face Mask
Do not use damaged masks
Check your size and fitting. It should not be loose
Do not wear your mask under the nose
Do not share your mask with others
Do not use masks that are difficult to breath
Do not wear a dirty or wet mask
Buying Non-Surgical Cloth Face Mask
Shyaway provides great value and the most affordable options to protect from this pandemic. You can buy Shyle cotton reusable face masks at Rs.199 per mask. If you want to buy in bulk, you will get 5 masks at Rs.499. Buy the best fabric masks online at Shyaway and save more. It's high time you realize the uses of cloth face mask and buy face masks online that are both comfortable and trendy.
Face masks will continue to evolve in design, color, and creation. It is going to stay here for the long run and will be the new addition of fashion in the future.