The modern world of Lingerie is all about underwires. But do you ever wonder, what are underwires for in our bras and how and what are they made of?  What are the different types and shapes of underwires, and what does each one do? What do you need to look for when purchasing an underwired bra or even when making one?
What is an Underwire?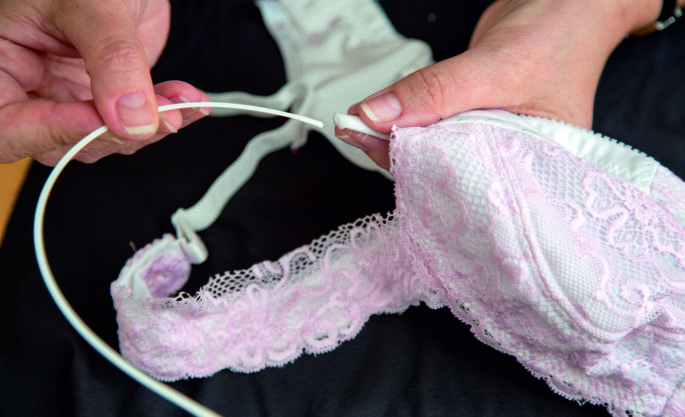 An underwire is a thin, semi-circular strip of rigid material fitted inside the brassiere fabric. The wire may be made of metal, plastic, or resin. Plastic has the tendency to break, so is generally used in cheaply mass-produced undergarments, or in swimwear to avoid rusting. Generally, underwires are carbonized steel with an outer coating of nylon and an extra coating on the ends. It is sewn into the bra fabric, under each cup from the center gore to under the wearer's armpit. The wire helps to lift, separate, shape, and support a woman's breasts.
History of underwires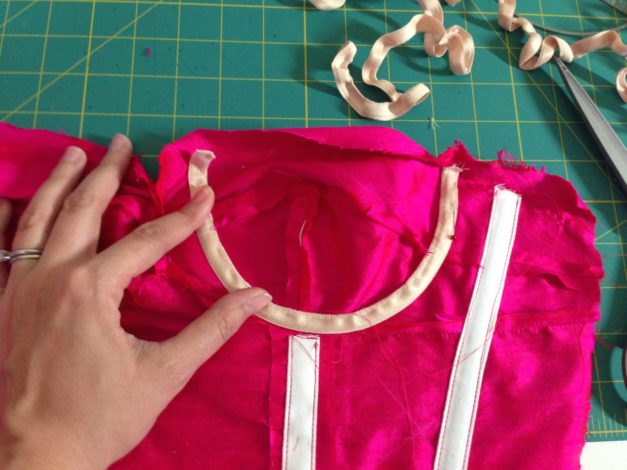 In 1931 a U-shaped wire was devised to be worn against a flat chest wall. It is a closely similar design to the underwires we know and have today. During the 1930s and 40s, U-shape and even O-shape wired bras were developed. Soft triangle bras, slips, and camisoles remained more popular whereas underwired bra only took off by 1950s. Many bras had over wires instead, which gave no shaping or support, just a fashionable silhouette. The modern era underwires are thinner than our breasts, once sewed into a bra, it disappears underneath. The cups and the sides of a bra form a cantilever which lifts the breast upwards from the base.
Do Underwires help Asymmetrical and Big Breasts?
Most women have one breast smaller than the other. But wires, of course, are identical providing a more symmetrical base. The main function of the underwire is to push the breast into a proper shape. Somewhat like putting play dough through a mold the breast is compressed inside the wire outline. The breast volume is pushed in a chosen direction giving a fashionable shape for the specific type of bras.
4 Underwired Bras for Great Shape
Wires offer support in combination with the cradle and cup of the bra. Different wire types are projected to provide different shapes. There are surprisingly very few key types of underwire shape, but many delicate variations are found within each type.
Balconette Bra
Underwires used inside Balconette Bra are J-shaped. The wire projects as an all-day wear without any special fashion aspects. Being shorter in length when compared to other wire types, it has a greater difference of heights in the ends. The wires of these bras have the shape that is quite similar to many women's natural breast root.
Push Up Bra
The under-wires are put into at a sharp tilt and are primarily used in Push-up Bra. They are intended to push the breast upwards and towards the center front. These bras are designed to add volume to your breasts. Push up bras' underwires is friends of big busts too, giving them the exact shape and keeping them where they belong. Meanwhile, small and medium chests can wear a Padded Push up with Underwire and big chested can prefer to Push up Bras with Removable Padding and Underwires.
Plunge Neck Bra
The Plunge Neck Bra have banana-shaped underwires inside. Some are slightly more hooked at the center front end and others are just like the curve of a banana. However, these bras are frequently in demi cups giving more prominent cleavage and deeper neckline. These bras don't provide much coverage as others but are perfect for special occasions and the underwires do provide much support.
Strapless Bra
Strapless Bras have a deep U-shape underwires sewed. Wires are of the same height at the side and center front ends. As the breast also falls into a deep U, it will be contained completely, supported from underneath, and projected forward. A strapless bra needs to grip, hold, and constrain the breast more and provide both support and keep in place.
Asymmetrical, Big, Small, Pointing out or Perfect, whichever is your breast type; these underwire bras are the best to flaunt in.