Wearing a bra intact with the right coverage that is appropriate to your outfit is an art, and you can master it to perfection by having a few products in hand. The several outfits with different sleeves and necklines call for lingerie to gracefully maintain the fit. Here are some of the useful breast accessories that can make your existing bra a better match for your outfits and save you from discomfort.
Top useful Lingerie Accessories
Bra band extender
When your bra band digs into your skin and you feel your band is too small, the bra extender comes into play. When the cup fits right and sits perfectly on your bust, but the band is the culprit, get a bra extender with hooks and eyes as an extension of your bra.
Shoulder strap holders
The strap holders can be your saviour when your bra strap is slipping off your shoulders or digging into the skin because it is too tight. The strap holders have a runner to put your strap through, and it stays on your shoulders. Having a silicone base and a wider surface makes the holder comfortable on the skin, as well as helping to evenly distribute weight on the shoulders. It provides comfort and is one of the most useful breast accessories.
Bra strap clips
Make any bra a racerback bra with bra strap clips. When your straps peak through the back of your dress, hook the straps together with this clip. It will also make sure the straps are in place and don't slip. These can also give you lift and extra support.
Nipple pasties
These are patches with an adhesive that sticks to the surface of your skin, covering your nipple region. This way, there will be no nipple show and straps peeking through your backless tops.
There are reusable options and disposable nipple pasties available. The silicone nipple pasties can be used several times. Disposable nipple pasties are thinner than silicone ones and come in handy when worn under tight-fitting clothes.
Tapes
Breast tape is a fabric tape with an intense adhesive that sticks firmly to your skin, giving your breasts support and lift. It is completely your choice to tape it the way you want, as per the outfit you are wearing, and conceal it without fear of straps peeking. You can use these breast tapes as an alternative to your bra.
There are several other kinds of tape available on the market that are not a substitute for your bra, but they can keep your outfit in place. These are thin, double-sided adhesive tapes. You can stick the tape to your bra and to your outfit, to avoid bra visibility.
Clip-on cami insert
If your outfit is deep in the front and you want some coverage, a clip-on cami insert saves the day! You can attach it to your bra straps and then wear your outfit. You can also adjust the length according to your preference. It is handy and, for sure, one of the useful breast accessories.
Bra bag
Your bra is delicate and calls for extra care. If you shove it into your wardrobe, you might ruin its shape and form. The underwire, padded cups, and other embellishments will remain intact if you store them in bra bags. The lifespan of your bra depends on how well you maintain it.
Bra laundry bag
When you wash your bra in a washing machine directly, it can damage the hooks, fabric, cup, and wire. If you put them in a laundry bag and toss them into the washing machine, you can maintain the delicate details.
Converter straps
The converter straps are additions to the existing bra straps. If you want to conceal your shoulder straps, you can switch the existing ones to transparent straps. You simply have to attach them to your straps, bring the extension around, and hook them in the front.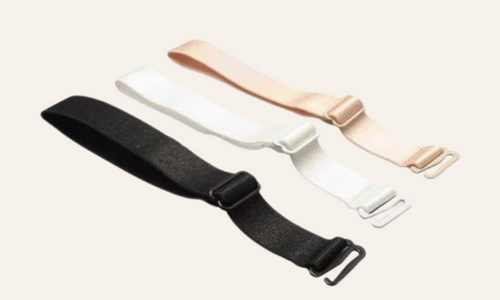 The bra accessories can save your day when you have a wardrobe malfunction. Give these useful breast accessories a try. Do not hold yourself back from exploring and experimenting with your outfits!