What Is a Camisole Top?
Camisoles are body-hugging, sleeveless undergarments that extend till the waist. They are usually crafted with stretchable fabric and can be slipped-into without much effort. Camisoles can either be worn alone or along with a bra depending on individual preferences. You can also buy a padded camisole in case you want to go bra-free. Find out more about camisoles, slips, and tanks.
What's New About Shyaway's Transparent Camisoles?
We have always made it a point to present you with quality, class, functionality, and durability in every piece of lingerie here at Shyaway. And, these transparent camisoles from the brand Shyle completely justify the above attributes to the fullest. Here's what they look like!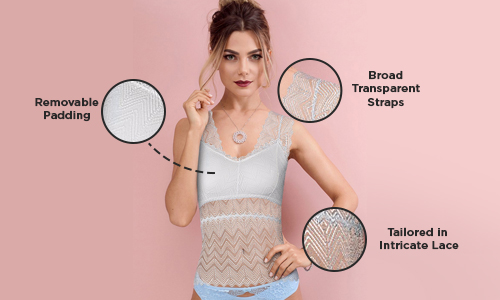 1. Tailored in Intricate Lace
The elegant chevron lace is all it takes for you to fall in love with these camisoles at the first sight. The fabric is as light as air which makes it highly breathable. While you can layer them beautifully during winter, they can put to good use during summers as well.
2. Removable Padding
There is often a debate about whether a bra is to be worn beneath a camisole. Well, you can skip the confusion because our transparent camisoles are here with highly practical removable padding. Keep the pads on if you are looking for some amazing bust support or remove and secure them elsewhere if you are planning to wear your camisole as a sleepwear.
3. Broad Transparent Straps
Say ciao to chafing! The straps are soft, broad, stretchable, and chafe-free. These are probably the easiest camisoles with transparent straps in the lingerie market.
4. See-Through Waist & Back
The see-through chevron lace elegantly stretches over the waist and back, giving you a lovely silhouette along with making you feel light and stress-free all day long.
5. Scalloped Edges
All praises to the attractive detailing you can find in our transparent camisoles. The scalloped edges around the neck, arm, and waist are breathtakingly intricate and are designed to rest gently on the wearer's skin.
6. Stretchable
The perfect blend of nylon, polyamide, and spandex makes these camisole tops absolutely flexible for easy wearing.
How to Shop Transparent Camisoles Online?
1. Search for Transparent Camisoles on the Website
You can land on the transparent camisole page from the drop-down available on the homepage or simply type "Women's Transparent Straps Camisole" in the search box.
2. Pick the Color
Our transparent camisoles are found in 5 brand-new colors, red, white, nude, blue, and gray. Pick the camisole color based on your outfit or personal choice.
3. Choose Your Size
These transparent camisoles come in generic sizes S, M, L, and XL. Measure yourself for the bust size and use our camisole size chart to find the right size for you.
4.Place Order
Once you've chosen the color and size, now go ahead and place the order. It is as simple as that!
Slay the winter in our easy-weezy camisoles to look chic and classy all at once!