Still skeptical about buying a push-up bra? Is it because of all those Internet memes you came across ridiculing this awesome piece of lingerie? Or is it the health aspect you are concerned about? Whatever be the case, after having a glimpse of these 'pushup bra before & after looks', we're sure you'll never ever think twice about buying one. Let your worries off the hook for the time is now to break stereotypes and experiment with lingerie styles that have long existed.
Fuller-looking busts (Push-up bra Vs Normal bra)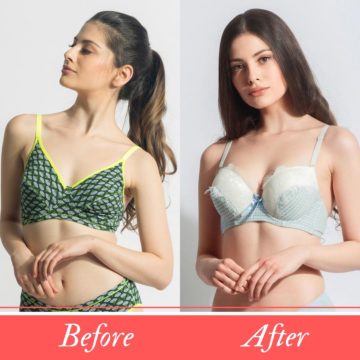 On the left is a regular unpadded cotton bra and on the right is a pushup bra with level 2 padding. The difference in the bust appearance is obvious as the angular padding and molded cups of a pushup bra have made the breasts look rounder and fuller. This ultimately gives your outfit the boost it requires. You can also choose among different padding levels (the lowest being level 1 and highest being level 3) depending on how rounder or fuller you want your breasts to look.
Bust lift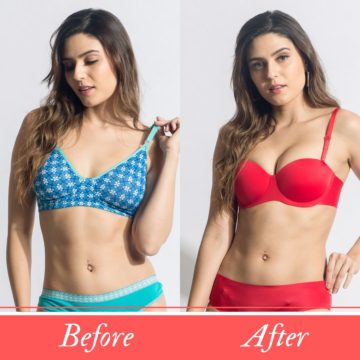 Saggy breasts are out of question with a push-up bra. Since the gore of a pushup bra is much smaller than that of a regular bra, it helps bring the breasts closer, thus giving a natural lift. In the picture is a balconette bra with push-up padding to depict how much difference it can bring to your whole look. This is also a great deal for women with small breasts.
Defined Cleavage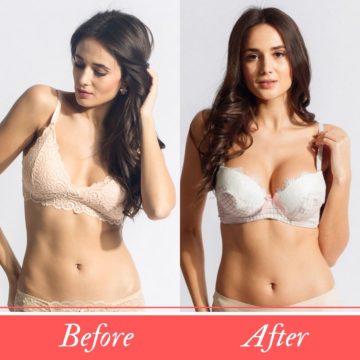 The combined math of angular padding and underwires will help define a cleavage that is impossible with any other bra style in the market. Yes, push-up bras are cleavage enhancers and this is one of the main reasons for their popularity. A lot of credit goes to the underwires as they enclose the breast tissues within the bra cups, making them look perky. Another use of wired cups is that they control side spillage.

How to wear a push-up bra correctly?
1. Place your bra cups properly and hook your bra at the back. The flip-and-turn method can make your bra lose its elasticity very soon.
2. Check for any bulges/ side spillage.
3. Run your finger underneath the cups to make sure the wires are intact and non-poky.
4. Use the metal sliders to adjust your bra straps for the perfect fit.
With so many different types of push-up bras in the market, each having its own function, there is nothing that can stop you from flaunting the look you've always craved for.