Get 2 Nursing Bras at just Rs.1099/-. The Nursing Bras that fall in the category is from our in-house brand, Shyle.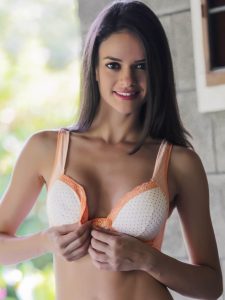 What advantages do feeding mothers enjoy by using nursing Bras ?
You just came out for a shopping with your baby. The shopping mall is a massive one with thunder struck population steaming up in centralized AC. Your baby gets restless since it's been a while it had something to munch! You don't find any feeding room. The only private room you find will be a dark, nasty loo and taking your baby, for any reason is beyond your imagination. The baby gives a signal cry; your search for a seat gets faster; your hubby somehow manages to find a seat that is not far from other's vicinity though!  You wore the normal bras, you remove the back hooks, struggling to pull out the entire breast out of your kurti! Here you are- half naked, dress goofed up, sweating in dismay!
Here is how the scene would have improved. Using a Shyle Nursing Bra would have given you a chance to open the cups from the press buttons attached on the center or the shoulder straps. This would have given you a proper, elegant opening of your desired chest part to feed.
Worry not, it's only one incident of shopping. Next time always awaits you! Dress up in confidence even from the very inside to milk your baby in public!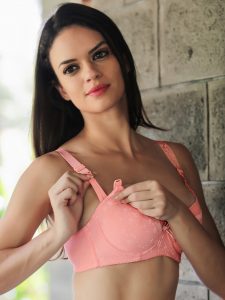 Try Shyle Nursing Bras. Read the particulars of its efficient make and know it better before wearing It. After all, now you get 2 wonderful nursing bras at just Rs.1099/-
Fabric : Nursing bras are made from the most softest fabrics as we know your baby needs the touch of smooth fabrics. Also the fabric should be breathable in order to keep your nipples clean and fresh so that your baby is free of infections. Cotton and spandex is mixed in a certain proportion in these bras so as to give comfort and elasticity. Wonderful fabric on edge!
Broad strap: We know your bust just grew bigger and you are on the transit to get used to the heavier thrust on your chest. That is one reason the shoulder straps are designed in a broad manner. Also a few straps contain the button for cup opening. That's why they are broader.
Cup opening : Cups are molded with light padding. They can be opened easily with the help of press buttons attached on the centre bridge or the straps. Being molded gives room to shape up your bust in lustful manner and the openings are for functional best.
Back band openings: Back bands are broad and contain 3 hooks and eye closure for the best support for your breasts. Back bands give support for the bras and a tight fit band will deprive your breasts out of wobbling.
There is no way you miss the excellence of this fine tuned bras. Get 2 Nursing Bras at just Rs.1099/- and enjoy motherhood!!