Panties are essential undergarments worn by women to cover their genital area. They are typically made from breathable material with a waistband and two leg openings connected at the crotch. With various panty styles available, selecting the right one for your outfit is crucial. Among the popular choices is the hipster panty, loved by many women for its exceptional comfort. Embrace the comfort and style of hipster panties, perfect for your everyday wear!
What is Hipster Panty?
The term "hipster" has its roots in the 1940s, referring to casual and sassy clothing. Hipster panties are a stylish blend of boyshorts and bikinis, designed to flatter your figure. They sit a few inches below the waistline and fit perfectly on your hips, offering both comfort and style. Embrace the trendy charm of hipster panties for a confident and fashionable look!
Why Choose Hipster Panties?
Hipster panties are a popular choice due to their versatility and comfort. They come in various styles, making them suitable for different occasions. With wider sides and low-cut leg holes, they provide absolute comfort and support for everyday wear. The main reason women choose hipster panties is for their excellent coverage. Being mostly full coverage, they are ideal for wearing tight, body-hugging outfits, ensuring you feel confident and at ease throughout the day.
Types of Hipster Panties

You can find various types of hipster panties, each offering different styles, coverage, fabric, and waist levels. Explore the wide range of options to find the perfect hipster panty that suits your preferences and ensures utmost comfort.
Hipster Underwear Styles
Let's explore a detailed overview of the different types of hipster panties, their uses, and the benefits they offer.
Casual Hipster Panties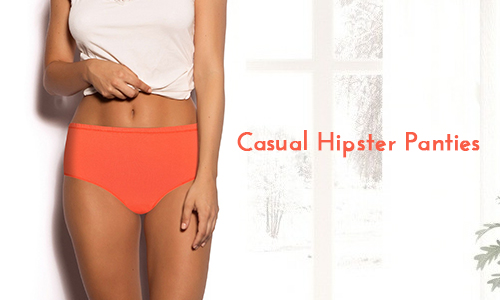 Casual hipster panties are perfect for everyday wear. They are the preferred choice for women who prioritize comfort over style. Whether you have lengthy meetings, sunny outdoor outings, or enjoyable family days, these panties guarantee complete relaxation and enjoyment. With a variety of patterns and prints to suit your moods, they provide both comfort and style throughout your day.
Lacework Hipster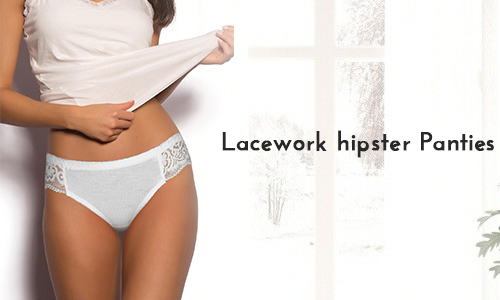 Lacework hipster panties are perfect for when you want to feel sexy and sassy. Made of breathable material, they offer good coverage while exuding style and elegance. With lacework hipster underwear, you'll feel confident inside and out. They are the perfect choice to complete your flirty date night outfit, adding a touch of allure and charm.
No Panty Line Hipster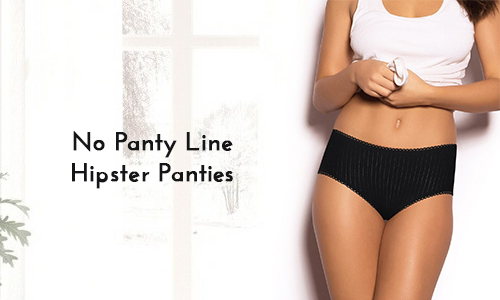 wearing tight and close-fitting outfits can lead to visible panty lines, causing awkward moments. No panty line hipster panties provide a smooth and neat finish at the edges, allowing you to say goodbye to visible panty lines. Embrace the confidence of seamless underwear and bid farewell to any worries about panty lines showing through your clothes.
Printed Hipster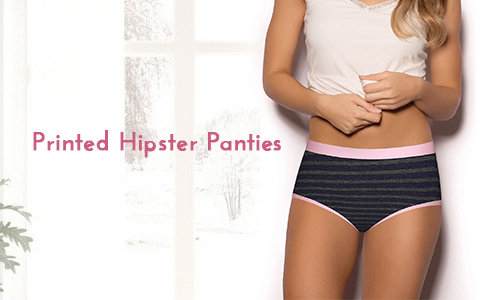 The prints on your panties can make a big difference, adding a touch of vibrancy and charm to your day. With a wide range of options, hipster panties offer various prints, including stripes, floral, and many others. Choose the ones that resonate with your style and mood, and let the pretty patterns brighten up your day with joy and positivity.
Plus Size Hipster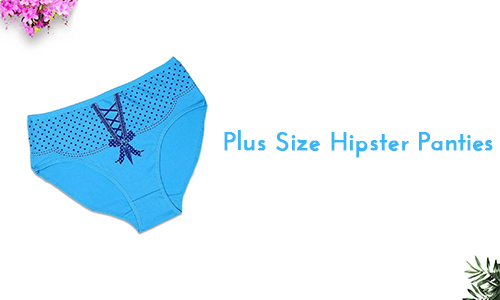 plus-size hipster panties are tailored for curvy women, ensuring they slay any outfit effortlessly. Whether it's meetings, clubs, or family outings, these panties are the perfect choice. Embrace the comfort and style with plus-size hipster underwear. With various varieties and cool patterns to choose from, you can feel confident and fabulous in any attire.
Hipster Waist-Level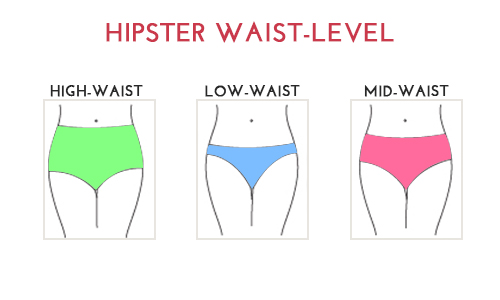 Hipster briefs also come in different styles based on where they sit on your waist. You can find three main types of waistlines in hipster panties.
High-Waist
High-waist panties are designed to cover your stomach and waist area, offering complete coverage and a smooth finish. These panties are a must-have for your body-hugging outfits as they can also lift your butt. When you wear high-waist jeans or bottoms, they can be your savior by instantly enhancing your butt, making you look fabulous in your outfit.
Low-Waist
They are meant for those who wear low-waist jeans and bottoms. Sometimes, when you wear low-waist jeans, your underwear can become visible and make you feel uncomfortable. To solve this problem, low-waist panties are designed to fit perfectly under your low-waist pants. They provide comfort throughout the day, preventing any wardrobe malfunctions. Remember, high-waisted hipster panties don't go well with low-waisted jeans.
Mid-Waist
Have you ever avoided wearing a lovely outfit because it made your belly stand out? Now, you don't need to worry about tummy fat or a bloated stomach stopping you from rocking fitted clothes. These mid-waist panties are ideal for concealing your belly and celebrating your curves.
Hipster Coverage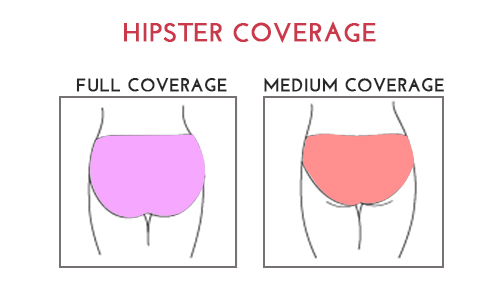 Normally, hipster panties offer two types of coverage.
Full Coverage
Many women like full coverage panties because they feel comfortable in the long term. These panties can cover your tummy and lift your buttocks, offering instant full coverage. No matter what dress you're wearing, full-coverage panties can help you feel both confident and comfortable.
Medium Coverage
Medium coverage panties are perfect for those who want to feel both sexy and comfortable. These panties can instantly enhance your buttocks and can be worn under any outfit, adding an extra charm to your overall appearance.
Did you know the best panty styles for your booty shape?
Types of Fabric
Hipster panties are available in various fabric types, each with its own benefits.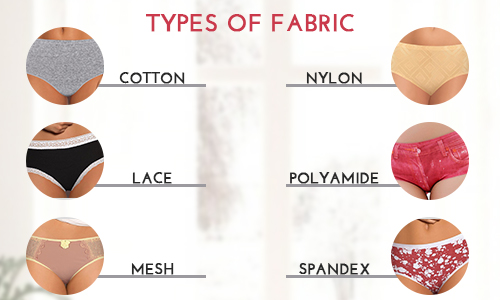 Cotton
Cotton hipster panties for girls are the most commonly used underwear because they are gentle on the skin and allow it to breathe comfortably. Cotton panties are mostly moisture-wicking, which helps prevent common yeast infections in women caused by moisture buildup. Additionally, cotton panties offer other advantages as well: they guard against allergies, minimize odor, itching, and more.
Lace
Lace is chosen by many women as it feels comfortable and looks super sexy. They also dry fast, so, during your long travels, lace panties can also be a good option. Another major advantage is that there are many varieties of lace panties available.
Mesh
Mesh hipster panties are a top choice due to their distinctive style. For those who prioritize fashion over comfort, mesh is a great option. These panties are ideal under short skirts, gowns, and more, offering breathability. They are available in various sizes and patterns to suit different preferences.
Nylon
Nylon is often preferred for its ability to wick away moisture. Whether during intense workout sessions or on a sunny day, you might sweat a lot. Nylon hipster panties are designed to readily absorb sweat and offer comfort. However, a drawback is that it can occasionally cling to the skin, potentially causing rashes or other skin issues.
Polyamide
Polyamide is widely recognized for its smooth texture. These panties are often breathable and stretchy, providing comfort for easy movement. They are available in a range of lively colors, attractive designs, patterns, and sizes. Therefore, polyamide panties are perfect for enjoyable weekend trips.
Spandex
For those who like elasticity in their panties, spandex panties are a great choice. They tend to be lightweight, soft, and stretchy. Another significant benefit is that they fit your body perfectly, giving your outfits a flawless finish.
The Difference Between Hipster Panties and Bikinis
The key distinction between hipster panties and bikinis is the coverage they offer.

Hipster panties provide more coverage than bikinis.

Bikinis are more revealing, while hipster briefs offer enough coverage to look alluring.

Hipster panties come in various styles compared to bikinis. They are available in different fabrics, patterns, coverage levels, sizes, colors, and more.

Although they may look similar, there's a difference in how they're worn. Bikinis are designed to sit below the hips, while hipster panties sit a few inches below the waistline.
How to Buy Hipster Panties
Buying Your Hipster Panties: Offline vs. Online Options
When it comes to purchasing hipster panties, you have two main avenues: visiting a physical store or shopping online. Opting to buy hipster panties online is a popular choice due to the numerous advantages it offers.
Physical stores often provide a limited selection of options, whereas online stores present you with a wide array of choices. Online platforms boast a more extensive range of products and services compared to their brick-and-mortar counterparts.
Moreover, hipster panties are generally more affordable when purchased from online stores. Many online retailers frequently run special offers and sales, enabling you to acquire your favorite lingerie at a pocket-friendly price, thus allowing you to save some money.
Overall, the convenience, variety, affordability, and enticing deals make online shopping a preferred option for acquiring your perfect hipster panties.
Shopping for Hipster Briefs in India
When shopping for hipster briefs in India, there are a few key points to consider.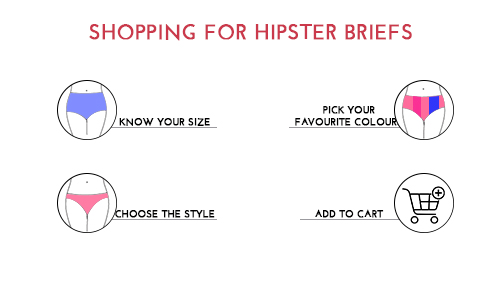 Tips for a Smooth Panty Shopping Experience in India
Before you embark on your panty shopping journey, there are important factors to consider, especially in a country like India where choices can vary.
Get to Know Your Size: Panty sizes might vary across brands, so it's crucial to be aware of your size before you shop. This is particularly important for teenagers experiencing changes in their bodies and for expectant mothers whose sizes might fluctuate.
Seek Sales and Discounts: Keep an eye out for sales and discounts to save extra money during your shopping spree.
Understand Fabric Types: Familiarize yourself with different fabric types and their pros and cons. This will help you choose panties that suit your skin type and personal preferences.
Check Return Policies: When shopping online, make sure to understand the return policies for specific products. This can prevent confusion and ensure a stress-free shopping experience.
By considering these pointers, you'll be well-prepared to find the perfect panties that not only fit well but also match your style and comfort needs.