Bra and sheer tops a trending combo?
If there is one thing that is persistently being part of our wardrobe regardless of the trend is sheer tops. Guess what?! It has already made a comeback and very much in current fashion.  it's loved by many women and it accentuates and complements the lingerie they wear with it.  Certain bras look graceful when paired with sheer tops. "what bras can be accompanied by sheer tops?" So if you want to experiment wearing something bold with your sheer top other than your regular cami here is the list of bras which will actually look trendy and uber cool.
A long line cami bra:
It serves the purpose of a bra as well as a camisole which makes it a perfect choice to wear under sheer tops. It provides good coverage just like camis and also gives a hot and trendy look. Pair it with plain as well as printed sheer tops.
In the picture models seen wearing a Cami Bra under their see-through top
A sports bra:
yes! You read it correctly.  Do you know a sports bra will look strikingly beautiful and attractive when worn under a sheer top? Pair it with contrast colored see-through tops to show off the brand.
There you go!  How trendy it is to expose your Sports Bra through Sheer tops!!
Animal print bra:
Raise the glamour quotient of your looks in seconds by accompanying a transparent top with the animal print bra. "Animal print is earthy, natural as well as sexy." Pair it only with plain sheer tops, not with printed ones. You can wear under white as well as with any pastel colors.
We never knew that Animal printed bras create a style statement until it's worn by these celebrities!
Embroidered bra:
yes! Finally, you can flaunt that beautifully embroidered motif on your bra. Match it with contrast colored sheer tops to accentuate the design in your bra.
Why hide the beautiful applique Embroidered Bra when you can flaunt with your transparent tops
The basic nude bra:
Wear it if you want to play the game subtly. Pair it either with white or black sheer top. And you are absolutely ready to go out.
In the picture celebrities wearing Nude Bra under their sheer blouses!
Strappy bra:
For what all those strappy decorations in a bra u think? It's to flaunt those adorable straps. You can even wear it with low neckline sheer tops as it camouflages well and looks like one piece of attire. Experiment with monochromes as well as contrast-colored sheer tops.
The picture represents Cage Bra as an ultimate fashion statement!
Lace Bralette:
From wild, sexy and subtle, it's time to slide into something cute. A Bralette adorned with lace is a perfect choice to wear with sheer tops. The lace embellishments pop up through your see-through top will speak of nothing but cuteness.
The picture says it all! A Lace Bralette is a must-have in your wardrobe!
Color pops bra:
It's basically wearing a bright colored bra under a contrast sheer top. It can be worn with a plain white sheer top and a matching color shoe. Yeah! You read it right. Matching bra color with shoes is one of the fashion statements.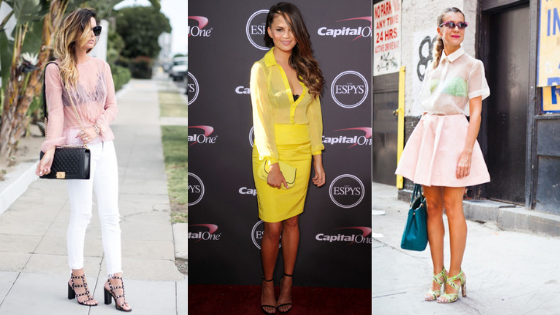 Bright shades never go off trend when it comes to lingerie!
Glittery bra:
Apparently, these bras are made to show off. Pair them with plain instead of printed sheer tops to up the fashion quotient. A silver metallic color bra will go with white and pastel colored tops, and a gold shimmer bra will go with black, white and deep purple. The copper-colored glittery bra will go with a black and white sheer blouse.
Sequenced, Flashy bras are meant to show off!
Shyaway's exclusive Flower printed bras:
Cute, sexy, exotic all in one, Shyaway's new floral edition is specially crafted to make your appearance stunning. These bras are laser cut, seamless, and look absolutely gorgeous and make it perfect to wear under transparent tops.
Experiment with different types of sheer tops like tank tops, long tops, full sleeves, half sleeves, knee-length ones, shirt type, round neck, embroidered, netted ones to pair with these lovely bras.
"Who needs a handbag? I put my money in my bra" – Neneh Cherry