Today there are various types of underwear available in the market. Do you know that your
undergarments are like a foundation for your clothing? It is essential to pick different types of undergarments depending on the outfit you adorn to look sleek and avoid embarrassment.  On this Republic Day, we are proud to guide you on what to wear under a dress.
What to Wear Under a Dress?
Choose your underwear colors carefully depending on the type and color of your clothing
1. Orange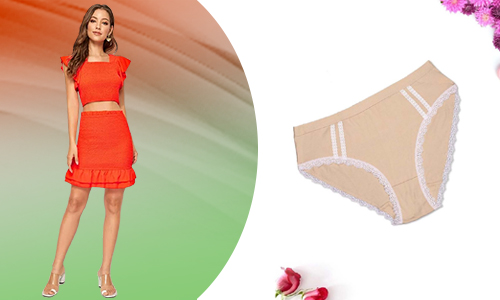 Orange is a vibrant color in general but comes in many shades just like any other color. As far as any bright color apparel is concerned you should choose your underwear colors carefully to avoid the undergarment from showing through your clothing. The best underwear with an orange dress is a toned-down orange like a peach, blush, coral nude-colored bra and panty will be a perfect match.
What Type of Bra Should We Wear with Orange Tops?
This truly depends on the type of neck and fabric.
Most of the orange tops will go with padded and push up type bra. But choose their colors carefully to avoid them being visible.
2. White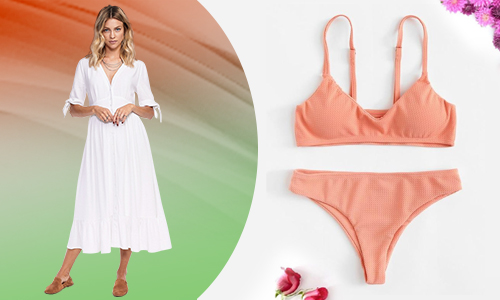 Many of us are confused about what to wear under a white dress. White is a tricky color and white apparel will make your underwear visible no matter what color panty and bra you sport.  Remember not to wear white underwear as it will be prominently visible through your white apparel.
Best Undergarments to Wear under White Dress
Choose panties that are nude or the panty types with less coverage like a thong as these types of panties are less visible through your clothing.
Also, skin-toned seamless panties are a great choice. Choosing a deep neckline bra or plunge bra with a neutral tone will hide under your white apparel sleek and neat.
Types of underwear you can wear with a white dress
 

Nude color or skin toned

 

No coverage panties

 

Deep neckline bras
3. Green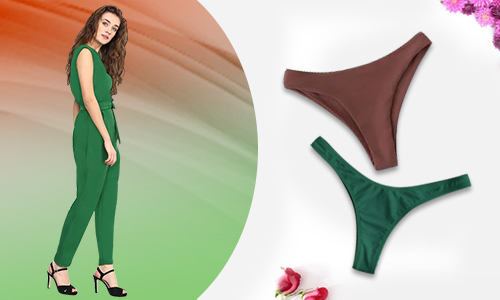 While green is said to be a nurturing color it has no meaning for lingerie. But does wearing green underwear with green apparel save you from embarrassment? Let's find out. Should your underwear and clothing color match? Yes. That feels so old and conventional and boring too.  Isn't it? But fret not. The idea of wearing the same color panty and bra is just to make sure that they are not visible through your clothing.
But the thing is you don't need to go for the exact same shade of green every time. Choose from light to dark green panties to wear under your green pants depending on the intensity and brightness of this color.
Types of Undergarments to Wear with Green Dress
 

Green color panties and bra

 

Green camisoles

 

Brown color underwear with dark green dresses

 

Nude underwear with light green clothing
Choosing different color underwear not only brings an interest in wearing them but also helps us to match with our clothing so that we can avoid underwear from showing through outfit.