Is shopping for full cup bras online getting boring? Add a quirky twist to your daily style with these 12 types of full coverage bra styles from Shyaway.
Full coverage bras are not only for beginners and for women with larger breasts. It is an everyday bra option that any woman can go for.
Full Cup Bras Online 
The best full coverage bras in India are sold both online and offline. Given the comfort and durability these affordable bras provide, full cup bras are always a universal choice regardless of any other factor. 
Advantages of Full Coverage Bras
They are the best choice for mothers, especially the ones who have toddlers and have a hard time bending down to clean up after their kids.

Beginners should go for full coverage bras to avoid awkward situations while they are in-between sizes.

Women with larger breasts can benefit from wearing a full cup bra because they show little to no cleavage.

Rolls near the shoulder blades and the hip is common when you wear a bra regardless of the fat deposit in your body. Thus, a full coverage bra can conceal all these mounds when worn under a form-fitting outfit. 

One can experience the zenith of comfort, jiggle-freeness, flexibility, breathability sporting any type of full coverage bras. 
Disadvantages of Full Cup Bras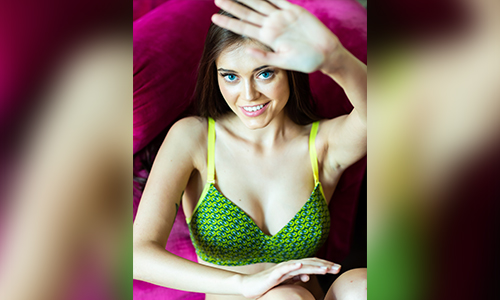 They cannot be worn under low-neck outfits

The bra will be visible through armholes in lose tops

Displaying your sexy cleavage is not possible

Bra straps can be broad in certain styles

Underband width can be wider than necessary in certain styles
Types of Full Coverage Bras 
When designers say 'Full Coverage' bra, they mean the quantity of the breast covered by the cup rather than one particular style. Here are 12 full coverage bra types for you:
Sports Bra

Sports are usually made of nylon and spandex to give a jiggle-free, sweat-proof, and comfortable workout experience. Most sports bras offer full coverage to offer full range motion to their wearer. The straps vary from regular, racerback, and criss-cross back to offer a different range of support based on your breast heaviness.

T-Shirt Bra

T-Shirt bras are a top pick for women who prefer to wear comfortable yet flimsy T-shirts all day long. These daily wear bras can be either padded or no padded depending on your choice. They offer a smooth bump-free surface and a shapely silhouette.

Minimizers

Women above a "D" cup size can go for minimizer bras to make their breasts look less big than usual. Minimizer bras can reduce your breast size to a couple of inches by redistributing your breast muscle throughout your chest. They can be uncomfortable and constricting at times given their tough job.

High Neck Bra

High neck bras can pass off a halter crop top if you pair them right. They are stylish, available in a wide variety of colours with lace and strings to uplift your fashion goals.

Longline Bra

Longline bras are a beginner choice. They come in sexy colours and are usually made of lace. Pair them with a nice jean jacket and you are good to go with just your bra on! These full-coverage bras can battle your back pain or neck pain with ease.

Nursing Bra

Going for anything other than a full cup bra during your pregnancy or while nursing means you are looking for trouble. Motherhood is all about pampering yourself and your baby. Place your ever-growing breasts inside a safe little full coverage nursing bra with a front opening to avoid any hassles at home or at work.

Moulded Bra

Breasts are not equal; one can be bigger than the other or sag a little more. Moulded bras are there to solve this problem. Unlike padded bras, moulded bras don't have a foam pad inside the cup and also don't take up the shape of your breasts after a few washes.

Moulded bras are stitched in such a way that they hold your breasts in place and in shape throughout the shelf life of the bra.

Seamless Bra

Seamless bras are available for any type of bra despite the coverage. The stitches and obvious joints around bra cups are cleverly hidden by skilled craftsmanship to give you the perfect fit and the smoothest surface.

Non-Padded/Padded Bra

Non-padded bras are your regular bras that offer full coverage, thick straps and a band to support your breasts. Full cup bras with padding are highly recommended if you want good coverage and cleavage too. They are highly functional and super comfortable as long as you maintain them right.

Wire-Free/Wired Bra

Large breasts sag early, thanks to gravity and genes. Now there is no way to prevent your sag. Bra or no bra, sagging is natural and bras can only prevent the breasts from going out of shape while sagging. Full coverage bras without wires are again your ordinary with or without padding. On the other hand, wired bras have definite cup shapes to hold your assets in place all day.

Tube/ Strapless Bra

Tube and strapless bras are usually not available for women with larger breasts as they serve no purpose to these plus-size dolls. But for the others tube and strapless bras are available with full coverage to help the bra stay in place without sliding down all the way to your ankles.

If you favour a bold look, go for 3/4th coverage bras, they guarantee to stay in place and to show off enough skin to make you attractive as heaven.

Certain Swimwear

Two small pieces of intimates maybe with a matching cover-up tailored using the sexiest fabric holding on to you through strings, bands, pearls and made only to hide the necessities leaving nothing to the imagination. Bikinis truly are a treat to the eyes.

But if you are interested in the benefits of swimming rather than parading half-naked by the water then full coverage swimwear is your chum. They can prevent chlorine tanning to a certain extent, make you confident about your curvature and complement high motion.