Get ready to embrace the perfect match, ladies! We all love coordinating our accessories with our outfits, from bindis to sandals, but what about matching lingerie sets? If you haven't considered them before, now is the time to dive into the world of exquisite matching lingerie. Not only does it provide essential support for your body, but it also encourages women to embrace their femininity and feel confident in their own skin. Whether it's for a special occasion or just a personal indulgence, finding the perfect lingerie set can make you feel like a goddess.
At Shyaway, we understand the importance of well-crafted lingerie that caters to every body type. Our delicately designed matching lingerie sets not only offer the perfect fit and support but also elevate your mood and confidence. Say goodbye to the hassle of searching through multiple stores because we have curated an unbeatable collection of matching lingerie sets that will leave you head over heels in love.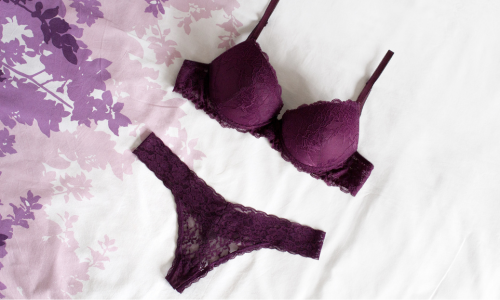 Five Fabulous Matching Lingerie Sets
Indulge in the world of perfect-fit lingerie that offers unmatched comfort and allows you to move effortlessly throughout the day. Whether it's for everyday wear or a special occasion, we have carefully designed unique styles to suit you. Our goal is to provide you with lingerie sets that make you feel comfortable, empowered, and beautiful. So, get ready to explore our super cool selection of matching lingerie sets.
1. Start Your Week with a Perfectly Printed Matching Set
Find the perfect blend of style and comfort with Taabu's striped cotton set. This alluring lingerie set is crafted with the finest cotton and is perfect for everyday use. Featuring lightweight pads for extra support and a perfect shape. The wire-free design keeps you hassle-free all day long. The matching bikini panty that come along with the set will provide you with full coverage. Styled with narrow sides, and the waistband sits at hip level. The Taabu cotton panty will keep you cool and comfy.
2. Glam Up with a Delicate Lace Lingerie Set
Sheer lace fabrics have always been a favourite among women. With its intricate textures and supportive underband, this bralette combines elegance with practicality. Offering three-quarters coverage, thus bra will beautifully enhances and accentuates the cleavage, leaving you feeling confident and alluring. Complementing the bralette is our stunning lace bikini panty, designed to provide a feather-light sensation against your skin. Its comfortable fit is further enhanced by a cotton gusset, ensuring hygiene and freshness throughout the day.
3. Floral Lingerie Set for Special Occasions
Get ready to elevate your mood with our exquisite lingerie set that is sure to captivate you. Adorned with stunning floral lace and a pretty bow, this elegant bra is a must-have in every woman's wardrobe. The bra is expertly tailored with an underwire to provide enhanced lift and impeccable support, ensuring a flattering silhouette. Its low-cut cups make it the perfect choice for pairing with low-neckline clothing, adding a touch of allure to your outfit. The matching hipster panty is crafted with sheer lace that embraces your curves in all the right places. With its medium coverage and perfect fit below the waist, the panty strikes the absolute balance between comfort and sensuality.
4. Geometric Printed Lingerie Set: Turn the Boring Day Exciting
The most comfortable and softest lingerie set that you will love to wear every day. This geometric-printed bra offers three-quarters coverage. Crafted with padded, wireless cups, they give proper support and a rounded look to your busts. The geometric-printed panty provides medium coverage and fits below the waist. It features a lightweight outer elastic waistband and comes with a gusset for hygienic purposes. This classic, lightweight lingerie set is sure to boost your confidence and comfort every day.
5. Find the Best Support in Side Support Lingerie Set
This lingerie set is exclusively designed for women who are facing side spillage issues. The skylight blue bra comes with a moulded finish for a smooth silhouette and has a double-layered cup that will provide proper nipple coverage. Specially designed to wear all day long, this non-padded bra will maintain your original shape, and the wire-free feature will keep you comfortable all day long. Susie Skylight Blue Medium Coverage The solid bikini panty is made of soft, skin-friendly fabric. It provides medium coverage and sits low on the waist. The panty is smooth, ultra-supportive, and super comfortable.
At Shyaway, we understand the importance of lingerie that offers the perfect combination of support, comfort, and protection. Our lingerie sets are thoughtfully crafted to meet these needs and more. We believe that wearing the right lingerie can have a transformative effect, helping you feel beautiful, empowered, and ready to conquer the world.