Buying luxurious and comfortable products these days are common. Everything is for comfort if you are going out for a party or a get-together. You should feel free in your costume. Mainly your inner garment, choose wisely while purchasing your inners. Because if you are wearing an ill-fitting bra, it will ruin your day big time.
There are so many parts in bra and panties, the difference in their sizes, curves, and variations of breast cups. No brand can cover all the expectations of the customer. So here at Shyaway, we offer a variety of lingerie for you to look for.
Confidence in Appearance!
Customers generally buy a product if they feel confident in wearing it. The look itself will portray the whole story of the product. And for this holiday season, customers have shown interest in many of Shyaway's products. To name a few:     
Red lace with fur attached baby doll

Lace bridal bra

Red lingerie

Peach lace lingerie- padded bra and panty sets
1. Red Lace with Fur Attached Baby Doll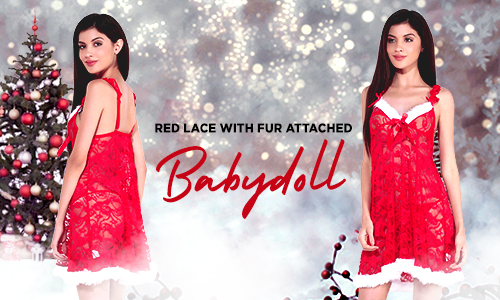 Most of the customers showed interest in this sexy product because of the unique designs of floral lace and soft fabric. This sexy red lace baby doll will be apt for this season too. Because Christmas is just around the corner and this can be your Christmas baby doll lingerie.
The white fur attachment gives an alluring and stylish look to the sexy lingerie. This baby doll fashion is the best dress for honeymoon.
2. Hipster Panty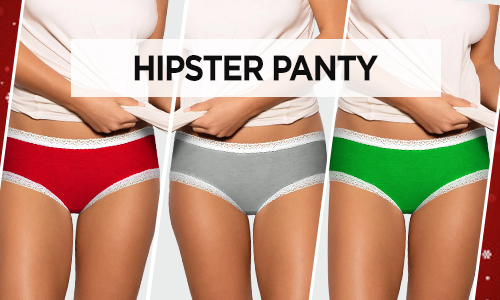 Hipster panties are always a huge hit among all age groups. It has a smooth blend of two panty styles: boyshorts. This panty is a favorite among customers because of the smoothness and the trendy tight-fitting waistband around the hips.
Match it with a free size t-shirt or a coat to feel free at home and to use it as loungewear.
3. Lace Decorated Bridal Bra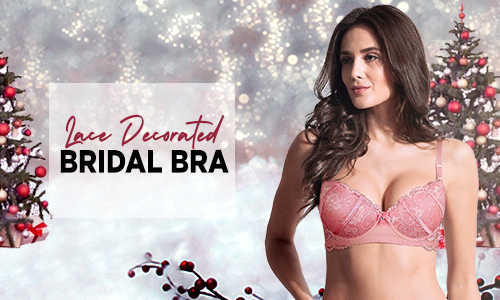 Ladies always fall for the best lace bra– Because lace has a sense of sexy enticing touch to it. For this holiday season, lace bridal bras have caught the eyes of the customers, its luxurious lace over the cups and the side wings give a stylish look and will make your wedding night memorable.
4. Red Lingerie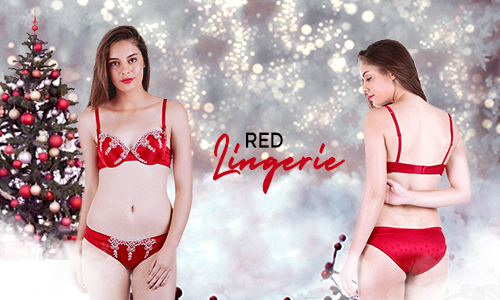 "Paint the town red", it means to have fun involved wild time. Red is always the fun color, so red lingerie for this festive season will be the right choice. 
People are showing more interest in this red sexy lingerie set because it resembles Christmas lingerie too. So purchase now for a glam festive look and don't you miss it!
5. Peach Lace Lingerie – Padded Bra and Panty Sets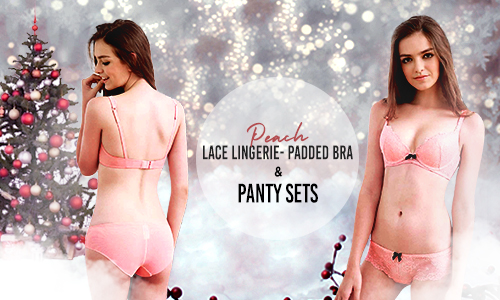 Bridal Peach Bra & Panty Lingerie Set- This peach lace lingerie will be perfect for all occasions including anniversaries and honeymoons. Ladies choose this lingerie because of the smooth fitting lace finish and elegant sexy peach color. This is a good choice for women of all skin tones and gives a feminine look. 
And also if you have a question on, "what to wear under white dress", this peach color will be perfect. Splash of peach lingerie is in big demand for this holiday season.