Wedding shopping is never an easy affair. Not only does creating a magical look demand quite a lot of effort, it also ends up being heavy on your pocket. Many of us even tend to skip bridal lingerie shopping because of their pricey tags. But, c'mon, it's a once-in-a-lifetime kind of experience that deserves only the best of everything. What if we say you could still look astoundingly beautiful along with being gentle on your wallet? Yes, a mere 1000 bucks are all it's going to take to make your wedding nights memorable.
How to Buy Bridal Lingerie below Rs.1000?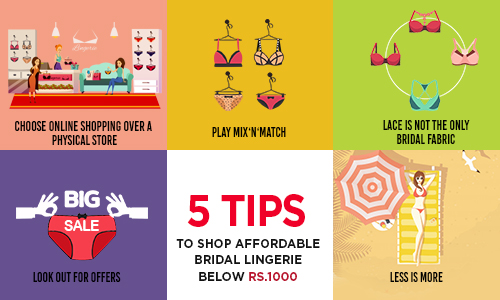 Tip 1: Choose Online Shopping over a Physical Store
Your probability of finding a good piece of bridal lingerie at a pocket-friendly price is extremely low in a physical store. Moreover, there's no way you can visit every other shop comparing prices. But, when it comes to online shopping, things are a lot more different. You get to look at a variety of styles, compare prices from different websites and above all, bridal shopping at the comfort of your homes is something to look forward to.
Tip 2: Play Mix N' Match
If lingerie sets sound expensive, you always have the choice to play with your looks by mixing and matching bras and panties. Get your favorite bra and complement it with a panty of your choice. Not only does this safely settles below a grand, you also get the freedom to experiment with looks rather than sticking to the mainstream.
Tip 3: Lace Is Not the Only Bridal Fabric
Today, the lingerie industry is flooded with fresh styles, fabrics, and patterns that are way modern, quirky, and affordable compared to the traditional honeymoon lingerie that the world has always made us believe is the best. There is no hard and fast rule to always opt for expensive lace intimates; invest in newer styles and you'll never regret the choice.
Tip 4: Look out for Offers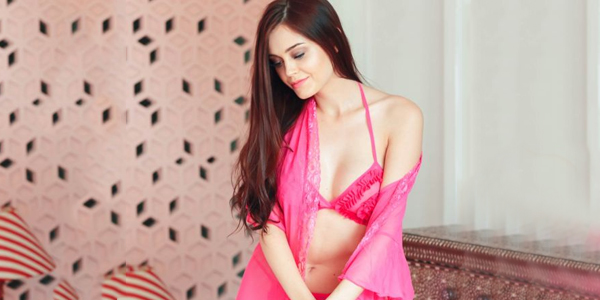 It's always hard to wait for seasonal offers especially when you D-day is just around the corner. But, there are a ton of websites that have amazing deals throughout the year. Pick such portals and make the best of them. Babydolls, chemises, and other sexy nightwear are other options to finish the deal below Rs.1000 and make your honeymoon steamier than ever.
Tip 5: Less Is More
It's your honeymoon, after all! Why would you want to splurge on extravagantly embellished bras or heavy silk robes? Instead, keep it less, light, and luring. The most interesting thing about following this mantra is that it is absolutely affordable too. Bikinis, thongs, and g-strings are some of the cute little pieces of lingerie you can try to spice things up.
Good bridal lingerie is not always about exorbitant stuff. Times have changed and women today are more thoughtful about how to balance being a honeymoon stunner along with staying economical. Make the best use of these tips and bag some sexy goodies, all for just Rs.1000!