What has the world done to the most basic inner garment? Though I could spend an entire day talking about the strangest bras that mankind has ever seen, here are the top 5 designs that I was taken aback with!
Lady Gaga's Firework Bra
Fashion took a new turn with the entry of this American Pop Diva, Stefani Joanne Angelina, or more popularly our very own Lady Gaga. The singer and songwriter has a viral fan following for her impeccable music talent and mainly her choice of clothing. I wonder if any star's fashion sense is this hugely talked about. No matter how strange her costumes look, one cannot deny the confidence with which she flaunts herself on the stage.
Here is how she rocks the much-talked-about firework bra. Not just once, Lady Gaga has sizzled effortlessly wearing this sparkling-bra in many of her shows. When she can do all justice to a bubble dress or a meat dress, there is no doubt about carrying these fiery cups with a great attitude. Well, weird or not, her free-spirited soul is unmatched.
The Light up Bra
Just when I thought a neon-colored bra that I shopped recently was the weirdest choice I had ever made, I wasn't able to utter a word when I knew there existed something as attention-grabbing as this light-up bra. Uff! Little did we know that a bra could light up the whole town (pun intended)! Whatever be the reason for this strange invention, these intimates glow in the dark making all heads turn.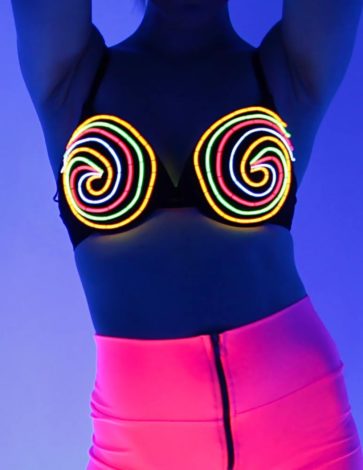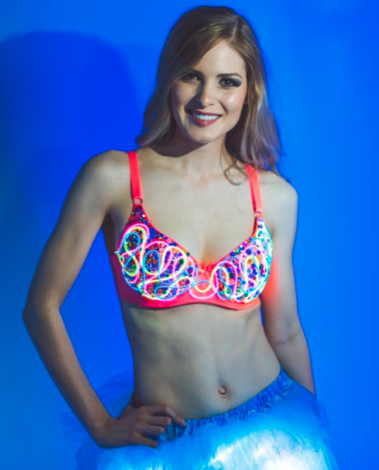 The fascinating part is that these are available in online lingerie stores including Amazon and Etsy. Moreover, there are a hell lot of videos on how to make one at home. Seriously? I have no clue where one would wear bra cups with spiral LEDs running all over them. But, if you know exactly where this intimate comes to use, do mention it in the comment section.
The Wearable Art Bra
I didn't know much about the Kiwis' taste of art and their contribution in bringing newer crafts to the world arena until I was doing research on unco bras around the globe when this image popped up.  World of Wearable Art is an international competition that takes place every year in New Zealand to showcase the talents of designers across the globe. You would have pretty much heard about coconut bras, but this is a strange yet skilled piece of art made out of wood. Apart from winning the honors under the most bizarre bra category, 2014, this creation has a lot of laudable craftsmanship involved. Though there are several other startling designs in the same category, this is one of my favorites for along with being weird, it has a contemporary element to it.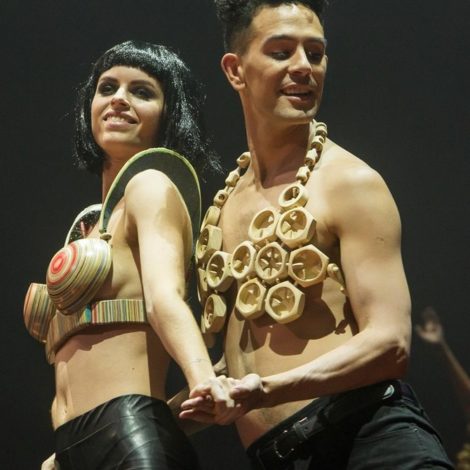 Triumph's Photovoltaic Bra
Well, who could make such interesting inventions other than Japan? But, this is weird as well. The solar-operated camisole seems crazy at the first instance, but designer Yoshiko Masuda had innovative eco-friendly intentions behind this. Did you know that you could actually charge your iPod or mobile with the solar energy panels fitted in these bras? Who needs power banks and portable chargers when a bra can keep your phone's battery up all day long? Though practically wearing this is beyond question, the designer explains how one can simply put this on while taking a walk in the balcony or any place that captures sunlight. Hmm, quite a buy!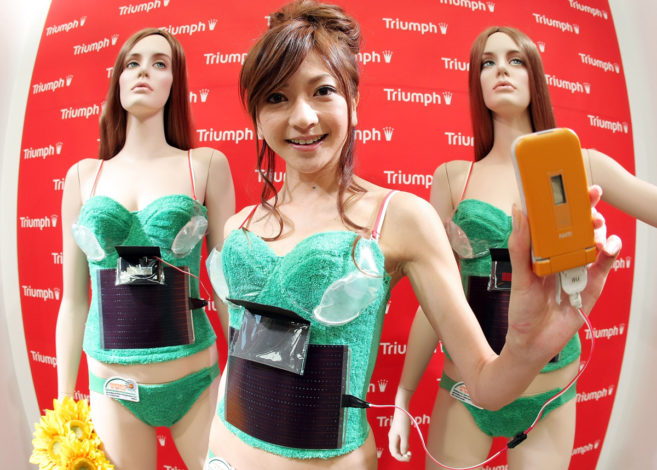 The Hand Palm Bra
I literally burst out laughing when I first saw the hand-palm bra. Well, don't blame the makers! You were the one who asked for a bra that could support your busts. Here, you have all the support in the world with a palm holding your bosoms. Would you ever complain again about saggy busts? Here is how you can proudly tell the world you have helping hands!
There are other incredibly funny bras such as the candy bra( Dude! You can actually eat them), or the golden fish bra (has miniature fish tanks in its cups). God knows why these bras do exist, but when you have something to get amused and have a good laugh at, why not explore them?