A spaghetti strap dress, off-shoulder tops, a bandeau top or any shoulder-baring style calls for a strapless bra. Strapless bras are essential for wearing strapless dresses. It can avoid you from unwanted embarrassments. Most importantly, it won't distract people by peeping out of your off-shoulder dresses. 
If you are wearing a strapless bra for the first time, ask yourself how to select a bra/how do I buy a strapless bra. It can scare you but when you pick the right fitting, your strapless bra will make you feel comfortable. You will not feel the need for other bras.
The major fear you will have while wearing a strapless bra is that it might head south or slip from your bandeau region often. No worries ladies, read on to know about things you should look for while purchasing a strapless bra.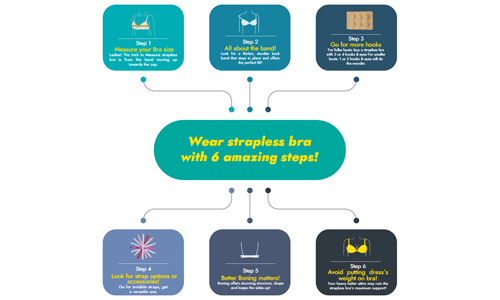 How Do I Buy a Strapless Bra?
1. Always Measure Your Size before Buying a Strapless Bra
Should I size down in a strapless bra? We have the answer to this question. 
Strapless bras are designed for snug-fit and it will stick to your body tightly. So your normal bra size might feel a little tight. It's up to your comfort to get a size up or stick to your usual size. Constantly pulling your bra to its correct position might annoy you. So you can opt strapless bras that have a silicone elastic piece at the back and also on the edges of the cups. The ultimate aim of the bra is to give maximum support to without the straps.
2. The Band Shouldn't Ride Up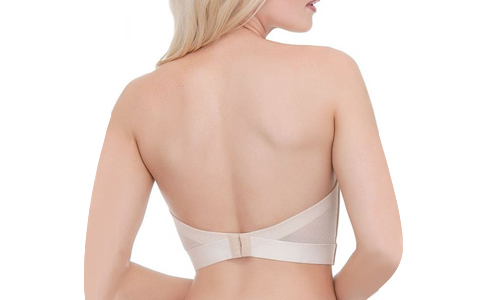 When you try on a strapless make sure the bra doesn't slip down, if it doesn't stay in place then you aren't wearing the correct bra size. Since bands are providing the most support than the straps, picking a strapless bra under your usual size must fit as snug as your normal bras. If you feel the bra is constantly shimmying on your body, surely you have to re-measure your band and cup sizes.
3. Look for More Hooks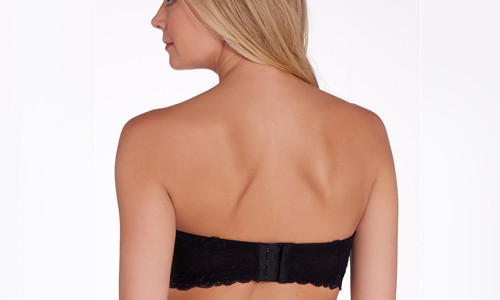 Women with fuller busts can buy a strapless bra for heavy breasts. You must ensure that the strapless bra you buy has more hooks and a wide band at the back. Since the straps are not around all the support must come from the band to support the weight of your bust and the bra must be stable on you so choosing bras with larger hooks and band ensures a snug and comfortable fit.
4. Check for Strap Options
Buying a strapless bra with an option to add and remove straps will help you to wear the bra often otherwise the bra has to wait for some special occasion. This way your lingerie collection has some versatility. Bras with convertible straps are like the all in one solution, so consider buying them next time.
5. Choose Bras with Better Boning on the Sides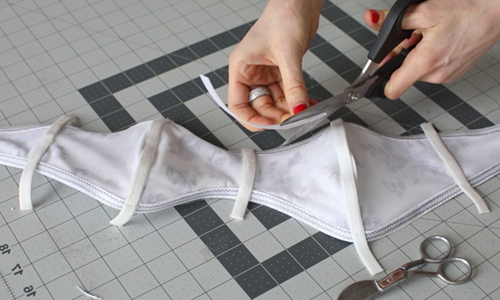 Boning is the plastic or metal stripe that is encased at the beginning of the wings to maintain the structure of the bra and keep the sides up. Bras with proper boning help them to stay put on your body. Having said about the advantage of boning you should also keep in mind that a bra with bad boning might be poking you on the sides which you know is the worst nightmare.
To choose a bra with perfect boning, check the encasing. If the boning is softly encased with proper padding then add the bra to your cart!
6. Don't Put Too Much Weight on Your Bra
Your strapless bra is already doing its job by providing the maximum support to your bust. So don't burden it by making it hold your clothing too. Select garments that are fitted on hip, so that your hip or waist holds the weight of the dress.
The clothing you wear must be loose at the chest and tight at the hips so that the bra doesn't slide down.
Bonus Points
1. Consider Long Line Strapless Bras
Longline bras extend till your hip to provide extra support and slender waist area. This way your breasts gain maximum lift and support. Longline bras of any bra style are best suited for women with large busts.
2. Silicon Lining Bras
Bras with silicone lining along the band and cups keep the bra intact.
3. Avoid Lotions or Creams
Avoid applying lotions, creams or oils to help your bra stick on to your skin for a long time. Silicon bra may not work if you apply powder or cream around your chest/bust. So keep your skin clear!
The final step, take proper care of your strapless bra so that your bra doesn't lose its grace soon.