Jingle all the way! Christmas is just around the corner. It's important to make necessary arrangements. Colors play an important role while talking about Christmas. The radiant and lively environment with lots of colors and lights is what completes Christmas. What are the Christmas colors for 2020? Except for red and white there are also other colors in the Christmas lingerie color palettes. You must dress right in order to vibe with the Christmas season. If you are wondering what are some good Christmas colors to select your lingerie accordingly, we are here to help you out. This Christmas color palette code would help you vibe along! We have listed the top 10 Xmas color lingerie sets that you all must have. These are some essential colors of Christmas that help you flaunt your Christmas lingerie outfits.
Our color palette for 2020 has all the colors you can get in order to go with the vibe! Check out our color palette ideas for Christmas now and I bet you would love this!
1) Purple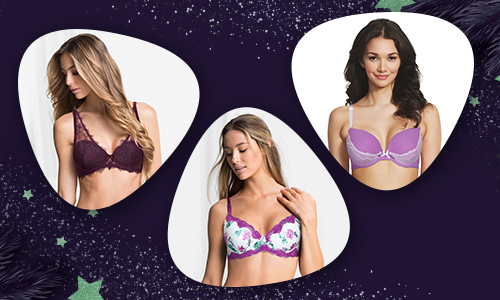 If you are opting for a luxurious look this Christmas, there is no perfect color than purple. If you have imagined the rich 'Girl Boss' look, you must get our posh purple lace embellished bra. If you think floral prints can go well with your outfit, get our beautiful purple floral bra. If you are planning to add more enhancement to your outfit, our purple push-up bra is all you need.
2) Red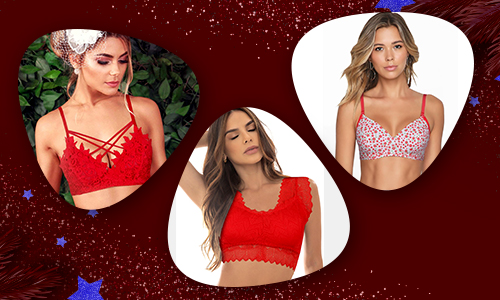 I bet you cannot show a better combination than Christmas and red. It is a color that is specially made for Christmas. If you want to match with Christmas season and vibe along, our red lace bra is the one thing you need. For a comfortable and cozy Christmas, try out our red lace plunge bralette with just a denim coat on the top. To boost up your vibe, we offer red bras with beautiful flower prints. Check it out for this Christmas!
3) White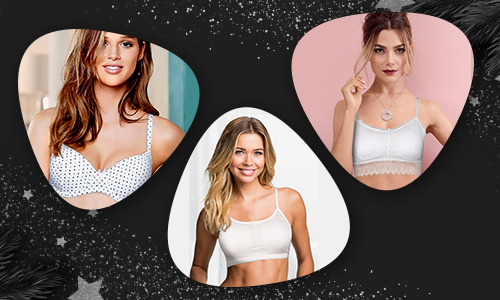 Another must-need Christmas color is white. This color can just go well with any types of outfit and hence is an essential part of every woman's wardrobe. Our white polka dots bra can help you flaunt a classy vintage look. For a more trendy look, get our white racerback cami bra. If nothing works right, bralette can do its wonder. Get our lace padded bralette!
4) Green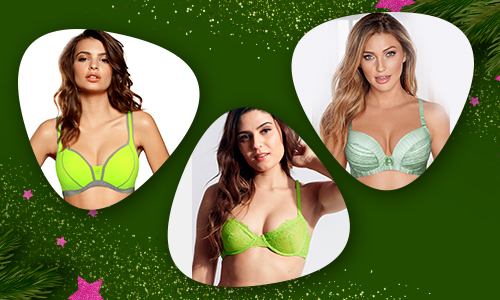 If you want to opt for bright neon colors this Christmas, get our merry and bright neon green everyday bra. You can try out a different and unique green this Christmas, our lime green mesh balconette bra can get you into the radiant Christmas vibe. Flaunt your sexy outfit with our mesh push-up bra!
5) Blue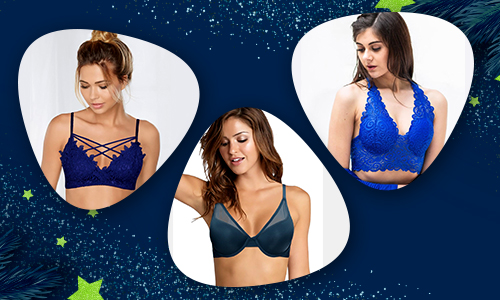 There is no better time to wear trendy and classy outfits than Christmas! Bralettes are in trend now. Get this beautiful blue bralette with a strappy neckline and I bet you will rock this look. Planning to flaunt your cleavage this Christmas? Buy this gorgeous blue mesh plunge bra now!
Royal blue is a color that would give a rich and radiant look. Our blue lace bralette is a must-have for this Christmas.
6) Black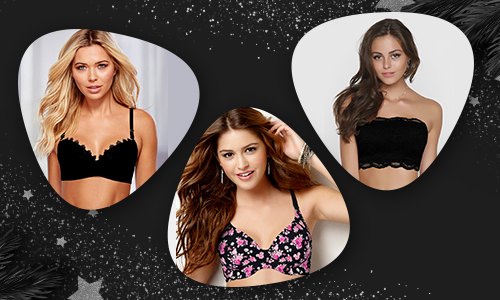 This is a must-have in every woman's wardrobe for this Christmas. Shyaway's black embellished bra can help you keep up with the whole Christmas mood. Floral prints are just everything you need for Christmas. This black floral bra is specially made for Christmas to give you a seamless and flawless look. Wearing strapless dresses? Purchase our black lace tube bra for once!
7) Brown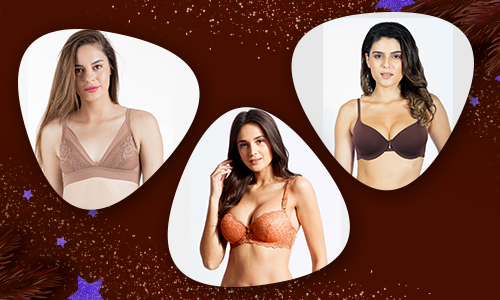 This is another Christmas color that every woman must add in their wardrobe. The best one to get is our double layer brown bralette. It is just perfect for all types of Christmas outfits. Moulded bras can have a great impact on how your outfit looks. Buy this beautiful lace moulded bra and you can style it with great options. If you are looking for a bra to add good enhancement, this brown padded plunge bra can provide everything you are looking for!
8) Gold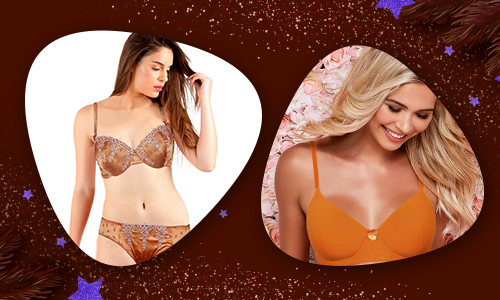 It is such an extraordinary color that would help enhance your beautiful Christmas outfit. Get Shyaway's Golden Lingerie set for this Christmas and upgrade your wardrobe. For a more comfortable and cozy look, you can get our gold padded bra.