Why buy teenager bra?
For any teenage girl, it's an embarrassing moment asking for lingerie for the first time.  Mothers always consider their children as kids and often don't realize that they should start addressing their age-related needs.  Not understanding the teenagers during the puberty years and treating them like kids will only leave them helpless and irritated.  When they start to develop breasts, generally at the age of 11, you should consider getting them a bra.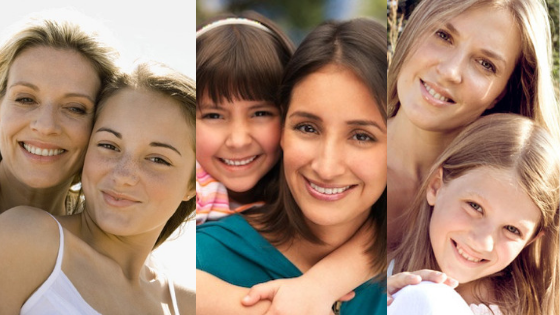 How to talk to your teen about bra?
Be sure to make a casual open conversation.  Don't make it a question and answer session in which she has to reply all your embarrassing queries like "do you want to wear a bra?", and most importantly, don't bore her with stories of when you started wearing your first bra.  It's better to get a beginner's bra and tell her you got it while shopping as you thought of her.  This would make any teenager love their mom more than ever.   So, don't wait until they express themselves after a long self-struggle.  Offer to take her for lingerie shopping with you and tell her that you can buy her a few if she wants.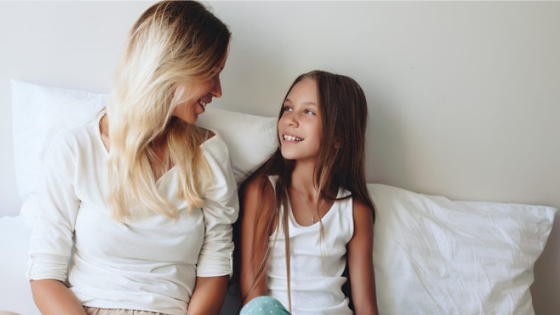 Beginners bra meaning
A beginners bra is lightweight and specifically designed for girls in the developing stage. It is made with the soft fabric without any defined cups which are there in a regular bra to give shape and lift.  The beginner's bras have single-line fabric and crafted in a simple manner to give enough room to the growing breasts.  There are no pads and underwires in a teenager bra as they would restrict the growth.  It is a bra version of a camisole or slip.
Benefits of teenage bra
The advantages of making your teenager wear bras are numerous. Wearing a bra smoothes out her dress and gives a neat look.  She will feel comfortable and less exposed while wearing a bra under the apparel. Bras give a secure feeling and confidence.  Wearing bras can make her think better about her looks and will give an impression of being accepted in her group and she won't feel ousted.  Wearing a beginner's bra makes your teenager look elegant and chic.
In the picture you can find Bollywood sweetheart Alia Bhatt on the left, next to her, walking stylishly is pop, R&B singer Ariana Grande and on to the right is Hollywood actress Kiernan Shipka.  At a very young age, these girls look poised and confident as they wear trendy outfits with proper undergarments.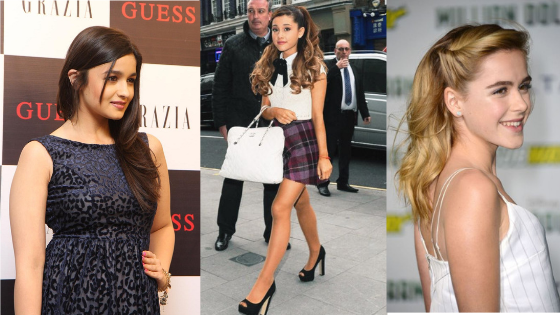 How to wear a teenage bra?
Teenage bra is just like slips or camisoles. It doesn't have any closures, unlike regular bras.  It is a slip-on type bra.  Wear a teenager bra like you would wear a slip or t shirt. put on through your head and shoulders and slip your arms through the shoulder straps and position the front and back of the bra correctly.  Adjust the shoulder straps if needed.
Teenage bra calculator
You don't need to get into elaborated fitting details and get confused.  For a teenager, a beginner's/ trainer bra is appropriate.  You can find your teenager's bra size easily while buying teenage bra online with the help of a bra calculator and size chart provided in the product page.  Trainer bras come in sizes; small, medium, and large.  You can pick the size depending on the build of your daughter and the stretchability of the material.  When your girl passes the trainer bra stage move on to regular bras available in sizes 30AAA to 38B.
Types of Beginners bra in India?
You can get beginners bra in India in a fuss-free manner through online lingerie websites.  These websites have a wide range of beginner bra or teenage bra of different brands.
Tube bra is a stylised version of teenage bra as they are preferred by teenagers.  They offer comfort without restricting the bust and are perfect to create a style statement.
As you can see in the picture below there are variations in straps, and coverage and teenage bra comes in different styles.
Teenager bra wash care
Wash and care routines for trainer bras are as same as regular bras.  They should be replaced often as the fabric will lose elasticity.  Don't let your teenager wear a bra while sleeping as it will affect blood circulation and hinder growth.
Conclusion
It would seem that your daughter might not need a bra as per her growth but she might be desperate to fit in her friends' group while other girls already started experimenting with various colors and prints.  Also, your teenager might be embarrassed to wear a t-shirt on top of a slip alone.   In both cases, it's a good idea to get her a beginner bra that will fix some adolescent issues.  Further, if your girl is actively participating in sports, wearing a bra is a must as it would give proper support and avoid pain during activities. There is nothing to feel odd about getting your teenager to start using lingerie as trainer bras are made to help teenagers feel comfortable with the idea of wearing a bra.