Handle with care: Every woman is unique
Women look for fashion in everything; they are eager to know the current trend and get their hands on it. Every girl wants to rev up her wardrobe with new collections of clothing.
While we exercise we won't stop to think about what we are wearing: because of the sweat and tiring body pain. We will simply wear an old T-shirt and a pair of regular sneakers for the gym. If we are pleased with our workout, we usually start investing in more workout gears like well-fitted tracks, athletic shorts, synthetic fabricated cloths, sweat tees and pants. But these outer garments are not that significant for workout and Yogasanam. What we actually need is a sports bra and the right one!
Picking the right sports bra:
It is important to find the perfect sports bra which provides the correct amount of support for your level of activity. Yes, there are a variety of styles to choose from, but it is more important to look for proper fit and support first. An athlete or someone who exercises frequently can cause the delicate ligaments in the breast region to stretch with the wrong fitting sports bra. Don't suffer through a workout being stuck in the wrong sports bra.
Why do you need a sports bra?
Breasts are mostly composed of soft tissue, and not muscles. What holds them up is the surrounding skin and the internal Cooper's ligaments, a collection of connective tissue. This immensely supports the breast in it's normal position without struggle. And without the internal support of this ligament, the breast tissue looses it's stability and starts to sag. For this reason, it is essential that you wear a sports bra instead of a regular one. Moreover, sports bras are convenient too.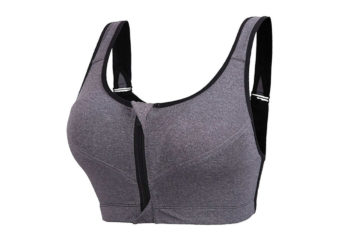 Ask for help:
Every woman is unique and every breast profile is different. So to choose a proper bra, ask for help. Lingerie shops mostly have saleswomen who will help you choose the right sized bras. But never buy them without trying them on, because you will never know the proper size if you don't wear it. Once in a while measure your boob size.
Step 1: While wearing a non-padded bra, use a measuring tape to measure around your torso, just below your underarms. And you will get your band size.

Step 2: Wrap the measuring tape around the fullest part of your bust and that is your measured bust size.

Step 3: Calculated band size subtracted from your bust measurement is your cup size.
The perfect sports bra is expensive, but in order to be more comfortable we need the better ones. So, get a proper and supportive bra for your workout and it is worth every penny! To Know more click on Sports Bra Guide.