Best Bras for a Comfortable Sleep
Sleeping in a bra is a topic of discussion among women. Some find comfort in cozy sleep bras, while others question the idea. The truth is, the best bras for comfy sleep balance support and comfort. Whether you need nursing bras for large breasts or comfy crop bras, options abound. From wireless uplifting bras for gentle support to confident sleep bras, choices cater to all. For new moms, nursing bras aid in comfort and accessibility. Sleep tank tops with support or sports bras are options for those wanting light support. Listen to your body – choose what feels right. A good night's sleep matters!
Your Ultimate Guide to Nighttime Support
Sleeping comfortably is essential for our overall well-being, and the right bra can make all the difference. For many women, finding the perfect sleep bra is a game-changer. Let's delve into the world of sleep bras and discover the best options available online for the Indian audience.
Why Choose a Sleep Bra?
Sleep bras are designed with comfort in mind. They provide gentle support without the restrictive feel of regular bras. Whether you're lounging at home or turning in for the night, a sleep bra ensures you're at ease.
Top Brands for Sleep Bras
When it comes to sleep bras, certain brands stand out for their quality and comfort. Best brands for sleep bras offer a combination of soft fabric, breathable design, and gentle support, ensuring a peaceful night's sleep.
Features to Look for in a Sleep Bra
Soft Fabric Choices
The material of the bra plays a crucial role in comfort. Cotton sleep bras online are a popular choice, especially in India's tropical climate. They're breathable and gentle on the skin.
Seamless Design
Seamless bras for night use ensure there's no chafing or discomfort. They provide a smooth experience, especially for those with sensitive skin.
Wireless Comfort
Wireless bras for comfortable sleep are a must. They offer support without the discomfort of wires, making them perfect for nighttime.
Adjustable and Non-Restrictive
Sleep bras with adjustable straps offer flexibility, while those with non-restrictive bands ensure there's no undue pressure on the chest.
Shopping for Sleep Bras Online
Discover Great Deals
With the convenience of online shopping, you can find nighttime bras online sale events and sleep bras online discounts and offers. This means quality comfort without breaking the bank.
Read Before You Buy
Always check out the best-reviewed bras for sleeping. Customer reviews can provide insights into fit, comfort, and durability.
Easy Returns and Fast Shipping
Opt for platforms that offer sleep bras with easy returns. Also, consider those that promise sleep bras with fast shipping, ensuring you get your comfort wear promptly.
Sleep bra
The most comforting moment for any woman is returning home, taking off the bra, and sinking into the bed. However, wearing a bra during sleep actually offers improved breast support. There are numerous advantages to wearing a bra while sleeping. Are you curious about the most suitable bras for peaceful sleep? Certainly, sleep bras are crafted to offer comfort during sleep and leisure. These are typically wire-free, unpadded, and feel like an extra layer on your skin.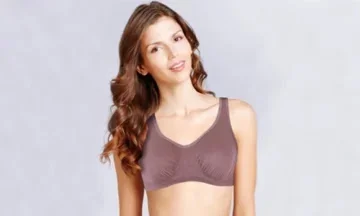 Purpose of a sleep bra
A sleep bra assists in maintaining the ideal breast position during sleep, offering gentle support. Certain women face discomfort and lumpiness, making a soft, comfy bra a great choice to prevent these issues. When buying a sleep bra, prioritize breathable fabric.
Myth and Facts About Bra
There's a misconception that sleeping with a bra can lead to breast cancer, hinder breast growth, and restrict blood circulation. However, there's no scientific evidence to support these claims. This misunderstanding might arise from wearing an ill-fitting and uncomfortable bra. The most appropriate choice for a sleep bra is a wireless and unpadded one.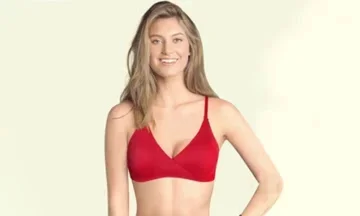 Another myth suggests that not wearing a bra while sleeping leads to breast sagging. However, the truth is that wearing a bra during sleep helps prevent early sagging of the breasts.
Sleep bra for pregnancy
To prevent breast sagging after delivery, it's recommended to wear a sleep bra during pregnancy. Opt for a comfortable bra with the right fit and quality fabric. Select a sleep bra that's gentle on the skin for optimal comfort.
Choose Your Perfect Fitting Bra
Wave goodbye to irritation by wearing it under your beloved sleep t-shirt, most comfortable pajamas, or smoothest nightgown.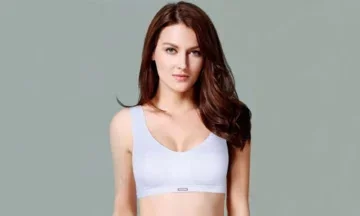 Sagging skin, an unwelcome part of aging, often becomes noticeable in a woman's 30s. 
For those who've had breast surgery or suffer from mastalgia (breast pain), a sleep bra might provide soothing relief. 
Get your size right and pick the perfect fit. Elevate your bedtime style. Coordinate your attire with your preferred bra style. 
Explore the stunning range at Shyaway. Find your perfect match for your nightwear.
Conclusion

Sleep bras are more than just a nighttime accessory; they're a ticket to a comfortable night's sleep. Whether you're looking for bras with moisture-wicking fabric, those with natural shape retention, or simply a bra with no hooks or clasps, the online world has got you covered. Dive into the realm of sleep bras and ensure every night is a good night.