There are the best panties styles for all shapes! It turns out that there are four different types of butt shapes depending on the body frame. This is not a big butt or small butt we are talking about. But the shape of the butt whether it's big or small booty can vary depending on the bone structure and body mass. Learn about your butt shape and also know how to choose panty styles for your butt. At the end of this 2-minute read you will know the best panty styles for all shapes.
How to Choose Panty Styles for Your Body Shape?
Knowing your butt shape will help you choose panty styles accordingly. Read further to know the best panty style for all shapes at the end of this article.
Know Your Booty Shape
Your butt shape is partly defined by your hip bones and the fat. Knowing your butt shape will help you in learning which panties will suit.
Your Own Booty Shape Guide
Here is a quick guide to your booty shape and how to buy your underwear according to your shape.
Upside Down Heart Shape or Triangle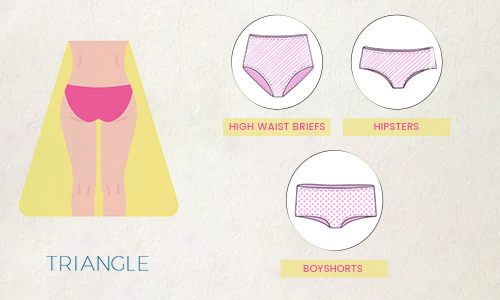 This means you have fuller bottom half compared to the top half of your butt. You might face issues like riding up panty hemlines or indentation of the same. Choose half coverage or wide-leg opening such as high rise bikini panty, Hipsters and boyshorts.
V Shape or Inverted Triangle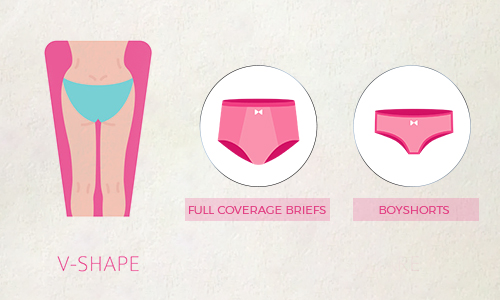 "V" shape booty is broader at the top and narrows down to the bottom. Go for full coverage briefs and boyshorts to add volume to your curves. Panties with lace embellishments at the hemlines are a good option too.
Square Butt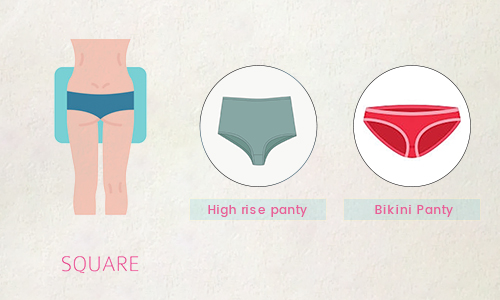 Prominent wider hips and wider bottoms are the features of a square butt. If you have a square butt your goal should be to create a curvy appearance. Go for high-rise panties that have a hemline run in the middle of your butt to give a curvy illusion.
Round Butt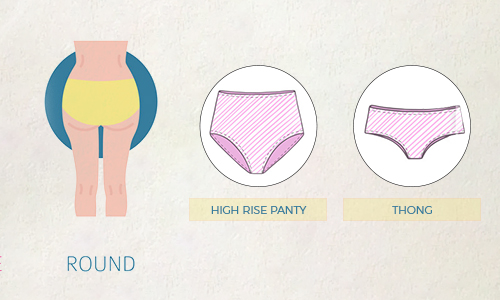 The fat is evenly distributed in this type of butt. Showcase your round butt by wearing high rise panties, thongs, etc. However, a full coverage panty may not fit you as you have a fuller bottom.
Best Underwear for All Shapes
Here is the list of panties that suit all body shapes. It doesn't mean that you should wear only these panties. You can wear any panties in which you are comfortable.
High waist briefs, Hipsters, Boyshorts – Triangle shaped butt

Full coverage briefs, Boyshorts – V-shaped butt

High rise panty, Bikini Panty– Square shaped butt

High rise panty, Thong – Round butt