Are you struggling to wear the same old nightwear during bedtime? It's time to renew your wardrobe with comfortable designer tops or nightwear with 3/4th sleeve are a great way to pamper yourself. What is 3/4th sleeve? It is designed to cover three-quarters of your arm length and sits below the elbow and wrist. Shyaway's newest sleepwear and 3/4th-sleeved lingerie are crafted for your bedtime routine. From a capri set to a sexy pajamas for women, let's explore the attractive styles that elevate your mood all day.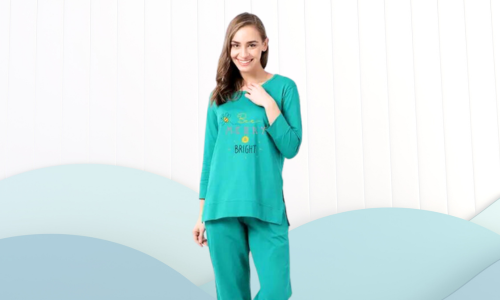 Benefits of Wearing 3/4th Sleeved Lingerie
A 3/4th sleeve provides more warmth and coverage compared to short sleeves. It is a perfect choice for various seasons, like spring and summer, as well as gives a sophisticated touch to your outfits. Here are some benefits of wearing sleepwear and 3/4th-sleeved lingerie.
Versatility
3/4th sleeve hits a balance between long and short sleeves, making it easy to wear for different occasions and weather conditions. You can easily dress up in various styles, from formal to casual.
Comfort
For individuals who want protection from the sun, summer sleepwear materials with 3/4th sleeve are an excellent choice. It provides great protection and coverage.
Style & Sophistication
Similar to regular sleeves, the 3/4th-sleeved lingerie styles come in different patterns and fabrics. It adds stylish elegance and a sophisticated appearance to your overall look.
Ease of Movement
3/4 sleeves offer more freedom of movement compared to full-length sleeves. If you are engaged in activities like exercising and cooking, 3/4th-sleeved lingerie is the best choice.
Sun Protection
Clothing with 3/4th sleeves offers greater protection against the sun's harmful UV rays. It is beneficial for those who wish to reduce sun exposure on their arms.
Why are Shyaway's 3/4th Sleeved More Trendy? 
The relevance of 3/4th sleeve clothing can be attributed to different factors that make it a versatile and trendy choice. Here is a list of some trending sexy pyjamas for women with 3/4th sleeve from Shyaway's haul.
White 3/4th Sleeve Nightwear Shorts Set
This white 3/4th shorts set is perfect for bedtime settings. This sleepwear is made of ultra-soft fabric that has breathable properties.
Lapis Green 3/4 Sleeve Nightwear Capri Set
This vintage 3/4th sleeve pyjama set is designed with cotton-soft fabric that keeps you super comfy every day. You can feel extra warmth through this round-neck printed capri set.
Shell Pink 3/4th Sleeve Pyjama Set
This 3/4th sleeve tee fully covers your arms and offers more coverage. The stylish 3/4th sleeve allows you to showcase your watches, rings, and bracelets. It provides a comfortable yet stylish look for all your outfits.
All these are countless variations for sleepwear and 3/4th-sleeved lingerie in different colours, fabrics, and styles. Whether you are looking for formal or casual wear, you can find several options with 3/4th sleeves to suit your needs and preferences.