When it comes to online lingerie shopping don't we feel a bit uncertain about a few things? We don't get to know the feel of the fabric and the fit. But in today's hectic lifestyle online lingerie shopping is the most preferred mode for most of us. It allows us to judge the website and products based on the shopper's feedback. A genuine first-hand review clarifies most of our skeptical thoughts and helps us decide about the purchase. Today we have picked three awesome bras which not only look fabulous but also popular among our shoppers
Shyle Black Twin Criss Cross Neckline Ribbed Bralette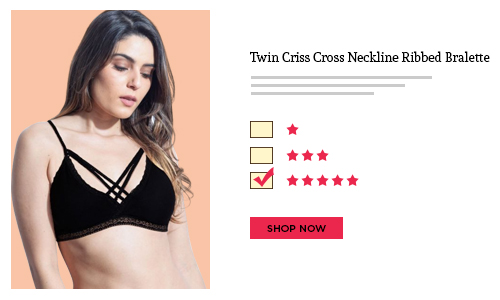 The first thing you will notice about this product when you try it on is the sleek soft fabric which is ultra-soft on your skin. It is lightweight and you won't feel like you are wearing something as constricting as a regular bra.  That's the best thing about bralettes. This black bralette is super comfortable and makes the perfect sleep bra, unlike regular bras.
How to Wear Bralette: 
Most of the bralettes are slip-on the type and don't have hook and eye closure but this bralette bra comes with 3-row hook and eye closure at the back for added support. So, wear it like a regular bra.
We Love This Bralette Because:
Ribbed crisscross straps at the neckline is a perfect showoff through low neck tees. 

Removable padding option for coverage and comfort.
Not Suitable For:
Formal and party attires as they need more structured bras to enhance the silhouette.
Susie Black Moulded Floral Lace Bra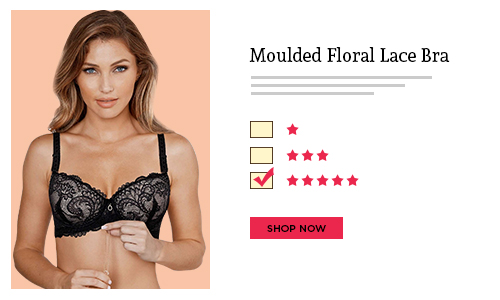 We are happy and proud to unveil Susie black moulded bridal bra.  This black Chantilly lace overlaid cream color bra is all about lifting and contouring. With all its enchanting design details and scalloped lace edges at the band, it's a hybrid between pretty and sexy. The molded cups are padded and sturdy with underwires which make the breasts look rounder and create cleavage.  
How to Wear Molded Bra:
As this black lace bra has fastening at the back it can be worn just like regular bras.
You, Will, Adore This Bra Because: 
It's attractive.

It has a perfect fit and comes with 3 rows and 5 columns hook and eye closure that there are more options to adjust the fit unlike other bras.

Detachable straps for multi-way styling
Not Suitable For:
Everyday use.

Thin and clingy clothes as the lace lines will be visible.
Shyle Black and Dim Grey Chaotic Stripe Racerback Sports Bra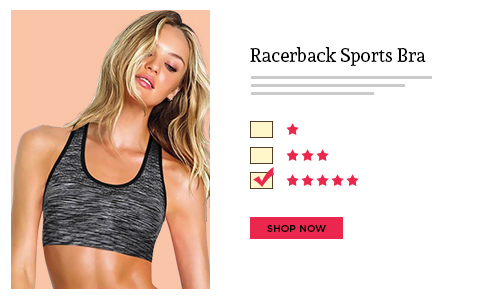 It's a regular black Racerback sports bra. If that's all you are thinking about it you are wrong. It is a perfect bra not only for low impact workouts but also good to wear during most of the day to day activities which include gardening, vacuuming the house, listening to music and the list is endless. More comfortable than a regular bra this racerback sports bra gives support by holding the breasts and minimizing the movement during activities and makes you feel secure.  No peeping bra strap embarrassment.
How to Wear Racerback Sports Bra: 
It is a slip-on type without any fastenings wear a racerback bra as you would wear camisoles.
This Sports Bra Is Perfect Because:
It is very comfortable as well as functional.

Black and grey mix of color adds value to the sporty style.

Very versatile, can be worn with any number of outfits.
Not Suitable For: 
Formals and ethnic wear.

That's all for you now folks.  We will meet you with the next set of products on a different occasion.