Bras are essential undergarments that provide support and comfort to the breasts, but the wrong fit or style can sometimes lead to discomfort. Many factors contribute to these aches and pains, such as sizing, material, and the specific activities a person engages in throughout the day. The best solution is to consider these factors to make informed choices when choosing bras, ensuring both comfort and support.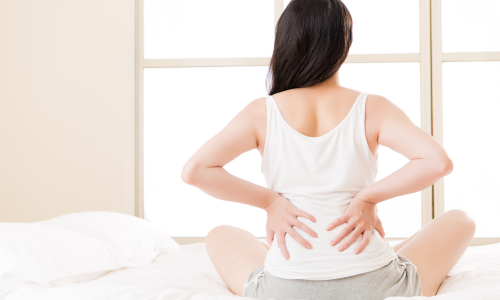 Factors Causing Aches and Pains
Check out some of the reasons for back pain due to bras.
Sizing Matters
One of the primary reasons for discomfort is wearing a bra that doesn't fit properly. Picking the right bra involves both band and cup measurements, ensuring a snug yet comfortable fit that supports the breasts properly. A loose-fitting bra can lack support, whereas a tight-fitting bra restricts movement, resulting in back pain and improper posture.
Poorly fitting bras can also lead to issues such as
Underwire digging into the skin
Straps that cut into the shoulders
Bands that ride up the back
Material 
The choice of fabric is solely important for how comfortable a bra feels against the skin. Breathable and soft materials like cotton or moisture-wicking blends can help prevent irritation and chafing, especially for those with sensitive skin. Additionally, seams and stitching should be flat and well-constructed to avoid rubbing and discomfort.
Straps and Band Adjustments
The underband is the primary support of a bra. The band should lay flat against the skin without digging in or poking. Straps that are too tight can cause shoulder pain and strain, while loose straps may lead to inadequate support. Adjust the straps for your comfort, promoting breathability and flexibility.
Do bras cause pain? Yes! A poorly-fitting bra makes the back hurt.
How to Choose Bras
We understand that every woman's body is unique and beautiful. Factors such as breast shape, density, and sensitivity can influence comfort. Finding the right bra involves accurate measurements and some trial and error to discover what feels best for your body. Don't worry, we've got you covered with some important tips for bra shopping.
Choosing the right bra size that fits perfectly with no poking or hurting. Consider using a size calculator to find your perfect fit.
A supportive bra should offer desirable coverage and comfort. So, choose bras accordingly that provide both.
With unrestricted movement, you'll experience extreme discomfort. Always listen to your body, understand the causes of pain, and make informed choices to enjoy the benefits of a well-fitting and comfortable bra.
It is always advisable to seek professional help to get personalised suggestions and recommendations.
What next? Learn how to choose a bra perfectly.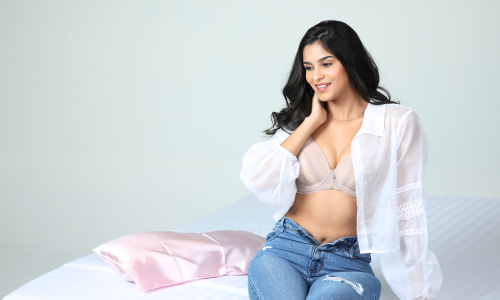 Bra Styles for Back Support
Check out some of the bra styles that are best suited to reduce back pain.
Full-Coverage Bras: These bras have larger cups that cover most of the breast tissue. They distribute the weight of the breasts more evenly, which can help relieve back pain. It is best recommended for daily use.
Sports Bras: Designed to minimise breast movement during physical activities, sports bras offer excellent support—a perfect choice for workouts.
Minimizer Bras: Minimizer bras are designed to make the breasts appear one size smaller while providing good support—a must-have bra in your wardrobe.
Adjustable Straps: Look for bras with adjustable shoulder straps that allow you to customise the fit.
Underwire Bras with Soft Padding: There is a misconception that wired bras often lead to pain, but actually the underwire helps lift the breasts, while the padding prevents the wire from digging into the skin. Underwire bras with soft, cushioned padding around the underwire can provide both support and comfort.
Last Words
The key is to prioritise comfort and support and pay attention to the signs your body is giving you. If you're experiencing persistent pain or discomfort, it is advisable to consult a healthcare professional for personalised advice.