Even though menstruation is common in women, it is considered a painful period. Out of 336 million menstruating women around only 121 million use sanitary napkins during their periods. Sanitary napkins must be used to provide comfort and to prevent stains and odor. During menstruation women majorly use three products- pads, tampons, and menstrual cups. But sanitary napkins or pads are majorly used. Every month around 10 to 20 pads are used by every woman during menstruation.
Sanitary napkins, tampons, or menstrual cups aren't enough especially when you are out as they might get dislocated often. And also in order to prevent infections, you have to keep changing it every four hours. This might be hard and can ruin your happy trip. This is exactly why you need a period panty.
What Exactly Are Period Panties?
Period panties are panties that look and feel like a normal panty but have superpowers. Yes, they have extra layers to prevent the blood from seeping through the panties. They provide extra protection for your sanitary pads, tampons, or menstrual cups.
How Does Period Panty Work?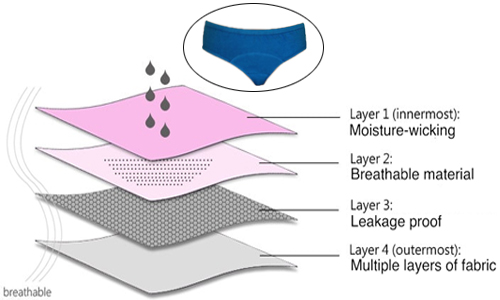 Period panties are specially designed with moisture-wicking and breathable material so that the blood can be absorbed easily. Most of them are leakage-proof as the crotch area in the period panties are provided with 2 to 4 layers of fabric so that the blood might not seep through your panties. They also fit every body type perfectly, so that even when you move around it will hold your sanitary pads or tampons in place.
Guide on How to Use Period Panties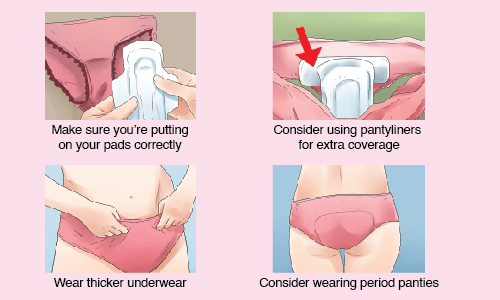 There are four simple steps to be followed,
Firstly, when you are purchasing make sure to get 2 to 3 panties so that you can use them on alternate days.
The panties usually have 2 to 3 layers, on the top layer place the adhesive side of the pad.
Make sure you are attaching the wing of the sanitary napkin only under the first layer, the rest of the layers should not be disturbed.
Make sure the adhesive side is stuck properly to the panties.
Now, wear them in a way that it fits you properly and you are good to go.
How to Take Care of the Period Panties
Special care has to be given for your period panties if not it might lead to rashes, skin irritation, allergies.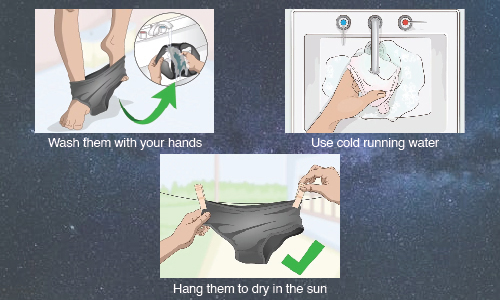 Make sure to wash them with your hands avoiding washing machines.
Use cold running water whenever you wash them, make sure they are perfectly cleaned
Hang them to dry in the sun.
Benefits of Using Period Panties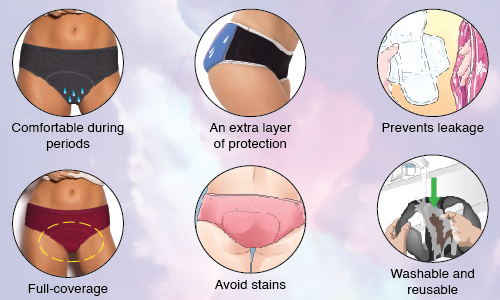 You can help the environment- On average every woman uses around 11,000 to 17,000 sanitary pads in her lifetime. A recent survey says if a pad used is 500 grams then around 16000 tons of waste generated. Most of the napkins we use are bio-degradable so they have an adverse impact on the environment. So, if you use period panties, it lets you utilize each sanitary pad fully. If you want to cut some waste, then start using the period panties as they can be cost-effective and long-lasting as well.
With period panties on, you do not have to be cautious while walking or sitting as they help you hold them in place. Sometimes, the wings of the sanitary pads may lose their stickiness and come off or your pad may dislocate and can make the situation worse. Using period panties, you can avoid such awkward situations and can move around freely.
It is not heavy or uncomfortable, it just feels like you are wearing normal panties. Sometimes, during heavy flow the blood might seep through your panties, this can be really awkward especially when you are out. Period panties usually have several layers that prevent leakage.
2-in-1 panty, it can not only be used as a period panty but at times, you can also wear them as a normal panty. They are usually full-coverage so it also helps you avoid embarrassing panty lines.
How many of you have had your favorite panties stained during menstruation? I bet every woman in the world. This is why you need to opt for period panties so that you can save your favorite panties from getting stained.
They are washable and reusable so you can save a lot of money. Every time you use your period panties make sure to wash them thoroughly. This way you can reuse them without having to worry about infections.
Some people may be used to wearing fancy panties with patterns and prints. If you still want your panties to be stylish as well as protective then there also some period panties that come in different patterns and styles. So, you can wear them in order to be fashionable and safe as well.
Best Period Panties to Buy in 2020
There are many varieties of period panties available so you can choose the right one for you. We are listing down some common and popular period panties.
Period Panties for the Gym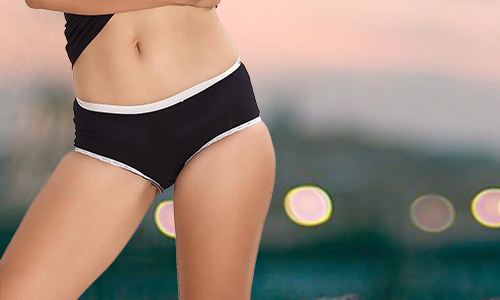 Worried that your periods and intense workout sessions might collide? Then you should get period panties for the gym. These panties are usually made of thick and breathable material and come in different sizes. They have extra layers of fabric and are highly absorbent, so even if leakage occurs the panties have the tendency to absorb the blood. The major reason why you have to get the period panties for the gym is that they hold your sanitary pads or tampons in place. While you are working out, you might move fast and your pad might be dislocated, period panties help you avoid such situations. Even during your period, you can workout effectively without having to worry about leakage or stains.
Lace Period Panties
If you are a fashionista who loves dressing up then the type of panty you wear may also matter to you. You might choose style over comfort, for those of you, there is a panty to fulfill your wish of providing complete protection during your periods as well as looking so pretty. Laces never go out of style, even a simple plain dress can look gorgeous when some lace is added. There are lace period panties available in the market to help flaunt your inner and outer self. They also provide complete protection during high discharge.
Hipster Period Panties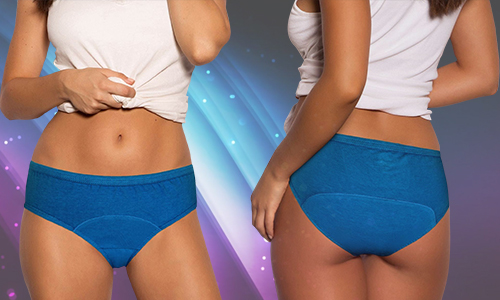 You have heard of the hipster panties which is a mix of boyshorts and bikinis. Normal hipster panties are every girl's go-to panties. They are usually comfortable and perfect for everyday wear. So, hipster period panties can help you feel comfortable, and as well as they provide high coverage. The crotch area of the hipster panties has many layers in order to secure your sanitary pads in place. Most of the hipster period panties are high-rise ones so it also can help you hold your sanitary pads in place. So, without any delay, get yourself hipster period panties for more stress-free period times.
Thong Period Panties
Basically, thongs are chosen in order to avoid panty lines, it may look like a bikini but it is actually now. If you are choosing one of those hot outfits then you should pick thong panties. And now even during your periods, you can wear thong panties and flaunt your outfits. There are specially designed thong period panties available in the market which provide complete protection to your sanitary pads or tampons holding them in place.
Cotton Period Panties
There are many types of period panties that come in different fabrics but the most commonly used and the safest type of panties are cotton panties. These cotton period panties are designed with additional layers in the crotch area that hold your pads in place. You also do not have to worry about skin irritation or rashes as they are completely safe.
Is Period Panty Reusable?
There are also period panties available that you can wear instead of your sanitary pads or tampons. But make sure to clean them thoroughly before every use, and some of them are also for one-time use which cannot be washed and re-used. But, during heavy flows, it might not work effectively.
No matter what type of period panty you use, make sure to take good care of them as they are a breeding ground for bacteria and fungus. This may lead to many hazardous health issues and infections.