Not only you everybody will have their confusion when it comes to choosing the right bra. Padded bras are basically designed to make your breast look firmer and to provide the best support it also has so many varieties to enhance your breast shape. Whereas a T-Shirt bra also has a pad that helps to hide your nipples and to provide extra support to your breast. Today this article will give you a satisfactory answer to the questions which you have been searching so far about Padded Bra vs T-Shirt Bra.
What Is a Padded Bra?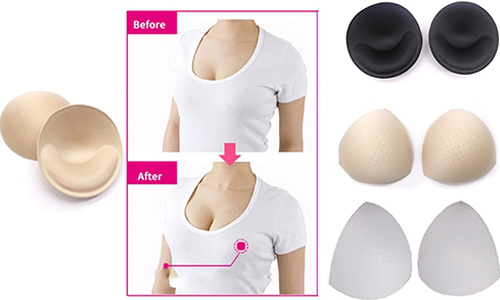 Padded bras are basically designed to add volume to your breasts and to provide the best shape and support. They are made up of foam and fabric. The padded bra also comes in so many varieties according to your style, model, size, and occasion.
Benefits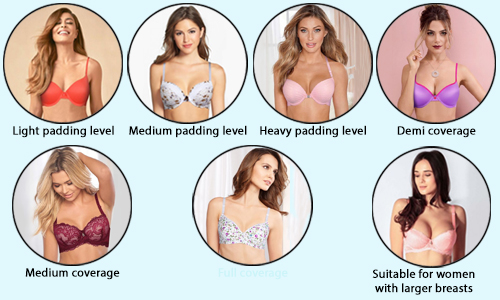 Padded bras have 3 levels of padding light, medium, and 

heavily padded

.

The bra padding has 3 types of coverage demi, medium, and full coverage. 

Women with larger breasts can also use a padded bra as it helps to provide a perfect shape and a natural cleavage.

Padded bras can protect you from unfortunate embarrassments like nipple shows.

It helps you to boost your confidence by giving your saggy breast a perfect lift and structure.

One of the biggest benefits of choosing a bra with padding is that it will give you a comfortable and spiced-up look. 

Padded bras can be used for any type of occasion as it has so many varieties in it.
 Occasion
Cocktail party

Everyday wear

Wedding 

Office wear

Ethnic wear
What is T-Shirt Bra?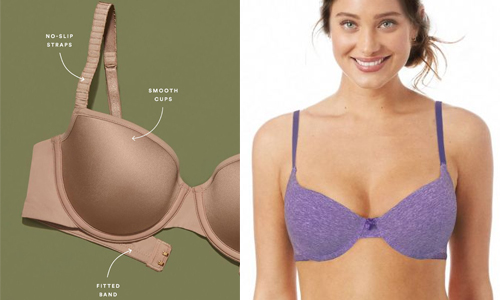 T-Shirt Bra is quite similar to padded bras. T-Shirt bras are seamless and both wired and non-wired which helps to create a smooth silhouette texture above your costume.
Benefits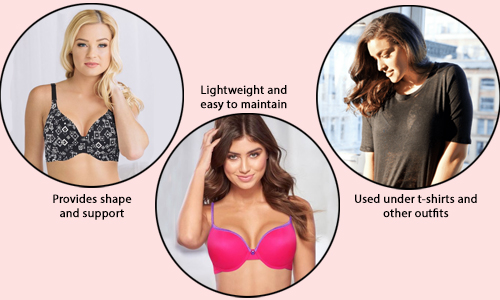 A T-Shirt bra is not only used under t-shirts but also under many costumes as it gives you a smooth texture.

The curved stitching will provide you with shape and support.

As the pads are removable it's easy to wash.

It comes both wire-free and wired which will give you the flexibility to adapt to any clothes.

T-Shirt Bra is simple, lightweight, and easy to maintain hence it can be used as everyday wear.

As it is seamless you can even wear a tight-fitting costume above your t-shirt bra which will give you a smooth finish.

Women who

wear a T-Shirt Bra

will get a modesty look.
Occasion
Everyday wear

Sportswear

Business Party

Form-fitting tops and dresses

Under any thin garments
Difference Between Padded Bra Vs T-Shirt Bra
Both the Padded Bra and T-Shirt Bra are similar and have their own pros and cons. For the simpler and most comfortable bra with padding, you can choose a T-shirt bra as it can be used as everyday wear and if u want your bra to be unique and fashionable with padding then the padded bra is the best option that comes in a lavish variety. Shyaway has a variety of padded bras that will create a unique look for every occasion. Every woman should have both a padded and T-shirt bra in her wardrobe for different purposes.