Different types of Breast shapes & Bra Suggestions
When it comes to breast shape, breasts are beyond bigger and smaller shapes. Like bra size, every bust shape matters. Certain bra styles don't fit all breast shapes. Knowing your breast shape may benefit you whenever you shop for your favourite bras online.
Do you know your breasts' shape? If not, our guide will help you to figure out your breast shape so that you can find an ideal bra that fits you.
How to Determine Breast Shape.
Breast shape may vary because of race, genetics, feeding, gaining and losing weight, age, hormones, and gravity. Based on these factors, women's breasts are shaped uniquely or differently.
Firstly, you need to take off your clothes without wearing a bra and take a closer look at yourself. You can take a note of your breast shape from the side. Check your nipple placement, how your breasts sit on your chest and in what direction they face. After observing them, you can draw a picture of your bust shape to compare with all the breast shapes to find out your breast type.
Different Types of Breast Shapes
If you are curious to know what type of breasts you have, Learn about common breast shapes along with breast shape charts so that you can get a better understanding.
The differences between each breast shape are barely noticeable. Our guide will help you find the similarities and dissimilarities between each breast shape.
Asymmetric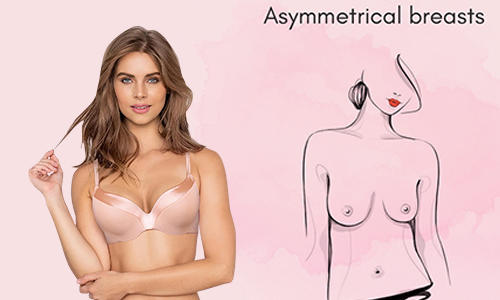 An asymmetrical set of breasts is a set where one breast is bigger or smaller than the other. Women who have different breast sizes come into this category. Did you know that more than half of women have a small variation in breast size?
Bra Suggestions for Asymmetric Breasts Shape
Push-up bras with removable pads: This bra is the best option since it can even out your uneven breasts by removing or inserting pads.
Padded bras and wired bras can help even out both breasts visually.
Athletic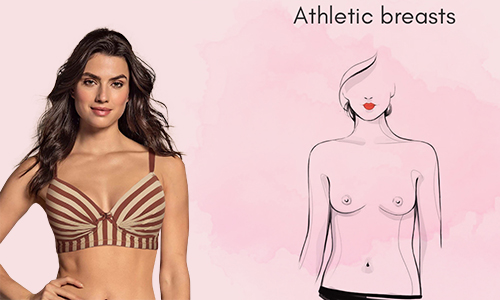 Athletic busts are muscular and wider with less breast tissue. This bust shape can be found on a V-shaped torso. In an athletic bust shape, the underbust is larger and has smaller cups.
Bra Suggestions for Athletic Breasts Shape
Wireless bras-It gives adequate support and comfort.
If you want a fuller bust and nice cleavage, wear a push-up bra or a moulded cup bra.
Balconette Bra- It has wide straps and demi cups that help lift and shape breast tissue to create an enticing cleavage.
Round Shape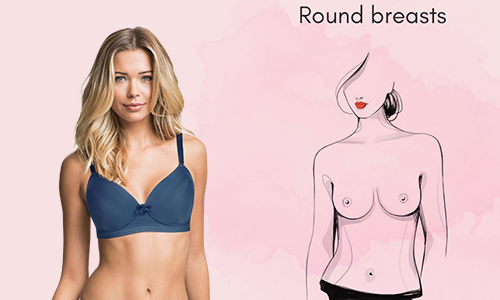 As the name suggests, this bust shape is rounded or fully circular with an equal breast size at the bottom and top. Luckily, you can opt for any bra style for this bust shape. 
Bra Suggestions for Round Bust
T-shirt bras
Non-padded or wired bras
Wired bras
Full coverage bras
East-West Breast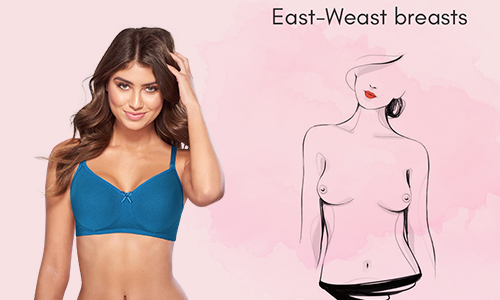 In this type of bust, the nipples are facing in opposite directions(towards left and right) and are positioned off-centre. So you must look for a bra that helps bring the bust together towards the centre. You shouldn't opt for a bra with seams at the sides that can chafe or damage the nipples.
Bra Recommendations for Women with an East-West Bust
A push-up bra helps to lift your breasts to the front of your chest.
These two bras prevent side spillage while also pushing your bust towards the centre for great cleavage.
Slender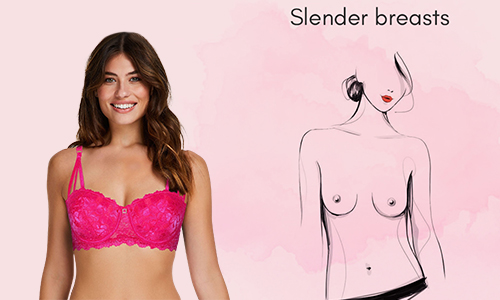 A slender bra may look narrow and long and have low nipples which are facing downwards. It has a tube-like appearance. In this shape, the bust is wider at the top and narrower at the bottom. A slender bust doesn't mean a smaller cup size, you require a bra that lifts and supports your bust.
Bra Suggestion for Slender Bust
Push-up bra/Balconette bra-both have moulded cups for adequate shape.
Plunge, padded, and demi-cup bras have deep plunge necks and also help bring breasts toward the middle.
Relaxed Bust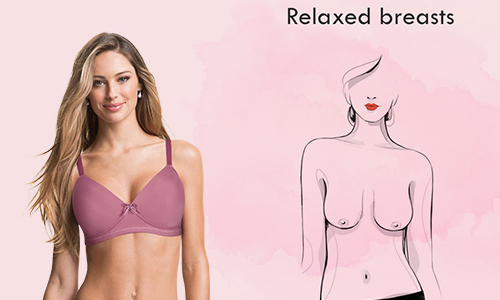 In this bust shape, the breasts are typically hung downwards with nipples facing downward and have lax tissue.
Bra Suggestion for Relaxed Bust
Push up or T-shirt bra-For relaxed type bust, these bras will give your bust plenty of lift and support you need.
Side Set Bust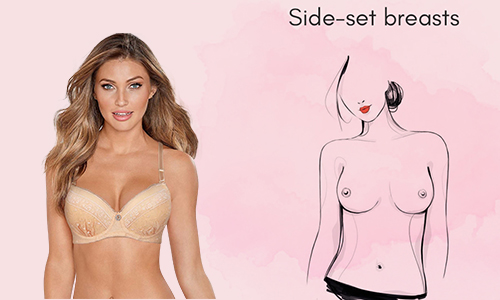 The side set shape has a wide (or more spaced apart) space between your bust. You should look for a bra that gathers your breasts towards the middle of your chest.
Bra Suggestions for Side-set Bust
Wired bras

Padded bras

Plunge bras

The bra comes with side shaping
Tear Drop Bust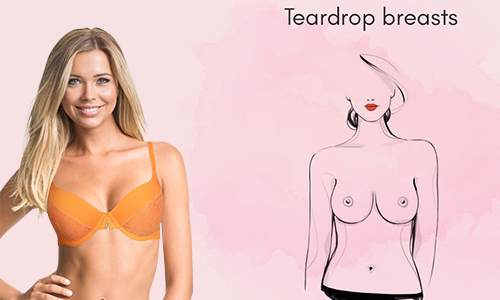 It is another set of breasts, similar to the round bust shape, and can be called symmetrical breasts. In this shape, your breasts are round at the bottom and less full at the top, and your nipples are centred. This bust shape is often called an uncomplicated bust and is generally found on fuller busted women. Look for a bra that gives adequate support and creates a nice cleavage.
Bra Suggestions for Teardrop Bust
Underwire bra

T-shirt bra

 Push up bras

Full or demi-cup bras
Bell Shape Bust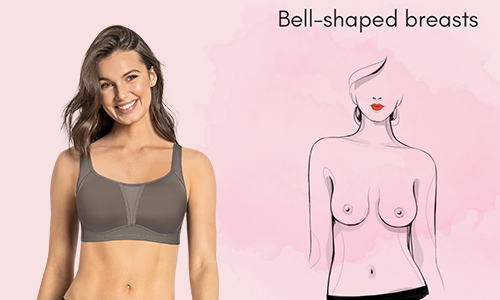 As the name suggests, the breast shape may look like bells. Bell-shaped busts are smaller or narrower at the top and larger in the lower area of the bust. A bell-shaped bust has soft tissue at the top, so you need to find a bra that has bigger cups and gives adequate support and an awesome lift.
Bra Suggestions for Teardrop Bust 
T-shirt bra

Balconette bra

Full coverage bras 

Underwire bra
Conical Bust 
The conical bust may look like a cone, rather than round. This bust type is more common in smaller busted women than fuller women. To simply put it, cone-shaped breasts are pointy. You should find a bra that promises the smoothest shape and fit.
Bra suggestions for conical breasts
Close-set Bust
In this breast shape, breasts have a small gap between them and are not separated from each other. Breasts sit closer to the centre of your chest but create more space between the underarm and the breast. Bras that help eliminate uni-boob looks are ideal for this bust type.
Bra Suggestions for Close-set Bust
 Breast cancer – Mastectomy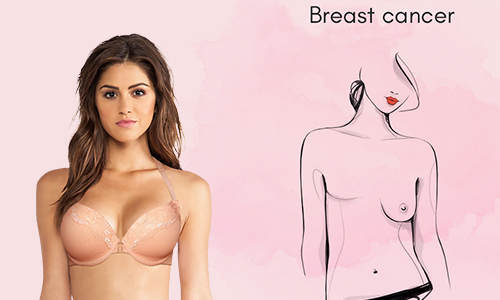 Breast cancer is a common type of cancer found in women. Whether you have undergone a single or double mastectomy, you need a bra that gives a visual restoration of the bust line. Look for a bra that has soft seams, a wide underband, and full cups.
 Bra Suggestions for Bras after Mastectomy 
Wireless bras

Front closure bras

Bralettes
We hope that our guide to the various types of breast shapes will assist you in finding the best bra for you.